With the Christmas season in full swing, we're surrounded by non-stop commercial messages proclaiming our need to buy this widget or that gadget for ourselves and our families.
While it's all well and good to give gifts to the ones you love, it's a good idea to make sure that you're remembering the spirit of the season. It's important to do your best to help out those who are less fortunate than you are as well.
So today I thought I'd put together a list of a few ways that you can give back this holiday season.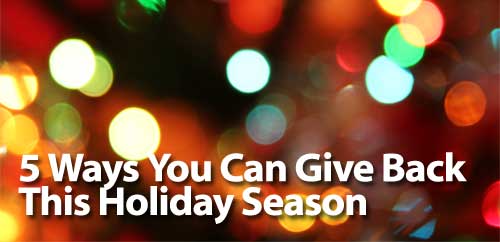 Put Together A Gift Box For Less Fortunate Children
There are quite a few organizations for which you can sponsor a needy child for Christmas, or pack a gift box for them. Here are some of my favorites:
All it takes is a little bit of time or money, and you can make a child's day!
Help Out Our Armed Forces
Our fighting men and women are on the front lines fighting for our freedom, it's the least we can do to help them out during their time of need. There are multiple organizations that you can give to during the holidays, and year round, that will help. Here are a few of my favorites.
Luke's Wings: A group that helps fly wounded warriors and veterans to be with their families when they need them most.
Operation Give: Operation Give has a program called Operation Christmas Stocking where they send a Christmas stocking stuffed with goodies to soldiers serving overseas. You can also give to provide toys and other items for the soldiers to give out to those in need overseas.
Fisher House: This organization provides a "home away from home" for military families to be close to a loved one during hospitalization for an illness, disease or injury.
Those are just a few of the great organizations helping our fighting men and women. Have your own? Leave it in the comments!
Serve Others In Your Community
Serving others in your local community is a great way to give back. Here are a few ideas of ways to do that.
Volunteer at your local soup kitchen or food shelf: Growing up my dad worked at a local community center and food shelf. It was very rewarding to be able to go and help serve others there by serving in a food line, sorting groceries to be given out or just lugging around heavy boxes for other volunteers.
Register for a website like TheCommon.org: The website can help you to connect with others who have needs in your community, and help you to serve others. Common requests you'll find on websites like that include requests from single mothers for help in getting their car fixed, yard work for the elderly, meal requests for shut-ins and more.
Help out a neighbor: Out shoveling your sidewalk this winter? Consider shoveling your neighbhor's as well, or serving them in some other way!
Give A Gift Card
Our church has a program where families can request financial help when they're in need. In return our church will often give out gift cards donated by people in the congregation, or put out a request for help to members in the congregation.
We've been able to help a lot of families this way, and there is usually a gift card drive around Christmas. Have a gift card you don't want or need? Donate it! Beyond churches a lot of local community centers and social service agencies will do similar gift card giveaways.
Give The Gift Of Time
Growing up our family all played instruments and sang, so we would go to local retirement homes around the holidays and perform for the people living there, or just visit with them. So many of them are there without family or friends, and just having someone to listen can be a huge lift to their spirits. Even if you don't perform, you can always go and play games, or just talk and hang out.
Lend a listening ear by visiting a local soup kitchen or shelter and visiting with the people there. Quite often you'll meet some very interesting people who are just going through some tough times, and need an an open ear.
Giving Helps The Giver
While we like to think that we're helping others when we give, just as often we're helping ourselves. Our lives are enriched through the experience, and our generosity in resources, time and spirit will pay off tenfold! So start giving back!
Have your own ideas of how to give back? Leave a comment with your giving ideas below!