I've written several times on this site about Motif Investing and their interesting theme based investing platform.
Their site bundles up to 30 stocks in themed "motifs" that you can buy. In your motif you're buying up to 3o stocks, but you're saving quite a bit of money over traditional stock brokers because you're only paying one $9.95 fee, instead of a fee for each stock that you buy.
When they first launched Motif Investing had a good number of themed bundles of stocks that you could buy that they had created, but you weren't able to create your own. A short while later they opened it up so that you could create your own bundle of stocks, and if you wanted to publish your motif – others could buy it too (and you could earn a royalty every time someone buys it).
I love the idea that they've created with Motif, essentially a place where you can go and create your own custom ETF-like portfolio, but without the expense ratios.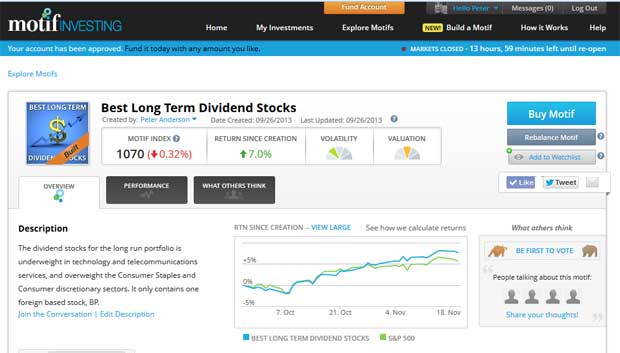 Motif Investing Black Friday Deal – Commission Free Trades!
I have already opened an account with Motif Investing, in part to test it out for writing my original review, and in part to create my own custom dividend motif for fun (see it here: Long Term Dividend Stocks). As of yet I hadn't moved forward on actually purchasing any stock.
That will be changing next week.
Motif Investing has just announced that they're going to be having a Black Friday sale on Friday November 29, 2013 where you can purchase your motifs commission free!
The holidays are fast approaching – a warm, wonderful, and hectic season. This year, to celebrate the season of giving, we're offering something special. Fund your account and all trades you make on Friday, November 29, 2013 during holiday market hours will be commission free! Act now if you haven't already.
To be eligible for the Black Friday deal you do have to have funds in your account in order to actually purchase the stock, and you can't just do that on the day of the deal.
Open Your Account Today
Open your account today in order to have funds in your account before the 29th in order to get in on the free trades deal.
For me opening the account happened quickly, but then confirming my linked checking account and funding my account took 3-4 days (although it could take longer depending on your bank, etc.). To get started, click on the link below:
Open Your Motif Investing Account To Be Ready For Free Trades
New Account $150 Bonus Still Active!
One great thing about the Black Friday deal – is that anyone who opens a new account with Motif Investing for that promotion will also be eligible for the $150 new account bonus promotion that they've been running (As long as you meet the requirements).
I won't go into the full details here on this post, but essentially you can earn anywhere from $50-150 in account bonuses depending on how many trades you make in your account.
You must fund your account with at least $2000 in order to be eligible, and leave the money in the account for at least 45 days. To get the full bonus you'd need to make at least 5 trades. Get the $50 bonus with a minimum of 1 trade. Free Black Friday trades don't count towards the total. Read the full bonus eligibility requirements here.
What I'll Be Buying On Black Friday
As I mentioned above I have created my own custom motif on Motif Investing, and have been planning on buying some of that motif for a while. This just gave me the perfect excuse. Here it is:
Long Term Dividend Stocks
Feel free to check out and purchase my motif as well – or if you want, modify it or create your very own!
So if you've been thinking about giving Motif Investing a try, now is the perfect time! Open that new account today, get it funded and take advantage of free trades the day after Thanksgiving!