Every October, the IRS announces changes to the rules that govern Individual Retirement Arrangements (IRAs).
Because of the government shutdown, these changes were delayed by a couple of weeks this year. However, just because the government delayed its rollout of the new limits, don't think that gives you an excuse to put off your Roth IRA contributions.
The Importance of Annual Roth IRA Contributions
Be honest with yourself. Have you maxed out your Roth IRA for the 2013 tax year? If not, you still have until April 15, 2014. If at all possible, you should make the maximum contribution for 2013 and start preparing to do so in 2014. Why?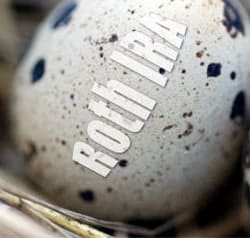 Because every year you wait costs you big money in retirement. For example, let's say you're 30 years old and your goal is to retire in 2048 at age 65. If you put off making a contribution in 2013 and 2014, then contribute $5,500 per year (the current maximum) at an 11% rate of return, you'll end up with $1,515,410.72 in 2048.
But if you make the maximum contribution for 2013 and 2014 as well? You'll end up with $1,878,742.55. That's a difference of $363,331.83 – all because you saved $11,000 over the next 18 months!
Every year you wait to start saving, you pay a high price for your procrastination. So do yourself a favor and commit to saving for your future today.
Everyone Can Contribute
Everyone can contribute, so don't make any excuses. Think you earn too little to contribute? Find a way to earn extra money or cut expenses. Think that's too hard? Is it harder than working 40+ hours a week in your 70's? Make it happen. Remember, unlike a 401k, Roth IRA contributions can be withdrawn tax-free and penalty-free at any age for any reason. This is why Suze Orman says a Roth IRA doubles as an emergency fund.
On the flip side, think you earn too much to contribute to a Roth IRA? Think again.
The Roth IRA conversion rules in 2014 are the same as the 2013 rules, meaning anyone can convert a 401k or a Traditional IRA to a Roth IRA regardless of income.
In years past, the IRS barred high income earners from making Roth IRA conversions. But in 2010, Congress allowed the $100,000 income limit on Roth IRA conversions to disappear. It may reappear sometime in the future, but as of now, it looks like 2014 will be another year without the conversion income limit. So if you're a high income earner who's never taken the opportunity to make a Roth IRA contribution, take advantage now!
Anyone, regardless of income, can make non-deductible Traditional IRA contributions, then convert those non-deductible Traditional IRA contributions to a Roth IRA tax free (since your original contributions have already been taxed). Effectively, it's a back door method for high income earners to make Roth IRA contributions.
However, if you choose to go this route, beware of the pitfalls. Seek the advice of a financial professional who can guide you through the process – especially if you've made Traditional IRA contributions in the past. The IRS doesn't allow you to segregate your non-deductible and deductible Traditional IRA contributions when making a conversion. So if you currently have a Traditional IRA, odds are that you'll owe taxes on a conversion.
Looking Ahead
Similar to 2013, the 2014 Roth IRA rule changes were relatively minor. The contribution limits for a Roth IRA in 2014 stayed the same as last year. They remain:
$5,500 if you're under age 50
$6,500 if you're age 50 or older
For 2014, the IRS increased the Roth IRA income limits in an effort to keep pace with inflation. The range for married couples moved from $178,000-$188,000 to $181,000-$191,000 while the range for singles changed from $112,000-$127,000 to $114,000-$129,000.
As of this writing, all other rules and limits remain the same year over year.
On January 1st, millions of Americans will make New Year's resolutions to lose weight and contribute to their retirement accounts. They'll stay on the straight and narrow for a few weeks or months, then they'll go back to their bad habits. Don't be one of them.
Get a head start. Commit to saving for your future today, before the excess Christmas shopping and end of year gatherings take a bite out of your budget!