I didn't always have the most loving relationship with libraries.
Even as a kid, the idea of owning something somehow trumped the idea of borrowing something.
As far as I knew, checking out a book opened me up to the possibility of late fees and red overdue stamps.
Looking back I think that the reason I resisted libraries was that they indicated a level of responsibility and at the time I could see no return on the good behavior.
Luckily, as I grew up I began to change my view. I started to realize the incredible value in saving money where I could. And beyond that, I began appreciating the incredible opportunities afforded by libraries.
As a hub for research resources, community interaction and general awesomeness they shouldn't be overlooked!
What Libraries Have To Offer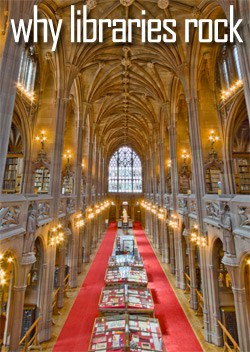 In case you thought libraries were all just about the books, check out what else they have to offer:
Free Stuff
Free access to books at a library is the very first lure, but it goes beyond just the books. In addition to the written classics, you can usually check-out music and movies at the library. In some cases you can also rent out DVD players.
Another bonus is the opportunity to check-out magazines. At $5 a pop, magazines are a pricey purchase and don't usually live long past the the first read. So they're a perfect library item. Free internet is another advantage, so if you ever find yourself in need of online resources you can visit the library to connect!
Community Events
There are tons of free community events at public libraries. These can include author readings, club meetings for various hobbies, and/or career fairs. Libraries provide an excellent meeting point for community members and groups will often take advantage. Most libraries also have a community board somewhere in the building. This offers a place for people to post about other community events or services that are often free or cheap. You can find out about concerts, hiking clubs, fitness classes, etc. that you might not have otherwise known about.
Classes and Family Resources
For adults on the hunt for a job some libraries offer help with your job search and free computer literacy courses. In a world where most things come at a price, this is an amazing resource. Additionally, If you're interested in volunteering your time to help others, you can usually work with the library staff to organize and host your own course.
For families, there are usually playtime activities and toddler reading time. It's an excellent way to pass the afternoon with your kids, and also allows them to utilize their imagination instead of utilizing their iPad skills.
E-books
Did you know that if you have a library card you probably have access to a whole slew of resources and free books online?
Don't worry, you can still participate in epic discussions between printed book lovers and e-book supporters. This just means that the library has both modes available to you.
You can check-out e-books on your Kindle or e-reader at no cost to you. That means you can log onto the library website remotely (even while you're traveling or overseas) and have access to library books at your fingertips.
It's a great way to save money on your reading material especially if you're constantly on the go.
Other Borrowing Options
Besides the classic library, there are other programs and opportunities to "check-out" resources as a way to save money.
For example, chegg.com allows students to rent their textbooks at a steeply discounted price rather than having to buy and sell-back. Tool lending libraries rent out tools (power and non-power) which is a huge money saver. Instead of buying that drill or sander, you can rent it for your weekend home improvement projects!
Tool-lending libraries, media center rentals, online text-book lenders are all other ways to access an array of resources.These check-out systems similarly to the traditional book check-out. You have a certain amount of time before you have to renew or return.
And of Course… the Books
I mentioned it above but the habit of checking out books can save you money and also foster an appreciation for slowing down and engaging with a story or a resource.
If you're looking for money saving ideas and you're on a budget there's nothing better than taking advantage of library benefits. Plus, these institutions often need the extra support and benefit from having an engaged community, so it's mutually beneficial. If you're in the market for something new (or old) to explore take a look at all that a library has to offer.