A couple of days ago I posted about how I was going to be joining the 100 Push-Up Challenge that so many other bloggers have embarked upon in the last week or so. On Monday I completed day 1 of the challenge, and so far so good! I haven't buckled under the pressure… yet. I have to tell you – I am already pretty sore!
Over the past few days I've been putting together a list of some free online resources that helped me in losing weight last year, and I'm sure that can help you as well.
A caveat I should put here – I'm a firm believer that there is no big secret to weight loss. Any successful weight loss plan comes down to two simple steps:
Eat healthier.
Exercise more.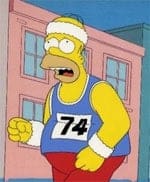 I know a lot of people who make excuses for their weight gain or inability to lose by saying things like, "I just have a different body type than you", or "I never seem to lose when I work out". My answer to those people is that you're probably not doing something right. Either you're still not eating healthy, or your exercise program is leaving something out. (not enough exercise, or not enough of the right kind of exercise).
A lot of those people just don't have the patience to stick to a workout plan as long as it takes to see some real results. Sometimes it may take 30-60 days for you to notice any real progress, but trust me, if you stick to it you'll lose weight!
With that said, on with the free weight loss resources!
Free Resources For Getting Fit
100 Push-Up Challenge: website that will get you on track to do 100 Push-Ups in 6 weeks, or your money back! (You don't pay anything, don't worry).
Traineo.com: Traineo is a website where you can track your weight loss, hook up with other individuals to keep you motivated, track your workouts and a ton of other stuff. You can even get a cool little badge to put on your blog to show your pounds lost, or pounds to go until you reach your goal. Great site, I would check this out.
Bodyforlife.com: Great motivational website with lots of stories of regular people changing their lives, losing weight and becoming fit. Tons of great healthy recipes, workout programs and more to get you going on a lifestyle of fitness. I used the Body For Life program to lose 40 lbs last year. You can get the book through my link below as well if you're interested in the program.
StrongLifts.com: The tagline for this website is, "Build Muscle & Lose Fat through Strength Training". This website has a ton of practical weight lifting exercises for regular people. Lifting weights is probably THE best weight to drop weight. When I started lifting with dumbbells at home, the weight dropped MUCH quicker.
Read diet and weight loss blogs: GetFitSlowly.com, Drop the Fork, Skinny Kat and The Better Body Blog are a few, although there are a ton more out there.
Eatright.org: The American Dietetic Association's Web site will give good nutrition advice.
thedailyplate.com: – This site helps you track foods, exercise, carbs, protein, water, sodium, fiber, sugars, sodium, fat and fiber.
Easy Ways to Lose Weight: 50+ Ideas: Quick and easy tips and pointers on how to lose weight.
User suggestions left in the comments:
Gyminee.com: I just signed up, and it seems to be quite similar to traineo.com. Worth a look! (thanks L@spillingbuckets! )
The Hacker's Diet: I haven't checked this one out too much yet, but it looks interesting. (thanks TUDrewser!)
Sparkpeople.com: track your eating and exercise. Lots of articles about health, nutrition, and fitness. (thanks Eponine!)
MyFitnessPal.com: Another great site that will help you to track your eating similar to a weight watchers program.
So there you have it, some great free resources for losing weight online. Keep in mind that losing weight is still going to be up to you, and you'll need to have the discipline to get it done. Get crackin!
Don't forget to check out my recommended weight loss and workout plan in the book "Body For Life", and at their website discussed above.