I don't carry a checkbook anymore. I stick to cash and credit/debit cards for making daily purchases.
There's still one place I always end up needing my checkbook. At Church, at least once a month, for tithing.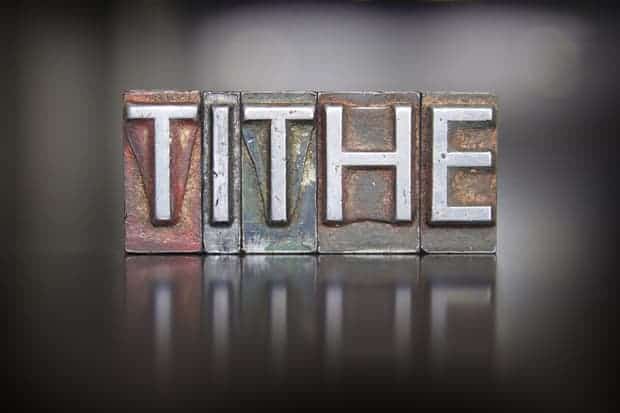 Automated Tithing: A New Way to Give
With all we have going on these days, it's sometimes an after thought to remember to bring your checkbook to Church.
I thought I'd take a moment to examine some of the ways we could simplify the tithing process and ensure we give consistently and on time each month.
After all, I make most of my other payments automatically; why not do the same with tithing?
Auto-Withdrawal (or Bank Draft)
Most Churches will sign you up for auto-withdrawal.
What is the auto-withdrawal? This is where you fill out a form, which includes your bank routing and account number, your specified contribution % or amount, and an attached voided check.
The Church then hands your info over to their bank who handles the rest.
Other Online Systems
Beside the traditional auto-withdrawal method, there are online based third party systems that will handle it all for the Church.
eGiving Ministries appears to be one of the leaders in this arena. See more at eGivingMinistries.com.
Online Bill Pay
Use your bank's online bill payment system to send recurring checks to your Church. Just make sure this is a free option and that your Church will know what to do with the check. It might be a good idea to speak with them about this first.
Automated Tithing Machine
Yes, some Churches apparently have Automated Tithing Machines ("ATMs") that allow you to use your debit/credit card to give right there in the Church lobby. Not really automated in the sense I'm writing about, but it sure is convenient and pretty cool.
I could see myself doing this on those Sundays that I forget my checkbook, as long as the machines wouldn't charge me a transaction fee. If your Church doesn't have one, consider asking them to have one set up. See more at SecureGive.com.
From their website:
"The Secure Give system is built around a giving kiosk that features a touch screen monitor, a magnetic stripe reader, a receipt printer, a secure encrypted PIN pad, and an enclosure. When the donor steps up to the giving kiosk, he or she will be led through a simple menu that will enable the contributor to donate to your ministry or your non-profit organization."
That's pretty cool. Would you tithe through one of these "ATMs"?
Not Ready for Auto-Tithe?
For many reasons, setting up some sort of automatic tithing might not be the right thing for you. For instance,
You may have irregular income;
You may want to "feel" the act of tithing by physically writing out a check or handing over cash (nothing wrong with that); or
You may just not be comfortable with the whole automatic transaction thing.
If that's the case, here's your solution: simply leave your checkbook next to your Bible or in your car (make sure your car is garaged if you do this). You might even consider tearing a few checks out of the checkbook and placing them directly in the pages of your Bible.
For more on tithing, check out Pete's series: "The Bible and Tithing: to Give or Not to Give", or look at some more creative ways to tithe.
This article was written by Phil of PTMoney.com.