A couple of weeks ago I came across an interesting discussion on rocketfinance.net about tithing. Specifically, he was discussing whether or not it was OK for a pastor to look at tithing records of congregants when choosing deacons for the church:
I heard a pastor say that when his church members are nominated for positions of leadership like deacon, trustee or elder – he checks their giving records. If they are not faithful givers, he asks them to withdraw their name from consideration. I think that it makes sense that those who are in leadership of a particular organization also be those who are also financially supportive, but the thought of a pastor checking giving records is unsettling to our usual way of doing things.
I have to admit, the idea of the pastor checking the giving records was a bit unsettling for me too, and I'm not sure I think it's a great idea. The whole question got me to thinking about the subject of tithing and giving in general.
I started this blog recently after beginning to attend a group called Bible Study Fellowship. If any one is looking for a good bible study to attend, I would definitely recommend it. BSF has really been helping me to focus my life and to re-discover my faith. As a result I've been convicted of a few things in my life that need to change. One of those areas where I realize I've been woefully inadequate is in the area of giving.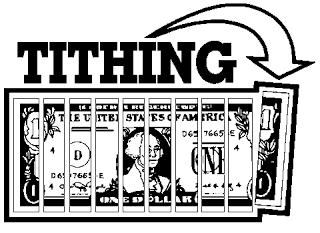 Tithing, and money in general, can be a very touchy subject to talk about at church. I've seen some very heated discussions revolving around the topic, and I'm pretty sure I won't be able to resolve those debates here. But tithing is a huge issue.
According to Giving USA Foundation, a nonprofit educational organization in Glenview, Illinois, Americans gave an estimated $97 billion to congregations in 2006, almost a third of the country's $295 billion in charitable donations. So as you can see, this is a huge amount of money being given – and thus a huge issue.
Some of the most heated points of debate surrounding tithing are these; Is it a biblical principle to give 10% of our gross income to the church? Should it be required for membership or be a free-will offering? If it isn't a biblical principle, should we still give?
After scouring the web for opinions on the subject, I can't tell you how many resources there are out there. Let me begin with some of the PRO-tithing crowd and their argument.
Tithing Is A Biblical Mandate
From Pathlights.com, they begin their argument for tithing by quoting from Malachi 3:
Bring ye all the tithes into the storehouse, . . . and prove me now herewith, saith the LORD of hosts, if I will not open you the windows of heaven, and pour you out a blessing… " Malachi 3:10
They argue that God is the creator of all, owns all, and purchased us through his death on the cross. Because of that we are only stewards of God's bounty, and as such must be "faithful and wise stewards", of what we have been given, whether it is a little or a lot. They go on to explain what a tithe is in their estimation:
What is the tithe? The tithe means one tenth. If a man earns $1, his tithe is 10 cents. If he earns $100, it is $10. If he earns $1.000, his tithe is $100. God requires the tithe. What a man gives above that is his offering, or gift.
So tithing is required by God, and the tithe is 10% of what we have been given by God. Anything above that is a free-will offering. When we are good stewards of what we have been given we will be rewarded by God.
In their conclusion Pathlights.com boils tithing down to this statement:
The system of tithes and offerings was intended to impress the minds of men with a great truth-that God is the source of every blessing to His creatures, and that to Him man's gratitude is due for the good gifts of His providence.
All-in-all the points that they make seem to be well reasoned, and certainly made me think.
Tithing Is Good For The Church: Act of Faith, Gratitude, Respect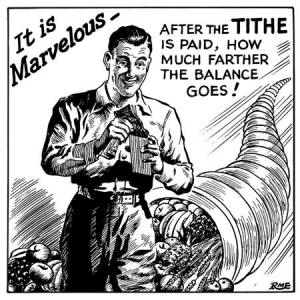 Another pro-tithing opinion at Nansemond River Baptist Church explains that tithing is good for the church. Dr. Piland writes:
Is tithing good for the church? Of course, because it is fair, equitable, and, when all the members do it, it is always enough! I cannot envision a time when it will not require financial underwriting to carry out the church's mandate. Money is a part of life, even in the life of the church. For the better part of 2000 years now, it has been tithes and offerings that have provided the supply, not bake sales, bazaars, or cookbooks!
He goes on ask:
Is tithing a Jewish legal requirement or does it apply to Christians who are not under law but under grace? Although I always want to be biblical, I fear that the arguments against tithing tend to come more from materialistic inclinations rather than a desire for doctrinal soundness. Still, the issue remains in most churches, and it does no good to ignore it.
He explains his position on the subject:
[tithing] seems to have always been an expression of deep respect and gratitude to one's benefactor. When you come to Malachi, it is also a matter of trust, believing that when God's people provide the "supply," He provides the "blessing." That is not a matter of law, but of faith!
So we tithe out of faith, as an expression of gratitude and respect for our creator. Not tithing in his opinion often seems to be out of a materialistic worldview, instead of a true need to search God's word.
Tithing Allows God To Bless Us
Joseph Mattera gives the reasons and verses why he thinks tithing is still a part of Christian life and law, and then sums up his arguments on his website saying:
if you do not give what God wants you to give, then God cannot give you what He wants you to have!
If you aren't faithful to God's law, you are forsaking the blessings that he wants to give you.
So there are a few views of why tithing is good, and why it is required by God's law.
Part 2
In the next part of this series I'll be looking at the viewpoint that tithing isn't biblical, and that requiring a tithe isn't good.
The Bible And Tithing: To Give Or Not To Give Part 2 – Tithing Not A Mandate – Click Here
Related Pro Tithing Links
Before moving on to part 2, take some time to read up on the websites mentioned in today's post, as well as the links below. Let me know what you think in the comments.
Nansemond River Baptist Church – Pro-tithe