When it comes to talking about giving in the Bible, the first thing most Christians think of is tithing.
In fact, we often use tithing as a synonym for giving.
But as I've studied Scripture and people's ideas about tithing, I've come to the conclusion that God's desire for Christian giving is a bit different.
So I've written quite a bit against tithing on my own site. I did an eleven part series last year that looked at every instance of tithing in the Bible with the goal of understanding the passages in context and comparing them to what is taught today. Because of those articles, I've been accused of being greedy, stingy, making excuses for people not to give, and telling people they shouldn't give to their local church.
My reasons for not teaching tithing actually have nothing to do with being greedy, not wanting people to give, or trying to stop people from giving to their local church.
Actually, I've never written anything to support any of those ideas.
But I'm not sure I've ever clearly stated why I don't teach tithing. So I thought it might be helpful to discuss it here on Bible Money Matters and get some feedback from you all. Here are the reasons why I don't teach tithing (and why I teach against it).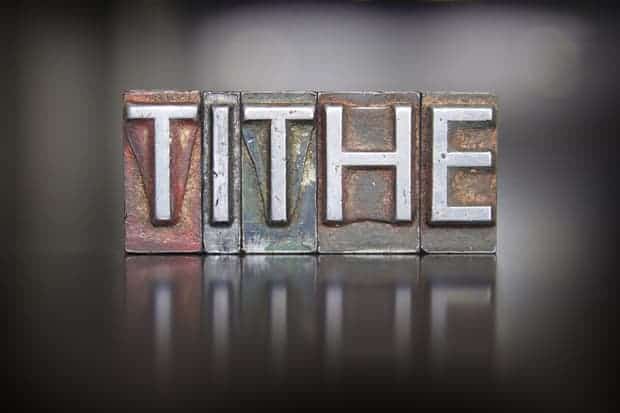 1. Christians Are Not Under the Law
The first danger I see in teaching tithing is that it's an effort to put ourselves back under the Law. As Paul writes in Colossians 2:13-14:
(13) When you were dead in your sins and in the uncircumcision of your sinful nature, God made you alive with Christ. He forgave us all our sins, (14) having canceled the written code, with its regulations, that was against us and that stood opposed to us; he took it away, nailing it to the cross. Colossians 2:13-14 (NIV)
And in Galatians 2:19-21:
(19) For through the law I died to the law so that I might live for God. (20) I have been crucified with Christ and I no longer live, but Christ lives in me. The life I live in the body, I live by faith in the Son of God, who loved me and gave himself for me. (21) I do not set aside the grace of God, for if righteousness could be gained through the law, Christ died for nothing! Galatians 2:19-21 (NIV)
When we see to put ourselves back under the Law, we are acting as if Christ died for nothing. We are essentially ignoring God's grace and denying Jesus! When we look to tithing to become our rule and strict standard for giving, we ignore the freedom we have in Christ – not to stop giving, but to base our giving completely on love motivated by God's love for us.
The main area this is a problem in tithing is with those who teach that you will be cursed if you do not tithe. Nothing could be further from the truth! Paul wrote in Galatians 3:13:
Christ redeemed us from the curse of the law by becoming a curse for us, for it is written: "Cursed is everyone who is hung on a tree." Galatians 3:13 (NIV)
The curse that is spoken of in Malachi 3 is the curse of the entire Law of Moses. That curse came upon anyone who was guilty of breaking a single command in the Law – not just tithing. For us to say that Christians today will be cursed if they don't tithe is the same as saying we are under the entire Law. I'm not going to go into more of why that's a problem because it should be obvious to most Christians. But if you would like to study it more, please read all of Galatians and Colossians as they deal with this subject thoroughly.
2. Tithing As It Is Generally Taught Today Is Not Biblical
Even if the Law did apply to us as Christians, the way tithing is taught today resembles nothing that the Bible actually says about it.
We've warped it so that we use the example of tithing but add our own meanings of what tithing is and methods on how to do it correctly.
Now this is more of a nit-picky thing. I wouldn't discount tithing as an example or rough guide for giving based on these things, but I merely point them out to show that we can't really claim today's teachings on tithing as "biblical". I don't want to dwell on it, so let me give you three quick examples of how tithing in the Bible is different from tithing today.
Amount: There were actually three tithes in the Bible that would equate to 23 1/3% annually – the Levitical tithe, the Festival tithe, and the Poor tithe.
Use: The Festival tithe was eaten at great feasts, the Poor tithe went completely to support the needy, and of the entire Levitical tithe only 10% went the priests (a tithe of the tithe).
Contents: The tithe was always and only ever food products – agricultural produce and livestock. And regarding the livestock portion, it wasn't the "best".
If you've never realized any of those truths before, I'd encourage you to read my articles on tithing in the Bible just so you'll know what the Bible actually says on the subject.
3. Jesus' Example Is a Better Motivation for Giving
Finally, and this is my ultimate reason for not teaching tithing, Jesus life and example is a much greater motivation for our giving than tithing can ever be.
In fact, I think one reason we don't see as many generous Christians as we should expect is because we fail to point to God's love enough when we discuss giving.
Instead, we focus on rules and regulations (the Law). It should be profoundly clear why basing our giving on Jesus Christ's teaching and sacrifice for us is the ultimate motivation for generous giving.
Tithing did not suffer for us.
Tithing did not die for us.
Tithing can never give us eternal life.
Tithing will never love us.
Consider how powerful those statements are when contrasted with what Jesus did for us. Think about what it would look like to base your giving on Jesus instead of tithing. I think then you'll see why I don't teach tithing as a guideline for giving. It was only a mere shadow of the things to come once Christ revealed God to us.
Why wouldn't we want to let Jesus be our example for giving?