"Train a child in the way he should go, and when he is old he will not turn from it."- Proverbs 22:6
While schools teach children how to read, write, and eventually make a living, very few teach them how to manage money. That's one reason why today's young people simply don't know very much about money. In the JumpStart Coalition's 2008 national test of financial literacy, high school seniors correctly answered an average of just 48 percent of the questions.
Clearly, it's more important than ever for parents to be actively involved in teaching their children about money. Fortunately, there are a lot of free online resources that can help. Here are some of my favorites.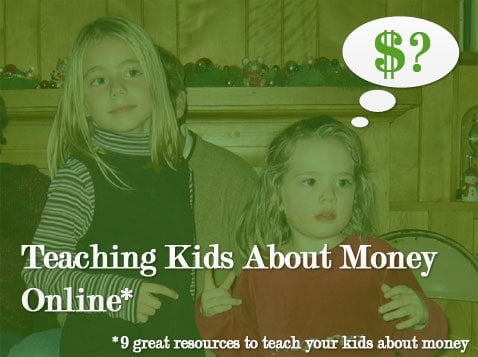 Online Resources To Help Parents Teach Their Children About Money
The Credit Union National Association's Thrive By Five resources will help you begin teaching your preschooler about money.
The U.S. Treasury Department has links to several government sites offering money-related lesson plans, games, and more.
The American Savings Education Council offers this list of ideas on how parents can help their children – from preschoolers to teenagers – learn about money.
MyMoney.gov has a page devoted to games, fun activities, websites, video games, and information about money for kids and youth.
The Council for Economic Education sells a variety of financial education materials, but also offers free money-related lesson plans designed for use with kids of all ages. Once you're on the site, click on "resources."
Sense & Dollars, sponsored by Maryland Public Television, is aimed at middle school and high school students. The site includes online games and exercises that teach the real cost of using credit, how to plan for an upcoming expense, how to read the financial charts in newspapers, and more.
While I'm skeptical when a bank or credit card company offers to teach kids about money, I like Savings Quest from Wells Fargo. It's a well-designed interactive tool that helps high school students learn how to stretch a paycheck to achieve their financial goals.
To help kids navigate our consumer culture, the Center for a New American Dream offers several resources, including a downloadable pamphlet on "Parenting in a Commercial Culture." Find it by clicking on "Publications."
Among the best Christian money-related web sites is Crown Financial Ministries, which offers numerous helpful resources. Click here and search on "Children and Family" to find several good articles on teaching kids about money. Also, go here and then download the "Finances for Children and Teens" pamphlet.
My all-time favorite way to teach kids about the importance of generosity is to sponsor a child through Compassion International or World Vision. You can go to either web site with your kids and choose a specific child to sponsor, finding out how old they are, where they live, and what they like to do. I didn't realize the impact our sponsorship would have on our kids until a couple of years ago when I began teaching our now five-year-old about the three main things you can do with money once you have some. He had learned to say, "spend it, save it, or give it away," but I sensed that these were abstract concepts. One evening we spent some extended time as a family reading a letter from Aziz, the boy we sponsor through Compassion, and looking at his picture. We were explaining where Aziz lives (Burkina Faso) and why he had chosen to use some extra money we had sent to buy soap for his poor family instead of a toy. The next morning, when I asked our son about the three things you can do with money, he said, "spend it, save it, or give it to Aziz." I'm not sure he understood the concepts of spending or saving any better, but generosity now had a name and a face.
Have your own favorite online financial education resources? Leave us a comment and let us know what they are!

This is an article by Matt Bell, a biblical money management speaker and author of Money, Purpose, Joy and Money Strategies for Tough Times, both published by NavPress.