How soon is too soon to teach a kid about money?
While more knowledgeable educators and child psychologists would love to quibble over the finite details of this question, my response is less nuanced – as soon as possible between the ages of 3 and 4.
Since it is hard to predict when your kids might "get it" I think it would be wise to have a system in place for when the child does.
When my daughter was 3 1/2 years old she got her first job (she worked for mommy and daddy) and started managing her own money. Since one of the common reasons budgets fail is a lack of training, we want to be sure that our kids are equipped with the necessary tools to budget.
How We Teach Our Kids About Money
Right now we have one child old enough to start learning about money. The second is not far off from getting his first job in the house.
We have three jars that our daughter keeps in her room. Each jar has a sign – give, save, or spend. On two predetermined days of the week she puts one coin in each jar. The coin, by the way, comes from her job – turning on the outside lights at night. On Friday we let our daughter choose which jar to put her coin in.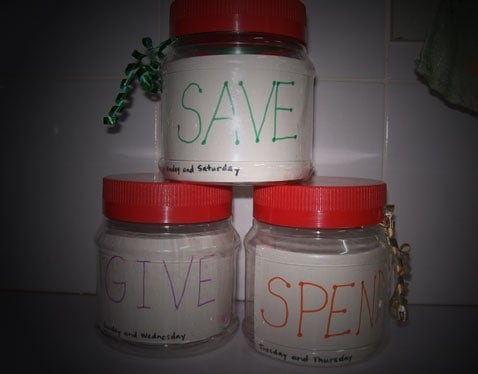 Chores, Allowance, And Kids
In our home each family member has certain responsibilities. We clean rooms, clean up after supper, do dishes, laundry, and similar jobs just because we are part of the family. For these types of jobs our kids work without pay. However, when we assign extra jobs to willing children we pay them to do the work. If the child doesn't want to do the job – that's fine. We let our daughter 'quit' her job for several weeks until she wanted money to take to church again. So we rehired her.
The system is not fail proof, but it works well for our family.
Five Suggestions For Teaching Young Kids About Money
Focus On Core Lessons

Don't try and teach too much. While I think there are at six core characteristics of financially healthy people we decided with our young kids to focus on only two or three characteristics. What two or three things do you want your child to learn about money? For us, we thought we were on the right track emphasizing the relationship between work and money. We wanted her to learn three main things she could do with money – give, save, and spend.

Make It Fun

Young kids don't need to do anything boring with money. The sound of a coin clinking in the jar and a special storage location makes young kids enjoy the money management. Get a nicely designed container or let your child help decorate a container.

Provide Lots Of Structure With Just A Little Flexibility

For six days of the week, the give, save, or spend decision is made. However, one day a week she gets to choose her favorite jar.

Let The Children Take Ownership

Each Sunday we encourage our daughter to go and get her coins and put them in her purse. She happily does so and always anticipates the time on Sunday morning when she gets to put her coins in the basket. Actually, she now shares one coin with her younger brother so she puts in a coin and he puts in a coin.

Watch For Teachable Moments

Just today my daughter said, "Daddy, I'm excited for Christmas so that I can give some more toys away." We have a rule that when you get a new toy you give away an old one. That was a special moment as we had a chance to praise her for her selfless thinking. It's an honor to seek kids develop a giving heart.
How early is too early to teach young kids about money? What suggestions do you have for teaching young kids about money?
Want some more tips to help teach your children about money? Check out our previous post called "Training A Child About Money – Online".