Peer To Peer Lending Is Legitimate
I first heard about Lending Club and the whole peer to peer lending movement earlier this year when other bloggers were constantly writing about the program. At the time I dismissed the whole concept because I was thinking that it was a high risk gamble where most of the borrowers were big credit risks, and couldn't get another loan somewhere else. I figured that they would probably not end up re-paying the investors. The high returns had to come some relatively high risk as well, right?
Lending Club loans do come with a degree of risk, like I thought. With peer to peer lending you're going to have more risk than keeping your money in a CD or high yield savings account, but the returns are a lot higher as well – and you can do things to help manage your risk. And since they're offering a $25 signup bonus to try it out, there really is no reason not to give it a try!
Performance Of My Lending Club Portfolio
I set up my Lending Club account way back in July and funded it with $100 from my linked bank account. I didn't invest much because I was extremely skeptical of Lending club, and I didn't want to commit too much money to this endeavor – at least not right away. I wanted to test the waters.
Read more about how to open a Lending Club account and how to choose your investments – here.
Choosing investments was extremely easy. There are a few ways you can do it. You can have the system choose your loans for you using "Lending Match". Your loans will be automatically picked and diversified for you. If you prefer you can get more in depth and hand pick your loans. I hand picked my loans because I didn't want to help fund any loans that didn't sound responsible to me, and I also wanted to make sure that the borrowers I was lending to were good credit risks.
Once you choose your investments it's just a matter of sitting back and waiting for your payments to start coming in. So far all 4 of my investments have had their loans issued, and they have all remained current on their payments. So far so good!
My net annualized return on my money is currently at 11.19%. That's a lot better than what I'm getting in my account at ING Direct!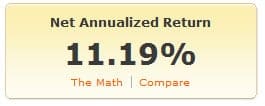 Benefits Of Peer To Peer Lending
There are a lot of benefits to investing with Lending Club. Among them:
Bonus cash to sign up. $25 for you to invest, no strings attached! No barrier to entry – so it's worth a try!
Great returns. 9.67% average net annualized return. (I'm making more right now!)
Cut out the middle man – the big bad banks! Help someone get a lower rate than they can at their bank, and make some money in the process.
It's fun!
Sign-up Bonus
If you've been on the fence about signing up for Lending Club, it's time to get off the fence – now! Lending club is offering new investors a bonus of $25 to open a new account. No strings attached! What could be better than free money with no strings attached?
So if you're thinking about signing up for Lending Club, do it now before you forget. You'll get free money, and there is no no minimum amount to fund an account. Just open the Lending Club account and link your bank account. Once you verify your account the $25 will be triggered to go into your LC account. Easy peasy! Click the button below to sign up!