As I mentioned in a previous posting on high yield savings accounts, lately I've been looking for a new online bank where we can put our money. Our current savings account is with the same company as our mortgage (Bank of America), and I decided that I wanted our savings to be at a different bank.
For quite a while now I've been hearing great things from other personal finance bloggers about ING Direct's Orange Savings Account. They talk about the great variety of features and benefits of having an account, and to some degree they talk about ING as if it was something they couldn't live without. (It's almost a cult!) I had to find out what all the hub-bub was all about. This week I decided to finally take the plunge and sign up.
ING Direct Is Now Capital One 360. Read The Full Review Here.
Signing Up For ING Direct Orange Savings Is Easy
Signing up for an account with ING Direct is an easy process that will literally only take you a few minutes. Currently it's a 4 step process where they'll ask for your personal and contact information, linked checking routing and account numbers, and then ask you a few security questions in case you forget your password or sign into your account from a second computer. You can tell they take security seriously.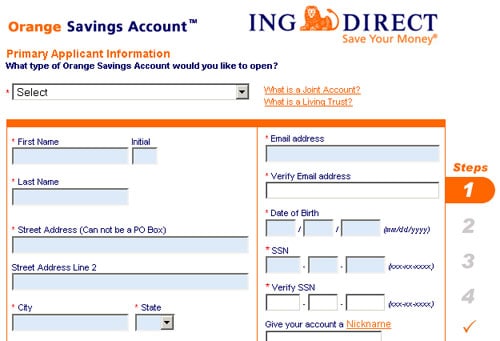 Once the initial sign-up process is done ING will make 2 small deposits into your linked checking account within a couple of days. You'll need to login to your checking account, find out how much those small deposits are, and then verify the deposits in the ING Direct interface. Once you do that you're ready to go!
Features Of The ING Direct Orange Savings Account
Once you've signed up you'll discover that the ING Direct Orange Savings Account is one of the most full featured online high yield savings accounts that you can find. Here's a quick rundown of some of the features that I'll be taking advantage of.
Good interest rate: While the interest rate isn't currently the best in the industry, it is still certainly competitive.
Ability to create budgeting sub-accounts: To me this is one of the main features, the ability to create budgeting sub-accounts, which allows you to set goal savings accounts. Have separate accounts for your vacation fund, your emergency fund, your property taxes and your year insurance bill. Set the accounts up, and then setup an automated transfers plan to fund those accounts.
Ability to name sub-accounts: You can name your sub-accounts easily – calling them things like "Christmas Fund" or "Vacation". That means it'll be easier to remember what the accounts are for since descriptive names are so much better than "account # 232231422123".
Quick transfers to and from my local bank: Linking your bricks and mortar checking account is a snap, and the transfers between accounts are quick.
Easy remote deposits via scanner or smartphone: You can make remote deposits by scanning in your checks or by taking a picture of them with the ING App.
Automated transfers: You can setup automated transfers every month that will allow you to fund your different savings goal subaccounts that you've set up. It makes it super easy when you can set it and forget it!
Security. ING's security features are top-notch. They are consistently ranked among the top financial online banking institutions in security reviews, and you can tell when you sign up that they take it seriously.
Those are only a few of the many features that I've already found and loved with my new ING Direct Orange Savings Account. I think the addition of ING to my portfolio will be a great tool that will allow us to further improve our budget, and make saving for our goals that much easier. I highly recommend others sign up for ING as well and use it as part of their own path to financial freedom!
Already have an account with ING? How do you like it? What features are your favorite? What are some things that you think new account holders should be aware of?