Earlier this year I announced I was going to be participating in a 1 year investing contest, the Grow Your Dough Throwdown 2.0. The investing challenge is sponsored by one of my favorite investing companies, Motif Investing.
Here's how it works.
Each person in the challenge takes $500 given to them by Motif Investing, and then invests it for an entire year via Motif to see who could come up with the largest gains over the year.
I didn't participate in last year's contest, but in the end PTMoney found victory by speculating on individual stocks. He saw gains of around 33% for the year, which are obviously pretty great.
So how is this year's contest going so far?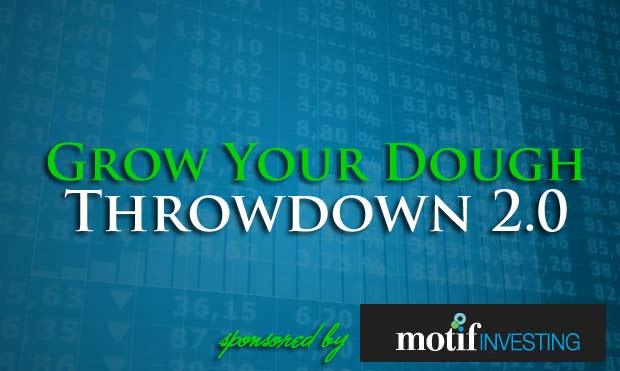 The Grow Your Dough Throwdown 2.0 Update
The Grow Your Dough Throwdown 2.0 (GYD 2.0) has been going on now since January 1st, 2015. As of this morning when I checked, my returns were not great, at -2.0%. That put me in dead last place. Not exactly what i was hoping for.
My original Motif/portfolio that I created was more focused on a long term growth dividend strategy, than a short term investing strategy – which I think may have hurt me. I was investing more like I would have in my typical long term strategy – the marathon if you will – when this contest was more about the 100 meter dash.
I decided today that I had to make a change, especially since the contest leader, Phil with PTMoney (again), is in the lead with a monster 286% increase on his initial investment, as of this morning. That comes out to about $1358.50 value on his initial $475 investment. Wow! You can certainly see how short term investing could become addicting if you pick a good stock here and there!
Phil's using that same strategy that he used last year. He picked stocks that were listed as "100% Buy" on the BarChart.com Top 100 Signals Stocks, and then he would sell if the stock in a month if it either increased by 35%, decreased by 10% or flatlined.
The stock he picked this year, Eagle Pharmaceuticals Inc. (EGRX), certainly has had an amazing year. He has stuck with the stock all year, however, because it just continues to rise month over month. Can't fault him for that with the returns he's seeing. It's going to be hard for anyone to catch up to him!
My Shift In Investing Strategy For The Contest
Today after checking my current returns and seeing just how bad I was doing in the contest, I decided to try and switch to using a strategy similar to what PT was using. Time to use a short term investing strategy instead of a long term one.
My New Strategy
So here's what I did earlier today to jumpstart my new strategy.
I checked the "Top Signals Stocks" at BarChart.com for a stock that was showing good positive momentum, and that was listed as a 100% buy (as per PT's strategy).
After identifying 3 or 4 good possibilities at the top of the list, I did some brief research on the stocks. I narrowed my pick down to Sarepta Therapeutics Inc (SRPT), a biopharmaceutical company. The company is listed as a big buy in many spots because of a positive meeting they just had with the FDA this week that could lead to the approval of their new drug to help treat Muscular Dystrophy.
I sold most of my dividend stock holdings this morning and switched 95% of my portfolio to be the new hot stock, SRPT.
After buying 17.5 shares of SRPT stock at $24.60 this morning, the stock has continued to slowly rise throughout the day to where it is as of this writing at $26.80. Already I've had almost a $40 gain in a couple of hours. Hopefully that will continue!

Trading Alerts
After changing my positions in the Motif, I was also able to setup trading alerts on my portfolio.
Alerts are a new feature as of last week, and essentially it allows you to be notified if your portfolio increases a certain dollar amount or percentage, decreases a certain amount or percentage, or to notify you if your total positions in the account reach a certain dollar value.
I have setup alerts to notify me if my Motif decreases by 10% or if it increases by 35% in order to help facilitate the new strategy of selling at 35% gains, or selling at 10% decreases. Now, if the account value increases or decreases by those percentages, I'll get an email and a text to my phone to alert me to take action.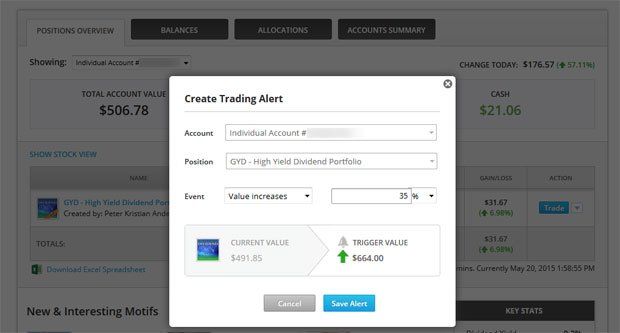 The Grow Your Dough 2.0 Leaderboard Update
During the contest Motif will host a leaderboard that is continually updated with the current standings in the contest. I'll check in from time to time to see how I'm doing. View the entire leaderboard and what people are investing in here.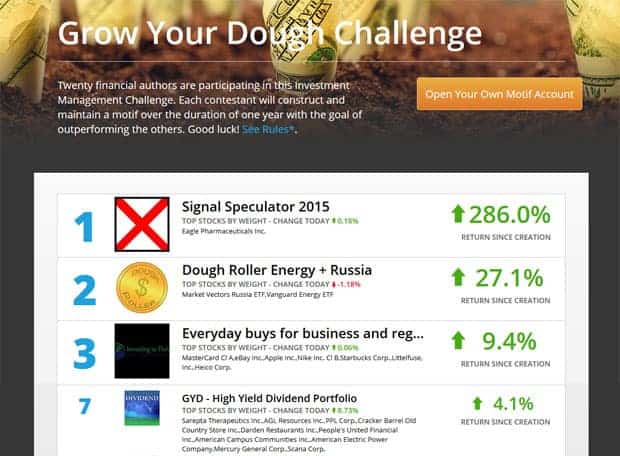 As of today, 5 months into the contest – I am in 7th place. Before switching my strategy this morning I was in 20th (last) place. So far the switch has worked with my stock gains from today bumping me up 13 spots! Hopefully it will continue!
As mentioned, it looks like Phil with PTMoney, winner of last year's contest, is off to a smashing start again with almost 286% gains as of this writing.
Here's a widget showing my GYD – High Yield Dividend Portfolio motif in case you want to look at it more in depth, or even invest in it yourself.
Motif Investing: The Brokerage We're Using For The Contest
This year's GYD 2.0 challenge is being sponsored by one of my favorite brokerage companies, Motif Investing. I was already familiar with Motif Investing from reviews I wrote about them over the past couple of years. I had an existing account with them, so I was all set to go.
Motif Investing – Investing In Themes
Motif Investing is a relatively new company, having launched back in 2012. The idea behind the company is to allow investors to create their own low cost investing strategy through the use of their theme based bundles of up to 30 stocks that they call motifs.
Investors can invest in already pre-built motifs that experts have put together (High Yield Dividend Stocks, Obamacare Stocks, Real Estate Stocks, etc), or they can create their own custom motifs and then invest in those. You can have anywhere from one stock up to thirty stocks in your motif. It's essentially a way to create your own ETF-like bundles of stocks, without the added expense ratios.
You are allowed to do real time market trades via Motif Investing, and part of the great thing about investing in a motif is that you can buy fractional shares in up to 30 stocks, but still only pay the one fee per transaction, instead of one fee for each stock you buy.
Here's what the fees look like to invest at Motif Investing.
$9.95 per motif trade, no minimum trade requirement.
$250 minimum per motif (bundle of up to 30 stocks)
$4.95 per stock trade to customize stocks in a motif.
No maintenance fees.
No inactivity fees.
The main numbers to take note of are you have to spend a minimum of $250 to buy a motif, and anytime you buy a motif (no matter how many stocks are in it) it will be a commission fee of $9.95. That's a great deal!
Open An Account With Motif Investing And Play Along!
If you open an account now and play along with us on the GYD 2.0 challenge for the rest of the year, you can get up to a $150 bonus through the link below. Here's what you need to do to get the bonus:
Fund the account with at least $2000.
Do a motif trade within 45 days. If you do at least 1 trade you get $50. At least 3, $75. At least 5 and you'll get $150.
If you decide to jump in with us and try your hand at our investing challenge, let us know in the comments!
Open An Account With Motif Investing
Related Content