Last year, as part of our ongoing quest to cut costs on our regular recurring monthly bills we switched our wireless service provider to Republic Wireless.
We had already saved hundreds of dollars on our home phone bill using Ooma, and even though we weren't paying a ton for our mobile phones we knew we could do better.
We knew we wanted to sign up for a low cost no contract cell service. Virgin Mobile was our provider for many years, and we liked them, but after discovering Republic Wireless and how much cheaper it could be, we ended up switching providers.
This past month Republic Wireless announced that they would be providing new cell plans that will give refunds to users who subscribe to data plans – for data that they don't use. I'm not aware of any other providers that are paying users back for unused data?
These new plans were welcome news for me as I'm currently on their $10 plan for talk and text but no data, because 3G only data starts at $25. I get mobile data from my FreedomPop hotspot instead. With the new plans I'll now be able to get 4G data, but only pay a few more dollars, instead of $15 more per month for only 3G data, like I currently could.
So let's take a closer look at the awesome new Republic Refund Plans.
We've Been With Republic For Almost A Year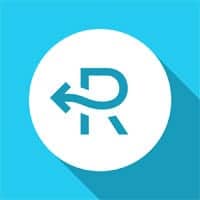 I originally signed up for Republic Wireless last fall after hearing a ton about them after they sponsored FinCon14 in New Orleans. I was impressed with their WiFi calling technology and low cost plans, so after another blogger highly recommended them to me, I reached out to them to see if they would send me a phone to review.
The folks at Republic Wireless were kind enough to provide me with a Motorola Moto X so that I could take the service for a test-run and see what I thought.
We were so impressed with the phone and the service, that after testing it for less than a month my wife decided she wanted to get her own Moto X.
You can check out the entire review of the Moto X here. Needless to say, we've both been very happy with Republic, and I recommend them to everyone. They just keep getting better and better over time.
Here's a short review and unboxing of my 1st Gen Moto X:
New Republic Refund Plans – Get Paid Back For Data You Don't Use!
Republic recently released new calling and data plans that should make the service even more affordable for most users. The new plans have different tiers for data usage where you can pay for as much, or as little, mobile data as you want. For whatever data you don't use within your tier, you'll get a refund!
For example, if you're in the tier that has 1GB of data and you only use 500MB of that data, you'll get a refund for the second 500MB. That will mean a credit of about $7.50 on your account.
Republic starts with plans for as little as $5-10/month that include no cell data, and go all the way up to the $40/month plan.
Republic Calling & Data Refund Plans
Here are the newly released calling plans that are now available with Republic Wireless as of July 2015.
$5/month WiFi only plan: You get no Sprint cell network usage with this basic plan.
$10/month base WiFi + Cell (talk & text only) plan: Unlimited talk and text on the Sprint network. Data only available on WiFi, no cell data.
$17.50/month WiFi + Cell (talk, text and .5GB of 4G/3G data) plan: 500 MB of data every month, with upgrades to next level if wanted.
$25/month WiFi + Cell (talk, text, 1GB of 4G/3G data) plan: 1GB of data every month, with upgrades to next level if wanted.
$40/month WiFi + Cell (talk, text, 2GB of 4G/3G data) plan: 2GB of data every month, with upgrades to next level if wanted.
The $10/month plan is the base plan that includes talk and text, but no cell data. After that you're paying $15/month for each 1 GB of cellular data added to the base plan. So for the $17.50 plan you get 0.5 GB for $7.50.
If the $40/month 2GB plan isn't enough, you can continue adding 1GB of data onto that plan for $15/GB. You'll get the data refund for what you don't use.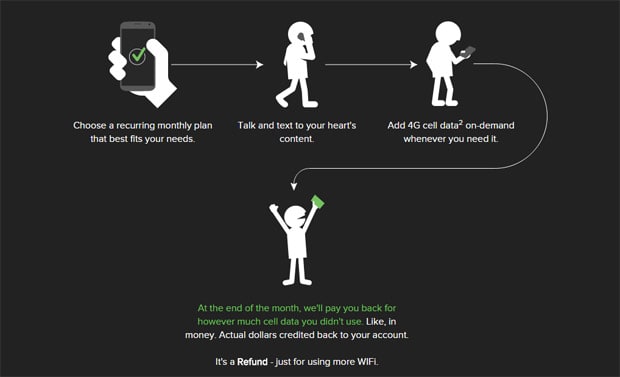 I think most users should see some pretty nice savings from these plans, especially those who are lower users of mobile data like I am (some more frequent users of mobile data may see some increases. For them I suggest a hotspot from FreedomPop, with no monthly data costs!).
Republic recently tested these new plans with a select group of beta testers, and they found that 80% of users either paid the same or less on these new plans.
My Cell Bill Under The New Refund Plans? Lower Cost!

I did a test run to see what my bill could look like on these new plans based on my current data usage, about 300 MB of data last month. My new bill would come out to somewhere around $14.50-15 when factoring in my data refund: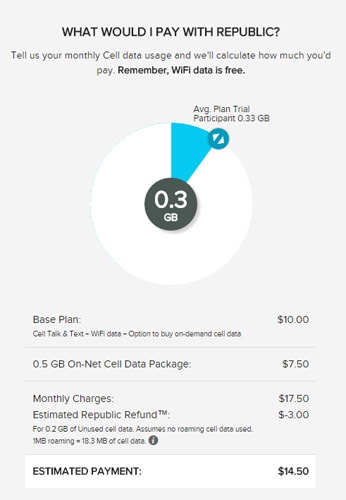 So instead of having to pay $25/month for 3G only data, under the new plan I'll likely be paying about $$14.50-15 ($17.50-3.00 data refund) and get 3G AND 4G data. Sounds like a great deal to me!
Not only will most Republic customers be paying less than they were before, but their plans continue to be cheaper than other providers out there.
According to J.D. Power the average monthly cell phone bill as of 2013 is $79 per month, while the average family plan is about $149.
My Plan Comparison
Previously my wife and I were paying $35/month plus tax for our 2 Republic Wireless phones. That got us:
Moto X Phone 1: $25/month plan with talk/text/3G data.
Moto X Phone 2: $10/month plan with talk/text but no cell data.
On the new plans we'll probably be paying less – about $27.50/month plus tax. We'll be paying less, but getting more:
Moto X Phone 1: $13/month with talk/text and 4G/3G data. (based on my wife's 200MB monthly usage).
Moto X Phone 2: $14.50/month with talk/text and 4G/3G data. (based on my 300MB monthly usage).
By switching to these new plans, if our data usage continues at the same pace we'll end up saving about $90/year (based on $7.50/month savings). I can get on board with that!
Tips For Saving On Your Mobile Data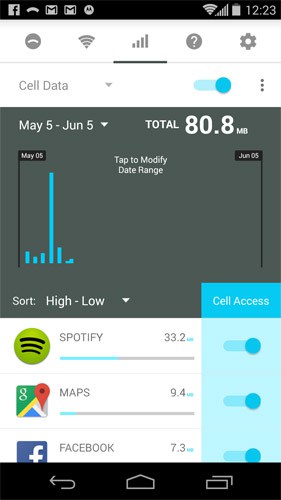 When using Republic Wireless you can save on how much mobile data you're using by updating a few settings on your phone.
The Republic App
First, you can save data by using the newly updated Republic Wireless app. The app has a "Cell Data" tab that shows you your monthly data usage, and along with that, allows you to see which apps are the biggest culprits of mobile data usage.
For example, in my app I saw the most mobile data usage from my Google Chrome mobile browser, Instagram and a Weather app.
Once you figure out which apps are using the most data, you can turn off cell access for the apps that you don't want to use while on cell networks (They'll still be available on WiFi). I turned off cell access for a bunch of games, the weather app and a couple of others.
Update App Settings
Changing your app settings can result in big mobile data savings. One user on the Republic Facebook page found that by changing the settings on his YouTube app alone allowed him to save almost 300MB of data.
Here are some apps you can change settings in to save on mobile data:
Google Chrome: Click on the menu icon and then on settings. Scroll down to "Data Saver", and toggle it on. Google will now compress pages you visit before downloading them, saving you data.
Google Play Store: Click on the menu and then on settings. Tap the "Auto-update apps" setting and then select to auto-update apps over WiFi only.
Facebook: In the Facebook app, tap the menu icon in the upper right corner and then scroll down to the "App Settings". Turn off "Sync photos", and then set video auto-play to "Wi-Fi only".
YouTube: Tap the three dots menu icon, and then click on "Settings/General". Check the box next to "Limit mobile data usage" to only allow streaming HD video while on WiFi.
Instagram: Click on your profile icon at the bottom right, and then click on the three dots at the top right. On the options screen scroll down and tap "Cellular Data Use". Select "Use Less Data" option.
Google Drive: Tap on the three bars menu icon and select "settings". Make sure that the app is set to "Transfer files only over WiFi".
Google Photos: In Google Photos click on the three bars menu icon and select "settings". Click on "Back up & sync". On the "backup settings" section choose to "Back up photos over WiFi only".
If you set these up and use data saving settings in your other apps not listed here, you'll likely save a ton of mobile data every month, and be able to use a lower level plan. Good luck!
Available Phones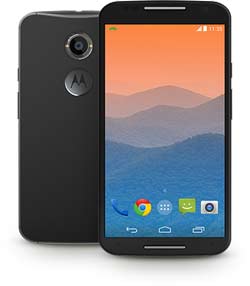 There are currently 3 phones available on the Republic Wireless service, with the newest one, the 3rd Gen Moto G being released just this week. The 2nd Gen Moto X and the Moto E are also great deals.
Moto X 2nd Gen – $249: Android™ Lollipop® 5.1, 3G/4G LTE capable, 5.2″ AMOLED Full HD, 16GB memory, 2GB Ram
Moto E 2nd Gen – $129: Android™ Lollipop® 5.1, 4.5″ qHD Display, 8GB memory (expandable to 32GB), 1GB Ram
Moto G 3rd Gen – $199: Android™ Lollipop® 5.1, 3G/4G LTE capable, 5″ LCD HD Display, 8GB/16GB memory (expandable to 32GB), 1GB Ram
All 3 of the currently available phones are great. The Moto X has recently seen a big price drop, and the Moto G has seen some nice upgrades.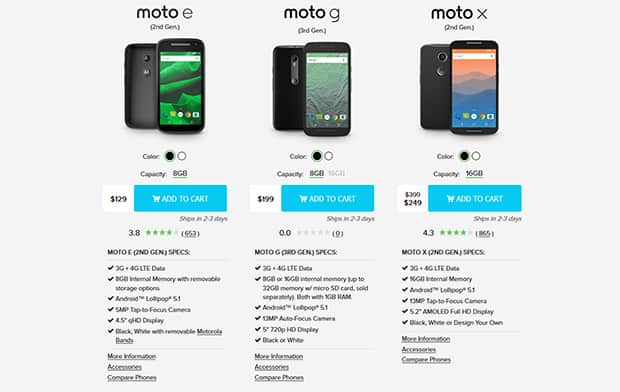 I have heard rumblings that Republic may be getting some new phones possibly later in 2015, but that's still to be announced. Stay tuned!
Republic Is A Great Deal!
I've been with Republic Wireless for almost a year now, and we've been extremely happy with the service. If you don't need to use mobile data their $10/month plan can't be beat!
With the addition of the new data refund plans, we'll be saving even more money on our cell bills, while getting more functionality. Granted, some heavy users of mobile data will end up paying more on these new plans, but for them I'd suggest modifying their app settings as shown above, and checking out a service like FreedomPop where you can get 1GB of mobile data for free every month!
The Republic service keeps on getting better, adding new phones and providing amazing support. I would recommend them to anyone.
Find Your Next Smartphone With Republic Wireless Here
Other Republic Content
Interested in learning some more? Here is some of the other recent content we've written about Republic, and saving on your mobile costs.
Disclosure: links on this page are affiliate links and we may receive a referral fee if you purchase through our links.
| Moble Virtual Network Operator (MVNO) | Mobile Network | Minimum Plan Price | Free Tethering | Review |
| --- | --- | --- | --- | --- |
| Gen Mobile | Sprint | $5 (Unlimited Text - No Talk, No Data) $10 (300 Min Talk & Unlimited Text - 1GB Data) Discounts if prepaid for 3 months. | Yes | Review |
| Tello | Sprint | $5 (100 Min Talk & Unlimited Text - No Data) | Yes | Review |
| Twigby | Sprint, Verizon Wireless | $9 (300 Min Talk & Unlimited Text - No Data) | Yes | Review |
| Ting | Sprint, T-Mobile | $9 (100 Min Talk & No Text - No Data) | Yes | Review |
| Red Pocket Mobile | Verizon Wireless, AT&T, T-Mobile US, Sprint | $10 (500 Min Talk & 500 Text - 500 MB Data) | Yes | |
| Republic Wireless | Sprint, T-Mobile | $15 (Unlimited Talk & Text - No Data) | Yes | Review |
| Mint Mobile | T-Mobile | $15 (Unlimited Talk & Text - 3GB Data) If prepaid for 1 year. Prepay in 3,6, 12 month increments. Buy 3 Months, Get 3 Free) | Yes | Review |
| Unreal Mobile | AT&T | $15 (Unlimited Talk & Text - 3GB Data). Prepay in 3,6, 12 month increments. | Yes | Review |
| TracFone | Verizon Wireless, AT&T, T-Mobile US, Sprint, U.S. Cellular | $15 (200 Min Talk & 500 Text - 500 MB Data) If put on auto-renew save 5%. | No | |
| Google FI | T-Mobile, Sprint, U.S. Cellular | $20 (Unlimited Talk & Text - No Data) | Yes | |
| Total Wireless | Verizon Wireless | $23.70 (Unlimited Talk & Text - No Data) $25 without auto-pay. | Yes | |
| Cricket Wireless | AT&T | $25 (Unlimited Talk & Text - No Data) | No | |
| Boost | Sprint | $35 (Unlimited Talk & Text - 3GB Data) | No | |
| Straight Talk Wireless | AT&T, T-Mobile, Sprint, Verizon | $35 (Unlimited Talk & Text - 2GB Data) | No | |
| Visible | Verizon | $40 (Unlimited Talk & Text - Unlimited Data) | Yes | Review |
Republic Wireless Data Refund Plans