The weather has finally turned here in Minnesota, and we're now basking in the warm summer sun, grilling on the deck, and enjoying all sorts of outdoor fun. We're also planning where we want to go on vacation this summer and the possibilities are endless.
Summer is always an exciting time, with all sorts of activities to partake in as a family, but it can also end up getting very expensive. One study from American Express showed that the average American family expects to dole out an average of $600 per child for summer activities, whereas families earning more than $100,000 will spend almost $1100 per child.
So what are some things that you can do to ensure that you have a memorable and fun-filled summer, but without breaking the bank?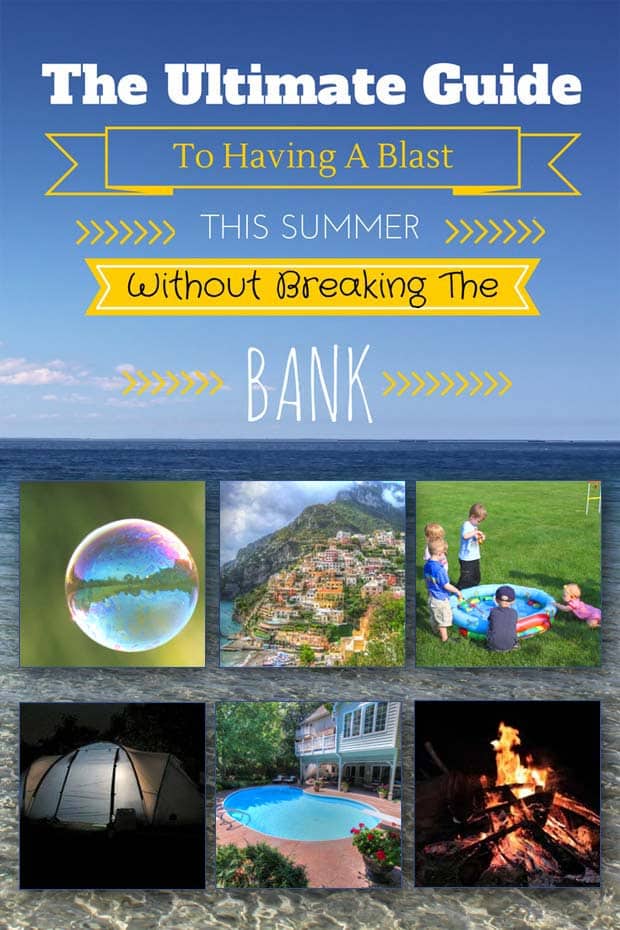 Here's a discussion about keeping summer costs in check that we had on a recent Money Mastermind Show.
Plan Ahead So You Don't End Up With Empty Pockets
At our house, we try to plan ahead for any large expenses that we know we're going to have for the summer. We set up any known large expenses as a budget category, and save for them ahead of time.
So what are some typical large expenses you might see during the summer?
Vacations
Summer sports activities
Day trips
Family get-togethers
Trips to the amusement park
Summer camps
State fair visit
There are a lot of things that can end up on that summer activities list, and depending on where you live and what you enjoy doing – your list may be quite different.
Setup A Zero Based Budget & Include Large Summer Expenses
At our house we use a zero-based budget using the You Need A Budget 4 software. With a zero-based budget you set up budget categories for every income, spending, and saving category, and then when the paycheck comes in, you put money towards those goals. No dollar is left unassigned.
If one large summer budget category is for "vacations", and we know we want to have $3000 available for that category by next summer 12 months from now, we'd set our budget up to save $250/month in a savings account for that goal.
We like to save our money in an account at Capital One 360 since they allow for sub-accounts for specific savings goals. (We have one for "vacations", one for "next car", and one for "emergencies".)
So now, when next summer rolls around, we'll have that $3000 sitting there waiting for us, and we can go on that vacation debt-free!
Plan out your known larger expenses, and start saving for them. Also, consider having a smaller contingency fund for smaller, but still expensive, summer expenses.
It's OK To Splurge, But Cut Back On Things You Don't Need
I've come to realize over the years that it's OK to splurge on things you want to do in the summer (like a vacation), but don't forget that the money you're spending is often coming at the expense of some other category in your budget. If you don't want other categories to suffer, you may want to think about cutting back on unneeded expenses elsewhere in your budget.
Where are some places that you can cut costs with minimal pain?
Cut or downgrade un-needed subscriptions: Since you'll be so active all summer, consider downgrading or canceling services that you won't likely be using as much during the summer. Cancel your cable, Netflix plan, and gym membership. You won't probably be using them anyway!
Cut your communication costs: Get rid of your home phone, and use a VOIP service like Ooma. Cancel your cell phone plan and use a low-cost service like Tello, or a pre-paid provider.
Shop around for insurance: One area that is extremely easy to save money is by shopping around for new insurance for your home, auto, life and other coverage. A few years ago I got insurance quotes and found a policy on our home that gave us better coverage for $1000/year less. It only took a day or two of getting quotes.
Refinance: While this may not be as easy as it used to be, you can still save hundreds of dollars a month by refinancing. If it makes sense in your situation, give it a try!
Save on energy: There are a lot of ways to save energy if you try. We use a programmable thermostat to optimize our savings. We also save by turning down our water heater (14-25% of your energy bill), and by being more flexible with the temperatures we'll allow in the house. Allowing it to be a few degrees warmer in the summer can save you money.
Make Some Extra Money To Pay For Your Summer Splurges
Often cutting back alone isn't enough to pay for your summer splurges. You might want to consider finding some ways to make extra money as well.
Here are some easy ways to make a few bucks to put towards your summer plans.
Have a garage sale: The last time we had a garage sale, we ended up making close to $500 or so. That can go pretty far towards summer expenses!
Sell things online: Sell your unwanted furniture on Craigslist. Sell old collectibles on eBay. Sell your arts and crafts on Etsy.
Make money from a hobby: Make money from something you enjoy doing. My brother turned his love of coffee into a side-business roasting and selling coffee. Another person I know loved making her own jewelry, so she turned it into a successful Facebook and Etsy business.
Be a virtual assistant or freelance writer: Try your hand at being a virtual assistant or freelance writer. Often the hours are flexible and you can get paid pretty well for doing it.
What Are Some Fun & Frugal Summer Activities?
Even if you've cut back on your spending, and have earned a bit of extra pocket money, it's still a good idea to save on your summer activities if you can.
What are some frugal ways to have some fun this summer? Here are 25 to get you started.

Instead of an expensive vacation, have a staycation: Often if you don't have enough to go to Disney World or another location, you can still plan a fun vacation close by and save a ton of money. Check out this list of staycation resources from across the country, or check out my list of frugal things to do in Minneapolis, MN.
Go backyard camping: Have a camping trip right in your backyard. Extremely frugal, and tons of fun!
Save at the movies: One of our favorite things to do in the summer is to go to the movies. Going to the movies can get expensive, however. You can save by taking advantage of free family days at certain chains, coupons, and discounts for buying your tickets online, or by buying movie chain gift cards at a discount online. Try a drive-in movie double feature! More movie savings ideas here.
Movie night at home: Stay at home and have a themed movie night! If you're feeling ambitious, have an outdoor movie night in your backyard!
Visit free or frugal local activities: My family saves by visiting local museums on free days, the zoo (there is a free one in our area), the local lake (We are the land of 10,000 lakes after all!), or local festivals or free concerts in our area. We also love visiting some of the many state parks and reserves in our area.
Fun with water at home: Put a sprinkler out in the yard for the kids to play in, have water balloons to throw, and even throw in some water guns for some wet fun. Put out a kiddie pool, or make your own Slip n' Slide or Water Blob!
Attend free build it workshops: Both the Home Depot and Home Depot stores in our area have free workshops where you can bring your kids and build a free project provided by the store. Some also have free workshops for adults. Lakeshore Learning has free arts and crafts on Saturdays.
Bike trips: A fun frugal vacation is to take a biking and camping trip. Our area has quite a few long bike trails that you can bike and camp on for a weekend trip. Find some in your area here.
Do themed days of the week during the summer: Set certain days as fun theme days every week. Monday is "reading day" at the local library. Tuesday is "free family movie day" at the local theater. Wednesday is "outdoor adventure day" at a new park every week. Thursday is arts and crafts day with a new craft every week. Friday is "service day" – serving others at local shelters, food shelves, etc. Be creative!
Visit a local town for a day trip: Take a day trip to a local town with an interesting history, and visit local and regional museums to learn all about it.
Go to a local farmers market, or flea market: You can have a lot of fun without spending a lot of money at a local flea market or farmers market. Ones in our area often also have free live music.
Go geocaching: Geocaching is a real-world GPS treasure hunt where you locate hidden containers all over your local area. GPS is required, although most cell phones have one these days.
Go bowling for free: Sign your kids up for free bowling passes via KidsBowlFree.com, Bowlero or AMF.
Go to a minor league sporting event: We have a minor league baseball team in our area, and the games are a ton of fun to attend – while being much cheaper than a Major League Baseball game.
Go to the beach: Go to your local beach, sit in the sun, play beach games, build sandcastles, and have a picnic!
Driveway art day: Get some sidewalk chalk and draw on the driveway!
Make huge bubbles: Make your own bubble solution and have fun seeing who can make the biggest bubbles!
Visit all the roadside attractions in your area: Visit all the roadside attractions in your state for a different, and kitschy, look at your area. My favorites in MN? Big Ole and the World's Largest Twine Ball.
Build a free Lego mini-model: If you have a Lego store near you, sometimes they'll have free events where you can build and keep a mini Lego model for free.
Take advantage of freebies at your library: Not only do local libraries allow you to check out books free of charge, but often they also hold free "story time" events, allow you to check out free movies and music, and often will hold other fun and educational events.
Have a family game night: Host a game night for your family. Want to extend it out? Have a family game night every week where each time you play a different game!
Go pick your own fruit at a local u-pick farm: We have an orchard down the road from us where you can pick your own apples, strawberries, and other fruits and vegetables. They also have activities for kids on weekends. Find one near you.
Create a driveway racetrack/obstacle course: Setup a racetrack in your driveway for the kids to ride their trikes through. Use cones or other markers to lay out a track.
Take a factory tour: Tour a factory in your area. My area has several free brewery tours (free samples for dad?).
Take your kids fishing: Some of my fondest summer memories are fishing with my dad, my grandpa and my siblings. Get a license, a couple of cheap rods, and go fishing!
Have a campfire sing-a-long: This is something else we did when growing up – sitting around the fire singing/playing our instruments. My brothers and I on the fiddles, my dad on guitar. Throw in some s'mores and you've got yourself a fun night!
Free or cheap summer sports camps: When I was growing up our city parks had summer sports camps. There were some nominal fees, but it was well worth it. I had a tennis class for an hour or two every weekday during the summer and loved it (and ended up teaching one when I was in high school)!
Frugal Summer Travel Tips
According to one study, The average American family of four will spend $4,580 on summer vacation travel. That's a lot of money, and I know we won't be spending that much for sure!
If you're going on vacation here are some ways to save while you're away, and stay below the average.
Set a travel budget: It is mentioned above, but I think it bears repeating. If you're going on an out of state vacation, definitely set a budget for how much you want to spend on travel, lodging, food, and other incidentals. If you don't, it can be easy to spend way more than you had intended.

Plan your travel ahead of time: Plan your travel in advance and you'll often be able to get the best rates on hotels, airfaire, cruises, and rental cars. When we went on a Mediterranean cruise a few years ago we saved a ton by booking a year in advance.
Use the internet to find the best deals: Use aggregators like Kayak.com and Airfare Watchdog to find the best deals on travel.
Be open to different travel and vacation dates: Depending on when you fly and/or stay at a hotel, your costs could be drastically different. Consider taking a mid-week flight, and staying during the week at a nicer hotel to save money. Also consider when the peak times for travel are, although summer often tends to be peak since families with kids travel when kids are out of school.
Stay outside a downtown area to save: When going to a city, consider staying outside the more expensive downtown areas to save. When we visited Chicago a couple of years ago we stayed just outside of downtown – a short train ride away – and saved on lodging and parking!
Consider lodging alternatives: Instead of staying a nice hotel consider a cheaper alternative like a hostel, renting someone's condo pr apartment. Try sites like VRBO or Airbnb.com to find one that's a good fit.
If renting a car, find the best deal: Save hundreds on a car rental by making sure to take advantage of all the discounts, coupon codes, and member programs you can find. Often you can stack discounts for extra savings.
Check for forums talking about how to save at your destination: If you're traveling to a certain location, search for forums and discussions about that location that delve into how to save money at that locale. For example, there is a website called MouseSavers.com that helps you to save when on a Disney vacation.
Take advantage of free travel planning: If you're a member with AAA, take advantage of their free travel planning services. You can get some very helpful trip guides – all included in your membership.
Don't eat out for every meal: When you're on vacation it can be a temptation to eat out for just about every meal. That can get expensive very quickly. Head to a local market and have some easy to make meals on hand. Then go have a picnic at a local park! Another alternative is to go to fancy and expensive restaurants at lunchtime instead of dinner because they'll often have a cheaper lunch menu.
There are a lot of ways to save when you're on vacation this summer, you just have to be ready and willing to do a few things differently in order to save.
Saving Money This Summer
Having a blast this summer doesn't have to mean that you blow your bank account to do it. There are a million and one ways to have fun, while still staying on a budget.
For me, the key is to setup a family budget. Set some savings goals for large summer expenses that you know will be happening, and then save for those goals throughout the year. Set smaller savings goals to cover smaller incidental expenses.
Once goals are set if you want you can also find ways to cut back on your monthly expenses. There are a lot of ways to cut for the summer – even if it's just a temporary cut. You can also find ways to make extra money to ensure you have a bit of padding in your accounts for summer spending. Again – it can be a temporary increase if you want in order to cover summer costs.
As far as finding frugal summer activities, we list over 20 of them above alone – and there are a thousand others that I'm sure you can come up with for your family. You just have to be creative.
I'd love to hear what your frugal summer activities are, and what things you'll be doing to save this summer! Leave a comment with your tip below!
Related Articles
Here are a few related articles for how to have a frugal summer
Follow Peter's board Sensational Satchel of Summer Savings on Pinterest.