Summer is here! In Portland, we've survived nine rainy months and now we are ready to celebrate with some sunshine.
One of my favorite things to during the summer is BBQ. There is nothing like an afternoon of burgers, beverages and buddies to make the world feel just right.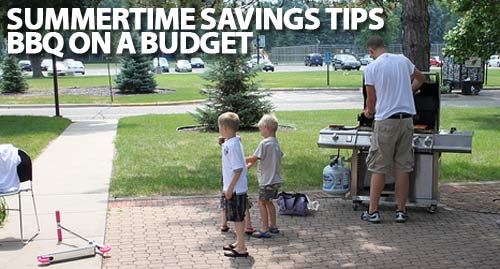 The Grill
In my mind there are two ways to get a cheap grill (excluding someone just giving you a grill). Scoring a good grill at a local garage sale or buying one on sale at a home improvement store. My family has experience with both.
My mom bought a propane grill when I was in middle school from a neighbor at a garage sale for $30. The only flaw was the ignition button didn't work. As a result you had to turn on the propane, wait a couple of seconds and then toss a match into the bottom of the grill to get it started. Not the safest option, but it worked.
After this grill finally kicked the bucket, I bought my dad a brand new natural gas grill for Father's Day. After doing some research I found a great grill on sale at a home improvement store, saving an additional 10% when I opened up a store account. The key here is to do your research and find a good deal.
The Heat
If you are going the garage sale route, chances are you can't be too picky on the grill type (Or if you have a particular taste preference for charcoal versus propane.) However if you have a choice between charcoal and gas, factoring in fuel cost is important:
Average propane tank: $30
Average bag of charcoal: $9
If you don't BBQ often, a charcoal grill is the way to go. If you BBQ frequently, propane will be more cost-effective in the long run, even with the higher upfront cost for the tank.
Have A Potluck Meal
My friends and I do BBQ potlucks. On person supplies the location (the grill), another supplies the meat, while others supply the rolls and buns, drinks, side dishes, and dessert. The key here is to communicate with everyone in advance to ensure you don't have too much (or little) of anything.
The Entertainment
This is where you can score creativity points. There are tons of free summer activities you can do at a BBQ in addition to just general chit chat and catching up. You could listen to your favorite sports team on the radio, dance the night away, toss a Frisbee around, or pick up a couple yard games at the next garage sale you see (croquet anyone?).
The Decorations
I LOVE themed parties. Aside from the obvious, 4th of July, birthdays and Labor Day BBQ, be creative and throw your own custom parties on the cheap. For example: Summer Solstice or National Ice Cream month. Pick a theme and inexpensive decorations such as table cloths, flowers, and lights will follow.
Instead of buying your party supplies at the party store, check out your local dollar store. Often they'll have extremely cheap plates, napkins, cups and utensils. They might even have some fun decorations!
Plan ahead, prep and save. The main point is to have a good time with friends while BBQing.
Other Summer Saving And Earning Activities