My wife and I decided a while back that the time was right for us to embark on the journey of building our dream home.
My wife's parents are home builders, and they had bought some prime lots in a nice neighborhood that had been foreclosed on by the bank. They bought them for a fraction of their value, and they offered one of the lots to us, and then offered to help us build a home on the lot.
We jumped at the chance for a variety of reasons.
First, the mortgage rates were at all time lows. The rates at the time were well below 4% on a 30 year fixed mortgage, basically as low as they've ever been.
Second, they offered to build us the home basically at cost. That would mean we'd have instant equity in the home and not have to worry about being underwater anytime soon in that home. Finally, we just loved the neighborhood, it felt like home.
We started building our home at the end of April 2013, and we moved in on August 10th of 2013.
While building our house we learned a lot of things about how to save money while going through the building process. We learned where we could skimp a bit and where we should splurge for higher end furnishings. So today I thought I'd write a post about how to save money when building the home of your dreams.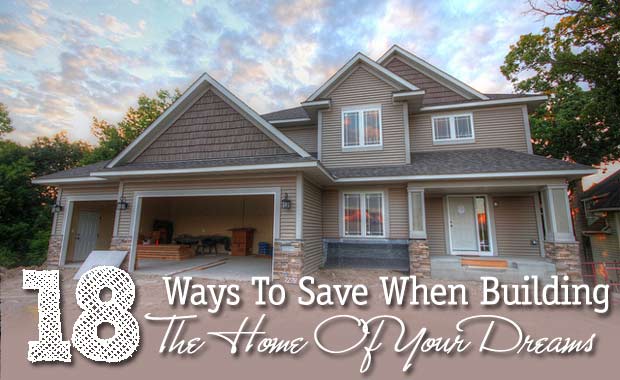 Ways To Save Money When Building Your New Home
There are a million and one ways to save money (and to spend money!) when building your home. If you really want to save you have to be aware of what's important to you, and where you can save during the process. From picking a lot and a builder, to where you buy your flooring and appliances – there are a lot of choices that you make that can determine how much you end up paying for your dream.
So where are some important places to look for savings when building a home?
Figure out what's important to you early on: It's important to sit down with your significant other before you begin the process and figure out what's important to each of you when it comes to building the house. Do you both want granite counters, a travertine back-splash and expensive handscraped wood floors? Or are you willing to compromise in some areas, but not in others? Setting out clear expectations for what you're each looking to do through the home build is important to making sure the costs don't skyrocket later on. Otherwise you can end up both adding big expenses to the bottom line later on.
Do your research before you build: Go around to model homes in your area and figure out what you like, and what you want in your new house. Also figure out ways you can save and things you can cut out of your build without much pain or regret. When we were thinking about building we went to a lot of open houses to get ideas of what we wanted – and what we didn't want.
Shop around for the right builder: Finding the right builder can be one of the biggest and most important decisions that you make when building. A good builder will be able to build you a well built home on agreed to budget, without too many overages or problems. A bad builder can mean that they underestimate costs, aren't good at working with subcontractors and are focused on several other jobs at the same time -which can cost you money. Be sure to meet with a few builders and get references. Luckily for us my wife's parents are builders and are good at what they do.
Communicate with your builder: Make sure to keep an open line of communication with your builder and make sure that he knows what your priorities are when it comes to your build. Let them know what's important, and seek their input when you're trying to find ways to save. They have done this many times before (hopefully!) and will be able to clue you in to ways to save on your build. Our builder was able to find us a myriad of ways to save. For example, we saved a few hundred by choosing one style of trim over a more expensive version, and the difference was not one that most people would notice.
Set alerts to find the right lot to build on: Finding the right lot to build on, and at the right price, can be a tough proposition. For us it meant searching for a couple of years, setting alerts to be sent to us every time a new lot was listed on the MLS services. Since we had access to our builder's MLS service we were able to be notified immediately of when new lots were listed in a certain area. You can do something similar through a lot of real estate websites, getting an email when new listings pop up that fit your criteria. To really save you may need to wait a while, and be ready to pounce when good foreclosure or bank owned properties come up.
Make sure to figure out cost of living in your proposed build location: When trying to find a place to build, a way to see savings in the long run is to buy a home in an area with a lower cost of living. Take into the cost of the home, property taxes, the costs of everyday necessities and more. The area we bought a lot in ended up being a slightly higher property tax city than our previous home, but the schools are rated much higher and the other costs are very comparable.
Shop around to find the right mortgage rate or construction loan: This is another important part of the process, finding the right home loan at a good rate. When building a home, depending on the builder you may or may not need to get a construction loan to finance the building of the home. Some bigger builders may finance the building of the home on their own. If they don't, be prepared to shop around at several local banks to find the best deal. If you don't need a construction loan in your build you can have a bit more flexibility when it comes to finding a low mortgage rate by shopping around online for the best rate with the lowest costs.
Shop around for appliances, fixtures and construction supplies: Make sure to shop around when buying big ticket items for your house like appliances. For us we spent almost $5000 on appliances for our new home, but saved almost $1000 by buying items on sale, using coupon codes, and via the store's rewards program. Shop around, do your research and get as much of a deal as you can.
Take advantage of your builder's discount: When you're shopping around for materials or items for your house, don't forget to check and see if you can buy items using your builder's discount. Often your builder can get items at a wholesale or discounted price. For example, in our situation with the appliances, by buying with our builder's discount we could still have saved almost $800-900, instead of the $1000 we saved. We just happened to have found a better deal on our own with stacked discounts.
Find what you need, before you need it: One thing that we've found is that it pays to shop around and find all the materials before you need them. If you don't, you can end up in a situation where you need to buy something to be installed that week, but you can't find it at a reasonable cost right away, you can only order it for delivery in 2-3 weeks. In order to get it right away to install it you have to pay a premium cost. Plan ahead and buy things in advance to avoid that.
Buy things at a discounter: For some items that we found at high end fixture stores, we were able to find similar or comparable items at a discounter for much less. For example, we found some light fixtures that we loved at a high end lighting store, but when we shopped at a local Menards store, we found similar lights for a fraction of the cost. Don't fall in love with an exact item when you can sometimes find a similar item for less through a discount store.
Take advantage of family and friend connections: If you have family or friends that work in the building trades like we do, it can save you a ton of money. For example, my in-laws are building our house. That is saving us thousands upon thousands of dollars. My brother in law has a home media company. He's cutting us a deal on a home security system and installation costs. Another friend who works at a large home improvement store bought us some materials using his discount. Another family friend of my wife's has done some work on the house at a reduced rate as well.
Buy closeouts, seconds or remnants: Sometimes stores that carry building materials will have returned items, closeouts and and remnants available that you can buy at a fraction of the cost. For example, we were looking for a certain type of flooring for our home, but when buying it new the floors were beyond our budget. We ended up finding almost the exact floor on closeout – and within our budget – at another home store because they were no longer carrying that brand and had a limited quantity – but enough for our house.
Do some of the work yourself: If you're handy you can sometimes pitch in and do some of the work in the house yourself to save money (if your builder will allow it). For us that means we'll be installing some of the easy to install fixtures ourselves to save some money on installation costs. Others may feel comfortable doing tile or flooring install. The amount you can save is only limited by your ability and whether your builder will allow you to do some of the work.
Find out if you qualify for home improvement or energy efficiency tax credits or rebates: One way we've saved money was by finding out if any of the appliances we purchased, or building materials were eligible for tax credits. After doing our research a couple of the appliances were eligible for rebates, as well as our new thermostat.
Keep the big picture in mind, don't focus too hard on small things: One thing that's easy to do when you're building is to start getting too bogged down in small details that don't really matter that much, inflating their importance and turning them into big expenditures. For example, if you don't like the look and feel of a certain feature of the house, you could spend a bunch of time, energy and money to get it just right -and in the long run spend more than you should. We did this on our fireplace mantle. The original piece – which may have been OK – didn't come out just how we envisioned. So we went back and forth with the carpenters several times to get it just right, and spent a lot of money doing it. The more flexible you can be with things that probably won't matter to you much down the road, the better.
Consider new furniture that you'll need in the new house, and buy it ahead of time on sale: When building your new house do your best to shop around ahead of time and find/buy whatever furniture you'll need in the new house at a discount. Buy it on sale, use coupons and rewards programs and cash back sites if you can.
Make a more affordable move: Another way you can save money is by making your move to your new home more affordable. You can do that by finding free moving boxes and packing materials, using friends and family to help you move, or if you need to pay movers – by shopping around and getting several quotes. Some have even suggested paying local furniture company employees to help you move as a sideline.
Buy discounted gift cards for home improvement stores: When you're building a house you're pretty sure to be buying hundreds of dollars worth of goods at home improvement stores like Home Depot or Lowe's. Instead of paying full price for everything you buy, purchase gift cards for those stores at a site like Gift Card Granny, and you'll save a lot of money on things you were going to be buying anyway. Currently Gift Card Granny has discounts of anywhere from 7-10% on those two stores, for example.
So those are just a few of the ways that we've saved when building our new home. If you're creative, you too can find ways to make your dream home the perfect place to live without blowing your budget.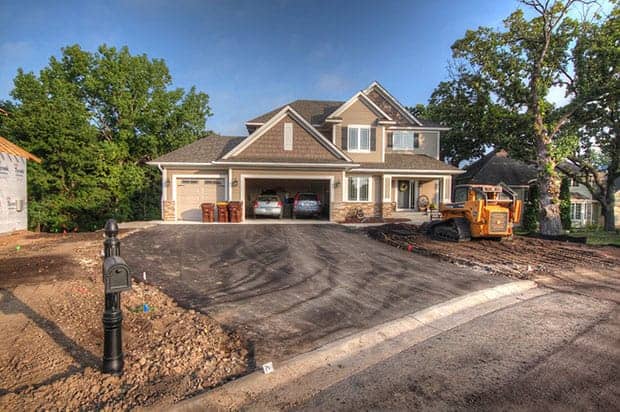 Do you have your own ideas of ways to save when building your dream home? Tell us in the comments!