A couple of weeks ago now The American Taxpayer Relief Act of 2012 was passed and the fiscal cliff was averted. Tax rates for some higher income taxpayers went up as a result of the deal, while the rest of us saw the Bush era tax rates made permanent (for now). Most of us who pay taxes, however, will see our tax bill go up this year because of the expiring temporary payroll tax cut.
There is some good news in the bill for homeowners, however. A couple of tax breaks for homeowners were extended or reinstated with passage of the bill.
Homeowners received two little-noticed gifts from the fiscal cliff deal signed by President Obama on Jan. 1. That congressional agreement, called the American Taxpayer Relief Act of 2012, restores a pair of treasured tax breaks previously lost to homeowners.

One is the federal tax deduction for mortgage insurance premiums. The other is a tax credit that lets homeowners take up to $500 off their federal income tax for making certain improvements that increase the energy efficiency of their homes.
Those two measures weren't the only ones that will affect homeowners. Another measure that was extended was a tax relief measure for troubled homeowners. Homeowners who had a portion of their debt forgiven when selling their home in a short sale or similar situation would have been liable for taxes on the forgiven debt in 2013 if the measure passed in The Mortgage Forgiveness Debt Relief Act of 2007 wasn't reinstated. Luckily for troubled homeowners the measure was extended.
If you're in foreclosure or are underwater on your mortgage and hoping to sell your home, you can breathe again. Despite all it didn't get done in this week's fiscal cliff deal, Congress did keep alive an important program of tax relief for troubled homeowners in the late-hour legislation.

Struggling homeowners will continue to get tax relief on mortgage debt that's been forgiven.
So let's take a closer look at the homeowner tax provisions that were included in the The American Taxpayer Relief Act of 2012.
Deduction For Mortgage Insurance Premiums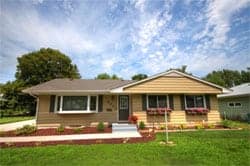 At the end of 2011 the deduction for paying mortgage insurance premiums on your mortgage expired, and wasn't renewed for 2012. The deduction has now been re-instated because it was added to the fiscal cliff bill.
If you pay mortgage insurance, you know that deducting it is the next best thing after being able to cancel it (when the loan balance drops below 78% of the home's value and you've made at least 60 payments). Congress snatched away the deduction at the end of 2011 but gave it back with the stroke of a pen in the Jan. 1, 2013, deal.

You can use the deduction on your 2012 and 2013 federal taxes. It applies to private mortgage insurance premiums as well as Federal Housing Authority and Veterans Affairs premiums.
So the deduction for mortgage insurance premiums is now available retroactively for 2012, as well as for 2013. Reinstating it for those two years will cost about $1.3 billion according to The Associated Press.
Details of the mortgage insurance premium deduction
The deduction is for taxpayers earning less than $110,000 a year.
You must itemize your deductions on your taxes.
The maximum benefit is 25% of the total you pay in mortgage insurance premiums.
One final thing to note is that the cost for FHA insured loans will be going up soon as well. Not only are insurance rates going up, but rules will be changing to disallow homeowners from dropping mortgage insurance once they reach 22% equity in the property. New rules will mean that the homeowner will have to keep the mortgage insurance for the life of the loan. Details here.
Tax Credits For Energy Efficient Home Improvements
Another measure that was extended through the fiscal cliff legislation was the tax credits for energy efficient home improvements. The tax credits have been around for a while, but expired at the end of 2011.
Tax credits allow you to take the credit amount right off of your tax amount owed. Now that they have been reinstated they can be claimed for 2012 and 2013.
So what can you claim credits for? Anything from energy efficient doors and windows, to water heaters and more. Check the government's website to see if your improvement qualifies.
The Associated Press says that extending the credit for 2012 and 2013 will cost taxpayers about $2.4 billion.
Details of the energy efficient home improvement tax credit
Can be for up to 10% of cost of the home improvement, up to a maximum of $500.
Of the $500 total credit, some purchases have their own maximum credit. (Example, windows have a max of $200 tax credit now.)
The extension means the credit is good for 2012 and 2013 tax years.
For full details check out our post detailing the tax credit from 2011: Home Improvement Tax Credits For Energy Efficient Products
Mortgage Debt Forgiveness Act Extended
For those homeowners who are in the midst of a short sale and expected some portion of their mortgage debt to be forgiven by their lender, news that the mortgage debt forgiveness act was being extended was very welcome.
The Mortgage Forgiveness Debt Relief Act of 2007 would have expired Monday had Congress not acted. Housing experts were worried the loss would worsen the country's economy.

MarketWatch explains how the act works:

"Without the break, forgiven debt can be treated as taxable income, and already struggling homeowners would face taxes from a short sale or loan modification. For example, an underwater homeowner in the 25% tax bracket could pay $12,500 in taxes for a short sale in which his house sold for $150,000, but he previously owed $200,000. With the tax break, the homeowner would not have to pay taxes on the $50,000 of forgiven debt."
So since the tax break was extended, homeowners who have debt forgiven on their principal residence this year will not have to worry about paying taxes on the forgiven amount as income. CNNMoney says that the extended act will cost around $1.3 billion in 2013.
Details of the extended mortgage debt tax relief measure
Mortgage debt forgiveness on principal residence not taxable as income in 2013 tax year.
Mortgage debt forgiven on second homes or home equity lines of credit still need to be reported as income to the IRS.
For full details check out our post: Mortgage Forgiveness Debt Relief Act
Credits, Deductions And Tax Relief Extended
If you're a homeowner who is paying mortgage insurance, who is having energy efficient home improvements installed or if you're going to be going through a short sale, the measures passed in the The American Taxpayer Relief Act of 2012 will likely lead to some savings on your tax bill this year.
At a cost of around $5 billion dollars to re-instate these credits, however, is it really worth it?
Will the overall effect on the housing market make it worth it to pass these measures? What are your thoughts?