One of the bigger expenses that you can have when building and furnishing a new house is buying the appliances.
Depending on what you decide to buy you can spend anywhere from a couple thousand dollars up to $6-10,000 or more.
Appliances are becoming more technologically advanced and their designs are ever more stylish. Along with those things come higher price tags.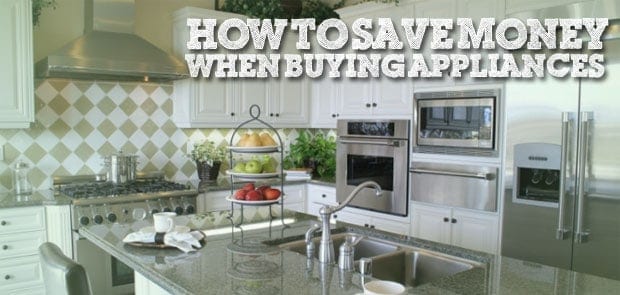 So how can you save when you're shopping around to find appliances for your new home?
My wife and I are building a new home right now, and this past week we purchased appliances for our new home. We did a lot of things to save money on our purchase, and I thought I'd share a few of them here.
Shop Around
The first thing we did was to shop around to find the best price on appliances.
Shop Online
First, we shopped online at a variety of sites trying to figure out where we we were going to find the best deals. Among the 3rd party sites we used:
We also shopped online at the websites of places like Sears.com, HomeDepot.com, Lowes.com, AJMadison.com, BestBuy.com and others. We found that at times the websites of bricks and mortar businesses often had lower prices, sometimes due to online only sales.
Shop In Store
We also shopped in store at a variety of places in our local area. We went to Sears, Appliance Smart, Home Depot and Lowe's. When shopping in store we found the salespeople to be especially helpful at a couple of the stores including Sears and Appliance Smart. In talking to them they were able to explain to us how the process worked at their stores, and how to get better or unadvertised specials. One of them even explained how if we were working with a builder we could go through the "contract sales" division and save a ton of money. Make friends with your sales guy or gal to get the inside scoop!
Find Discounts Via Coupon Codes, Cash Back Sites, Rewards Programs
When shopping for your appliances, one of the best ways you can save beyond the normal sales and discounts is to find ways to get additional savings via coupon codes, coupons, cash back sites and other rewards programs.
Coupon Codes and Coupons

For us the site that has always worked the best for finding coupon codes has been RetailMeNot.com. You just go on their site, search for the company selling your appliances, and see what coupons and codes they have available. In our case we found a coupon code that saved us $35 off the price, and then an additional coupon for savings on appliances specifically, which saved us some additional money.
You can also find them, sometimes more up to date, on home improvement sites like OneProjectCloser.com: Lowe's, Home Depot, Sears, AJMadison.
If you are moving or plan to move you can also submit a change of address form with the USPS, or register with the company's "moving site" and often you'll get 5-10% off coupons for major stores like Lowe's, Home Depot or Best Buy that you can use on your appliance purchase.
Cash Back Sites
When shopping for things online it always pays to check and see if the retailer you're purchasing from has cash back available from sites like Rakuten, Honey or Extrabux. In our case we found that the store we ended up purchasing from had 6% cash back on purchases from their store on Rakuten.
When you're dealing in thousands of dollars that can add up pretty quick! To find what cash back site offers the best deal, consider using a cash back comparison site like CashBackHolic.
Rewards Programs
Quite often retailers will have a rewards program that gives you extra coupons, cash back or gift cards for purchasing things at their store. The store we purchased at, Sears, has a rewards program called "ShopYourWay Rewards" that allowed us to get a coupon to save on our appliance purchase, as well as getting cash back to spend at the store on a future purchase. (which we used to buy a lawnmower a couple of days later)
Also, stores will often have a store credit card that you can use to get an additional 5-10% off. Look into that option if you plan on spending a lot of money.
Buy A Discontinued Models, Floor Models, Or Year End Closeouts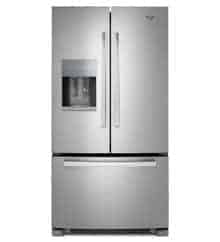 You can often save quite a bit of money on your appliances by buying models that are discontinued, or because they're last year's models. You can either find these at the retailer at the end of the model year, or you can search through outlet stores.
Many stores will also offer clearance deals on store display models, and the manager can often negotiate a price with you on those.
Buy Appliances At An Outlet Store
One of the places we shopped for our appliances was a store called Appliance Smart. They specialize in scratch and dent appliances and closeout or last year's models. You can save a substantial amount of money at these stores, usually hundreds of dollars, as long as you're willing to put up with a ding in the door of your refrigerator, or a scratch on dishwasher.
Many traditional retailers also have outlet stores. Sears has an outlet store that you can shop where returned items, damaged items and other things go. Many of the items are basically brand new, but have been returned because they didn't fit or because they weren't the right color. Other stores will just have a section of the store where returned or damaged items are sold in the same store, not an outlet.
Buy During A Sale
In doing our research to buy our appliances, and in preparation for this article I found that typically the best time to shop for appliances is around the Thanksgiving holiday all the way through Christmas. Stores have some of their best sales around that time as a lot of people like to upgrade their appliances in preparation for the holidays.
Other holidays tend to have good sales as well. Holidays like Memorial Day, the 4th of July, President's day and other often have good sales as well. For us we were buying our appliances right during the Memorial Day sales, and the discounts were pretty substantial.
Buy Through A Builder To Get A Discount
Another way to save on your appliances is to buy them through a home builder or remodeler. If you're building a new home to put the appliances in, you can often buy them at a substantial discount through your builder who will often have an account with the "contract sales" division of the stores.
For example, our home builder had an account with the contract sales division of Sears, as well as other stores. We only found that out after buying (we should have done more homework!), but we're actually trying to work with our builder and the contract sales division at Sears right now to get a better deal. If it works out as we believe it will, we'll be saving an additional $200 or so off our price.
Get A Pricematch
If you find a low price at one store, but don't particularly want to buy there, keep in mind that a lot of stores will do price matching if a competitor has a lower price on an item. Know what the price match policies are for the stores that you're shopping.
Buy Models That Offer Rebates
When we were shopping for appliances we were vaguely aware that some of the units that we were looking at had rebates available on them from the manufacturers. While we didn't actively search for appliances that had rebates available, we did search and find that several of the units that we bought had rebates on them after we bought.
To find the rebates you'll often see a link through the retailer's website at the store you bought through, or you can search at places like Amazon.com or PriceGrabber's rebates section. If those fail you can also just do a google search for that manufacturer and rebates.
Rebates aren't only available through the manufacturers, or the stores you buy things at. With appliances you can often find rebates via your local electric and gas utility companies. Do a search on the Energy Star website to find if your local utility offers any rebates. Ours unfortunately didn't have any, although if we had stayed in our old city there were several available to the tune of a couple hundred dollars.
Buy Used Through Online Classifieds
More and more people are saving on their appliances by buying through the used classifieds at sites like Craigslist.com. You can often find good deals on used appliances from people who are upgrading, from people who are moving and need to sell quick or through retailers who post good deals on there when times are slow.
Find Out If Delivery is Included, Or If It Costs Extra
Another place you can save on your appliance purchase is by taking into account the delivery charges that each store will add to your bill. In our case it was about $69 for all of our appliances to be brought into the house. Often if you buy during a sale, or find a coupon you can get the delivery charge reduced or dismissed. You can also often negotiate the delivery charge down or get it waived, but that's not always the case.
Also, be sure you know whether your delivery charge includes placement and installation of your appliances in addition to delivery. Otherwise, you may be paying extra to have them professionally installed.
Our Real Life Example
We just bought our appliances over the Memorial Day weekend and I thought I would detail what exactly we did to save money on our purchase.
We started looking for our appliances online, and in circulars that come in the mail with the paper. By doing our research we were able to figure out that there were a ton of great sales – both online and at bricks and mortar stores during the Memorial Day holiday weekend. We decided we would do our best to buy our appliances during the sales.
After searching for days online, and visiting several bricks and mortar stores figuring out what we liked, we narrowed our choice down to a few stores that were having the best sales, or had the best prices. In the end we found the best deals at the Memorial Day sales at Sears, AJMadison.com and a local outlet store called Appliance Smart (that has new, used and scratch and dent appliances).
First we went to Appliance Smart where you can find scratch and dent and new appliances. After comparing the prices, however, we found that the sale prices at the other two stores were lower. We also couldn't find exactly what we needed at that store.
Next we searched and compared the other two stores – Sears and AJ Madison. After narrowing down the appliances that we wanted, the prices at the two stores were very comparable as they were both having sales and had similar prices. What sold us, however, was that one of the stores not only had low prices, but had other ways to get discounts on the appliances.
We ended up buying our appliances with Sears. What did we buy? We bought a refrigerator, range/double oven, microwave, dishwasher and a washer and dryer. We also had to buy some parts and accessories that were not included for installation. So how much did it cost and how did we save?
6 appliances and accessories on sale: $4698.06 (normally $5290.87)
Stacked coupon code savings, 2 codes: -$50
Available utility rebates: ? Still working on this, but likely -$100.
Manufacturer rebate: -$75
ShopYourWay Rewards: -$46 in rewards that we used to buy a lawnmower.
Chase Freedom credit card cash back: $46 statement credit.
Rakuten: 6% cash back – $281.88
So when all was said and done we got $592.81 off of the price because the appliances were on sale. After other discounts, rebates and cash back we saved an additional $327.88. We haven't yet tracked down all of the manufacturer and utility rebates on our appliances, but we know of at least $175 in additional cash back rebates so far.
When all is said and done we will have saved over $1000 on our appliance purchase.
Conclusion
While we saved a good amount of money on purchasing our appliances, I know we could have done better if we had done more planning and been able to shop around a bit more. As it was we were pressed for time and had to make the purchase quickly. Others have some amazing stories of how they saved, for example, here's one lady that saved over 58% on her appliance purchase!
The key is, to do your research and leave no stone unturned when it comes to savings. Use coupons and coupon codes. Use rewards programs and cash back sites. When you're done make sure to send in rebates. Find discounts wherever you can!
Have your own tips or tricks for saving on your appliance purchase? Tell us what they are in the comments!