A while ago I was pleased to find out that I had won a Google Nexus 7 tablet from a contest over on CoupleMoney.com.
I had entered the contest not expecting to win anything, but when I did it was a pleasant surprise – especially since I had won another tablet through another contest the site had run a while back. Apparently, I'm extremely lucky in that site's contests, or at least I just gained more entries by constantly tweeting and sharing the contest!
After receiving the Nexus 7 tablet in the mail I thought it would be a good time to do a quick post talking about some of my favorite financial apps for the Android platform.
I've already been using quite a few financial apps on my Kindle Fire – which runs on the Android platform as well. I transferred a bunch of those apps over to the new Google tablet before handing the Fire off to my wife.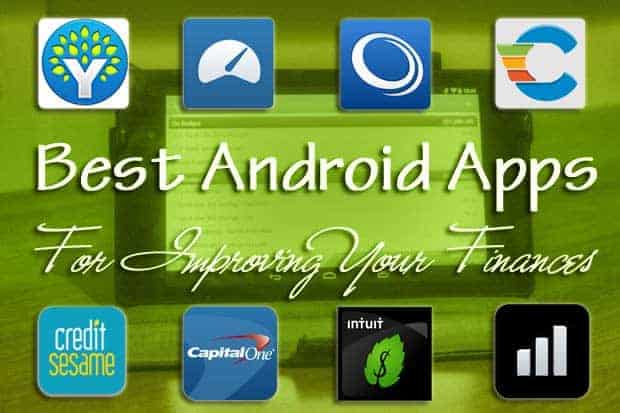 Best Android Money Apps
If you go to the Google Play store you'll find no shortage of financial apps. There are hundreds of apps to choose from, everything from budgeting apps to mortgage calculators to debt snowball apps.
Wading through the apps trying to find what you're looking for can be daunting, but there are quite a few apps that are head and shoulders above the rest, so here are the top 8 that I've used on my Android devices.
You Need A Budget 4 App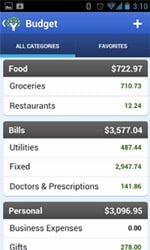 One of my all-time favorite financial software is the You Need A Budget 4 desktop budgeting and financial management software.
With the launch of YNAB 4, apps for iOS and Android were released as well. The apps allow you to sync up with your desktop software, check your budget on the go, enter all your financial transactions and stay on top of your overall financial situation.
I can honestly say that the YNAB 4 Android app is the financial app that I use the most, almost on a daily basis. I use it to check balances in my accounts, enter receipts when I'm on the go, and just stay on top of what we're spending every month.
The YNAB app is truly a great app, and I would recommend it to everyone. The only caveat is that the app only functions if you also have the desktop version of the software as well, it is not a standalone app. Keep that in mind, but if you do buy the desktop version, you won't be sorry. It is one of the best budgeting software available in my opinion.
Here's a video review I did of the app a short while ago, and a full-text review of the YNAB 4 software.
Empower Personal Dashboard App

I've been using the free Empower Personal Dashboard website for a few years now, and it's quickly becoming one of my favorite online money management tools. It's very similar to Mint.com in that it allows you to track all of our financial accounts in one place, but it has more of an emphasis on investments and staying on top of your retirement account.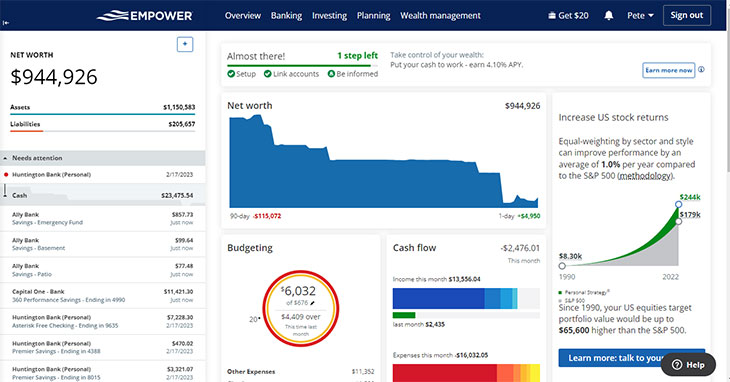 The Empower suite of apps is also among the very best that I've seen. Simply stated, they're beautiful. Not only do you get all of your financial information in one place, but it is presented with beautiful charts, graphs, and interfaces that make it one of my new go-to apps.
If budgeting is your thing, then Mint.com may have some better options for you. But if you're looking for more information about your investments, check out the website and apps for Empower.
Check out my full Empower review here, as well as a shorter overview here.
Betterment Investing & Finance App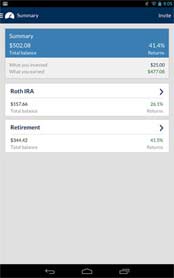 If you plan on having a nice retirement nest egg, it's important to start saving for your future now. The longer you save, the better the chances you'll have enough to enjoy a comfortable retirement. I prefer easy and automatic ways to invest – that keep things simple investing in index funds. That's why Betterment is one of my chosen investment platforms. Their site is cutting edge, their fees are low, and their website and apps are super easy to use.
The Betterment app will allow you to check your balance and returns of your portfolio in real time, deposit and withdraw money at any time, as well as manage your portfolio's stock and bond allocation. Finally, you can review your goals and account activity.
Read out full Betterment app review here, or our full review of Betterment Investing website.
Credit Sesame App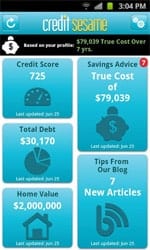 It's important to stay on top of your credit, and one way to do that is by checking your free credit score with sites like Credit Sesame. Credit Sesame's mobile app allows you to do several things to stay on top of your credit situation including allowing you to check your Experian credit score every month, checking your total debts, viewing your home's updated market value, as well as giving you advice on how you can save money by refinancing, getting lower rates on credit cards and more.
The Credit Sesame app is simple and easy to use – and it can be one part of staying on top of your credit situation.
Read out full Credit Sesame app review here, or our review of Credit Sesame website.
Mint.com App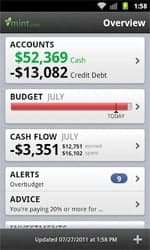 I've been using the Mint.com website for several years now. It's a great place to put all of your financial accounts and keep track of them all in one place. The site offers great budgeting and tracking mechanisms, bill reminders and even some basic options for you to stay on top of your investments.
Mint also offers an Android app that is a great way to stay on top of your money, wherever you are. It was honored as the "best mobile personal finance tool" by Lifehacker earlier this year, and a must have money app by Kiplinger Personal Finance.
It allows you to look at your budgets that you've set up on the website, look at transaction data and account balances for all your accounts, view cash flow reports as well as advice and alerts based off of your spending. It does a lot, and is a great tool for any person's financial tool-set. Check out our full Mint.com review here.
Credit Karma App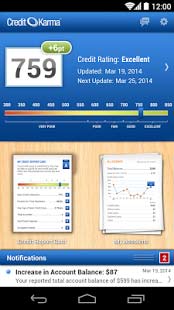 Credit Karma has been one of my go to sites for the past couple years when I want to get a quick checkup on my credit score. Credit Karma will give you an overall look at your credit, what debt and credit accounts you have, and will show you your regularly updated Transunion credit score.
For the longest time Credit Karma only offered an iOS app, but recently they also launched an Android app for those of us who live outside of the Apple universe.
So what can you do in the app? It will give you a snapshot of your credit history including a credit score, a credit report card and tips about where you can do better. You can also check the reported balances for all your accounts or set the app up to send you credit alerts. Check out our full Credit Karma Review here.
Check App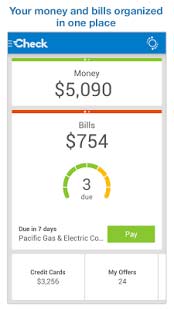 Check (formerly PageOnce) is another financial management app that is used by millions of people, and has been touted as one of the best financial apps in the market by Google, and the "Cadillac of money management apps" by CNN Money.
The app will allow you to organize & track your cash, stay on top of your credit card balances, track bills and investments, and even do bill-pay from within the app!
Definitely a cool app to check out and give a try.
Capital One 360 App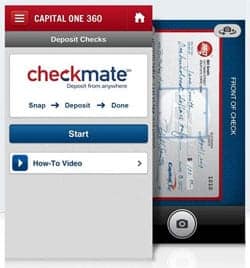 I've been using CapitalOne360 as one of my online savings accounts for years now, and because of that I thought I'd also highlight their Android app that was released a while back. The app allows you to do a lot of things like check your account balances, find fee free ATMs, move money between accounts, schedule and pay bills as well as my favorite – doing remote deposit of checks.
I've used the remote deposit feature quite a few times using my Android phone, and it works like a charm. Just snap photos of the front and back of your checks, and you're set to go! As a blogger who gets all sorts of checks in the mail, I can't tell you how much time this has saved me! There are other banks that are offering this feature as well, like Chase, but I still prefer my CapitalOne 360 account!
Financial Apps Can Make Your Life Easier
For me the main reason I like to use these apps on my Android phone and tablets is because they make my life easier. They allow me to stay on top of my account balances, remind me of when my bills are due, and help me to keep track of how we're doing when it comes to our budget, our credit and our savings.
Have your own must use apps for Android (or even iOS?). Tell us what they are in the comments!