The Fair Credit Reporting Act was legislation that put in place consumer friendly credit practices, including allowing consumers to obtain one free copy of their credit report each year from each of the three major reporting agencies. The three agencies include TransUnion, Equifax and Experian.
While you get your credit report for free, getting your actual credit score used by companies in determining your creditworthiness would usually cost you a little bit more.
For example, when you order your free credit reports from AnnualCreditReport.com, you can also get your credit scores, but there is a small additional fee.
Now there is a free way to get at least one of your credit scores – and you don't need to use a credit card or anything along those lines. It's a site called Credit Karma.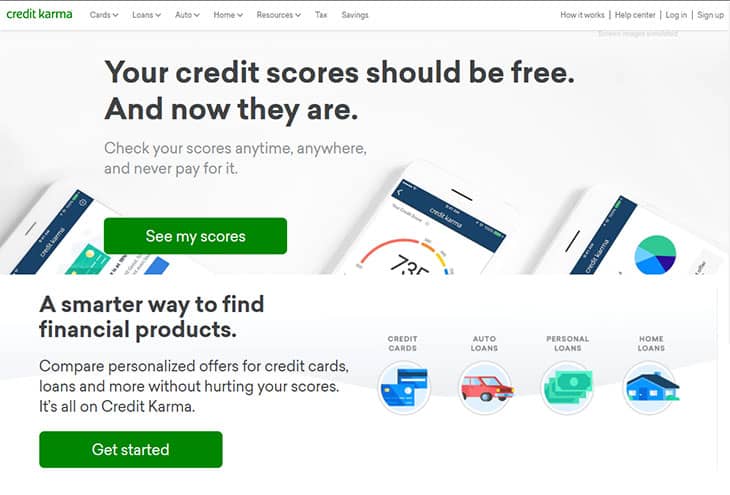 Free Credit Score From Credit Karma
I've been using Credit Karma for quite a while, almost since they were launched back in March 2008.
I believe I was part of a beta test having gotten a code to sign up through another personal finance site. I've been using the site since then, but I just now realized that I had never written a full and comprehensive review of the site.

Back in 2008 when the site was still new I believe they were giving users who signed up an Equifax credit score free of charge. How was the site supported? By advertising and by giving users offers to sign up for savings accounts, credit cards, loans, and other financial products.
The site is now in partnership with TransUnion and Equifax. So when you sign up you'll be given a TransUnion and Equifax credit score – free of charge.
There are other ways to get your credit score for free, but none as easy as far as I'm concerned. (NOTE: Getting a free FICO score is a bit more difficult, but these ones are from TransUnion and Equifax)
When you sign up you will need to provide name, address, date of birth, and email address. You'll also need to provide a driver's license number and social security number as a requirement of the credit bureau to verify your identity.
If you're uncomfortable giving your information to a third party to get your credit score, you can probably stop right here. But having used the site for several years now I can tell you I'm not concerned and I'm confident my information is safe. They use secure connections, and it has multiple security certificates to prove it.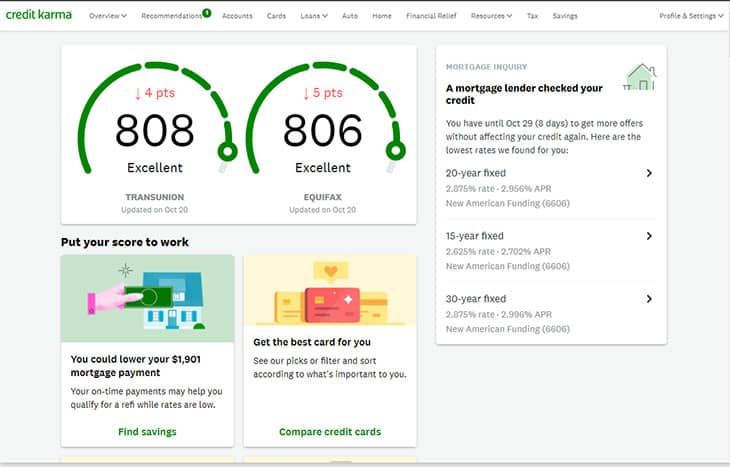 Once you sign up and sign in, you'll be asked to approve them asking for your free credit score. Once you do your dashboard will update and you'll see your credit score. Here's what my dashboard looks like, up above.
In looking back at the years of credit score history it's interesting to see that my score has stayed relatively constant. The only dips I've really seen were a couple of times when we were looking to refinance. At the time we had a bunch of inquiries to our credit report by mortgage companies, and our credit score dropped by 10-12 points or so. No big deal. But you can definitely see when things were happening.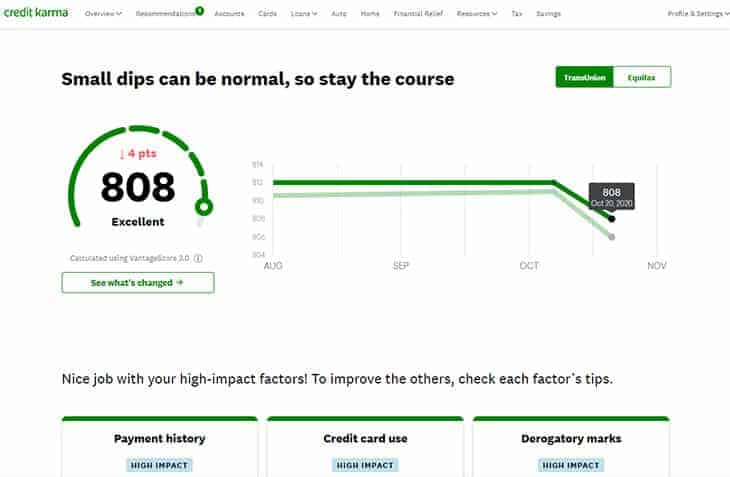 Reasons To Love Credit Karma
There are a lot of reasons to like Credit Karma.
The cost. It's Free! While you can get your credit score elsewhere, this is the only place I know of that you can get it for free without giving up your credit card, signing up for a free trial, or some other sneaky
Check your score whenever you want: With other sites where you pay and sign up to see your credit score, you'll have to pay every time you check it. With Credit Karma, you can check it however often you want. I check it monthly as it probably won't update any more often than that.
Identity theft protection: In this day and age we all need to be on guard against having our identities stolen, and Credit Karma can be a part of your identity theft protection plan. Since it costs nothing you can check your score monthly, and if your score goes down and you haven't done anything to cause it to, there may be something there that needs to be checked out. Of course, this will only help if the thief goes through a company that requests the TransUnion or Equifax score. So Credit Karma should only be a part of your safeguard. I would also check your credit report once every four months – one from each agency through AnnualCreditReport.com. Credit Karma can be just that added an extra layer of checking.
Check out how your score is affected using the Credit Simulator: Ever wonder how opening a credit card or closing your oldest credit account will affect your credit? Try the credit simulator to see what might happen to your score.
Figure out how to improve your credit: Check your "credit report" in Credit Karma and it will tell you how to improve your score. For me about the only thing I can do is to open more accounts and actually use them. I only have one credit card and it is rarely used.
Compare rates and save: Credit Karma also has tools to allow you to compare the rates you have on your current mortgages, credit cards, and other credit accounts, and see if you can save by moving them elsewhere. For example, I was shown that I could save by moving my mortgage to one of several other companies, one of which we reviewed a week or so ago.
In addition to your TransUnion and Equifax credit score Credit Karma will also give you a couple of other scores in the credit center to show you how you're doing.
Auto Insurance Score: Your TransUnion Auto Insurance Risk Score represents whether you are more or less likely to file a claim that will result in losses for the insurance company. This score is calculated using the information found in your TransUnion credit report
VantageScore: VantageScore is a new credit scoring model created by America's three major credit reporting agencies to support a truly consistent and accurate approach to credit scoring. It will show you your VantageScore.
Sign Up For Your FREE No Obligation Credit Karma Account
So with all that said, have any of you used Credit Karma? If so, what do you think of the site, and how do you use it? Do you find it useful?