The 4th of July is almost here.  One of the best ways to celebrate our nation's freedom is to spend the day with family and friends and cap the evening with fireworks.  While there are plenty of frugal activities to do at a party, you may think the food will be too expensive.  If you are living on a tight budget or paying down debt as we are, you may think you cannot afford to host a party.
However, hosting a low cost, fun party is possible.  Here are some suggestions:
Continues after Advertisement
---
---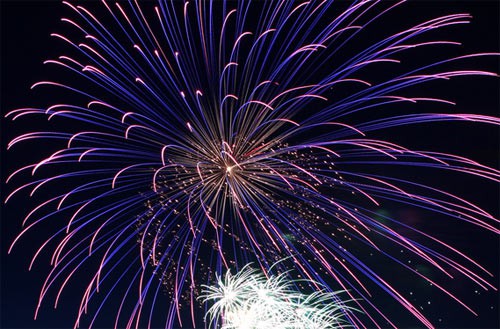 Have A Potluck Party
As the host, you may supply the main meal such as the burgers and hot dogs.  There are plenty of sales on these items this week, so you should be able to get these at a discount.  If you have a Costco or Sam's Club membership, get hot dogs and hamburgers in bulk and save some serious cash.
One flaw of a potluck party is that guests bring whatever they want.  (In my extended family, that means that everyone brings dessert.  There is nothing like a party with hot dogs, hamburgers and endless sweets but no side dishes!)  To avoid this, give your guests a category to choose from such as side dish, fruit, dessert, veggies, etc.  Then, you can delegate what category everyone is bringing a dish from to ensure that you have a wide variety of foods for your guests to choose from.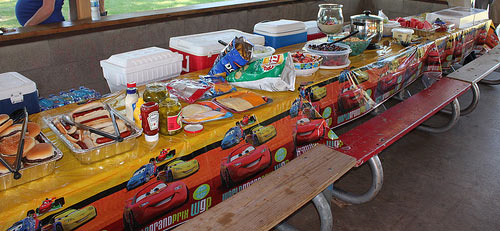 Choose Frugal Drinks
A large container of homemade iced tea only costs you the nominal price of a few tea bags, and it can be a refreshing drink on a hot summer day.  Alternatively, you could ask your guests to bring their own drinks, especially if you are supplying the rest of the meal.
Choose Frugal Foods
If you would like to supply all of the food, you can do so and still not break the budget.  Consider some of the following foods:
Szechuan Noodles with Chicken and Broccoli  I saw this on the Food Network, and it seems perfectly suited for hot weather.  Have cool noodles, some chicken and broccoli in a tasty sauce.  This would make an excellent dish at a barbecue, and it can feed a lot of people!
Cheesy Salsa Dip  This makes a full slow cooker size and is a great appetizer.  It is so addictive, your guests may likely fill up on this before the main meal.  Best of all, it costs less than $10 to make.  You can buy a 3 pound bag of nacho strips at Costco for $4.
Fruit  Fruit is another refreshing summertime favorite.  Instead of pricey blueberries and strawberries, choose fruits like watermelon, cantaloupe, and honey dew that aren't that expensive and stretch to feed many people.  I even recently saw someone who made a cake out of fruit.  Sounds strange, but it looked cute, and I bet it tasted great.
Embrace Mexican Cuisine.  Made right, beans and rice can be delicious and a filling side dish.  A large container of salsa served with low cost tortillas is another good appetizer or side dish that most people like.  Homemade enchiladas are another good way to stretch your food budget, and they taste delicious.  Buy rotisserie chicken to fill the enchiladas or save even more by roasting the chicken in your slow cooker the night before.  Turn the chicken bones and skin into homemade chicken stock to make the enchilada sauce.  Again, this can be easily done in the slow cooker.
The 4th of July is a great day to celebrate with family and friends.  By choosing low cost, satisfying foods, having a frugal yet fun celebration is possible.
What are your favorite frugal dishes to serve at parties?