Sometimes the shortest verses in the Bible can have the biggest impact on our lives.
When you're going through a rough patch, and looking to God's word for some inspiration or a bit of encouragement, often all it takes is one short verse to remind us that God is with us always, that he loves us, and that he will give us strength.
I can do everything through Him who gives me strength.

Philippians 4:13
God's word is unique in that it is God-breathed and inspired, and the divine words in its pages were meant for all of us. The words speak directly to us at one time or another.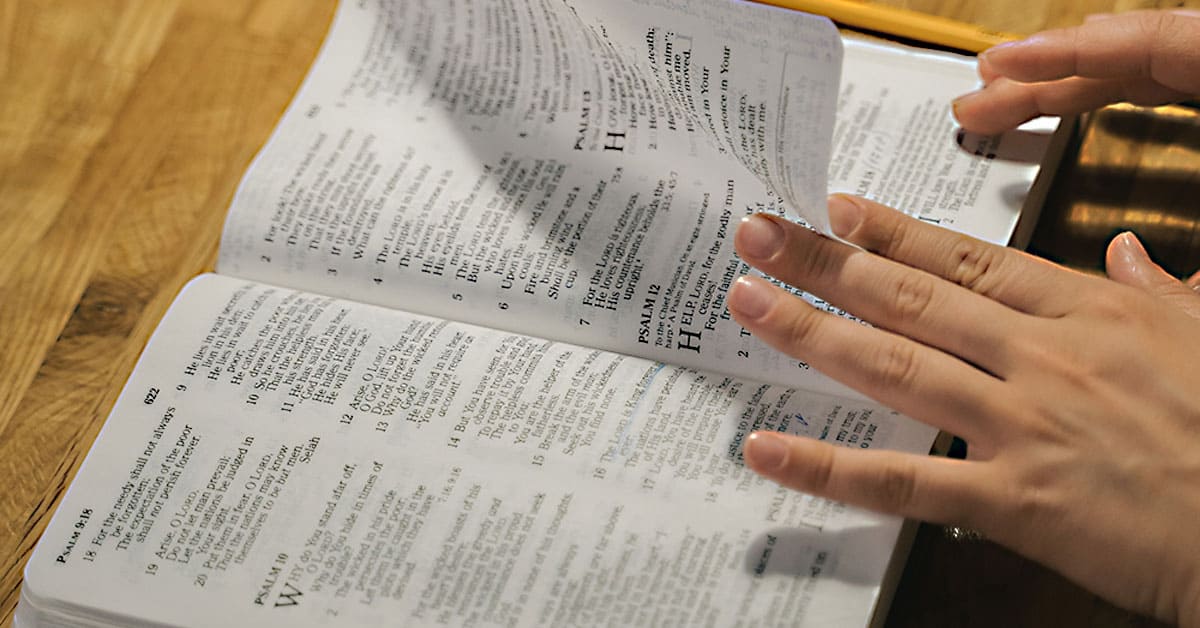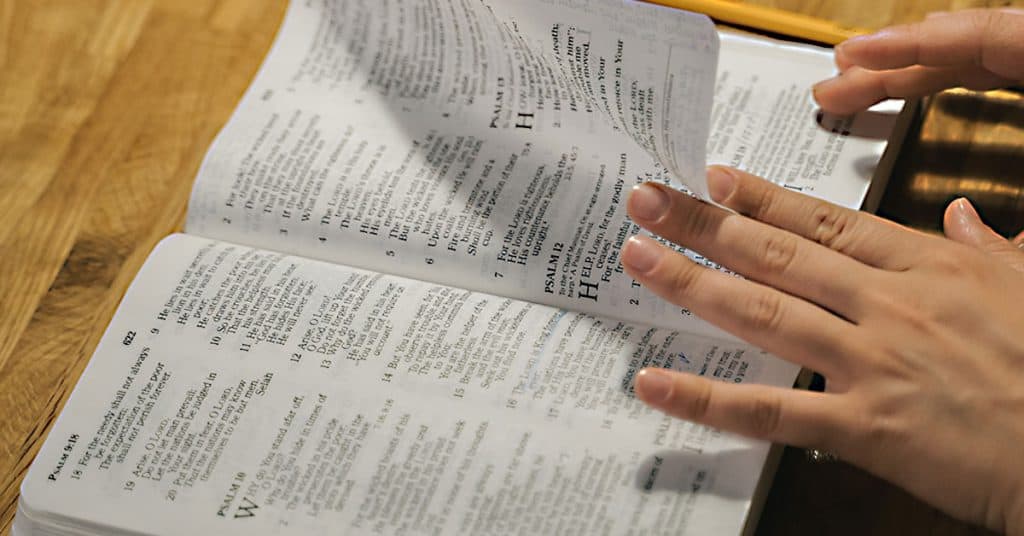 God's Word Is Powerful, Even In Small Doses
The Bible is a long book, the ESV version I'm reading right now is 757,439 words in length.
But we don't have to read the entire thing in order to be touched by the words in the pages. In fact, often even just a few words at the right moment can be life-changing.
I can remember times where I was struggling with something in my life, and calling out to God for help, only to open my Bible and find a direct answer in the pages. Usually, it was one short succinct verse that answered my prayer.
I sought the Lord, and he answered me, and delivered me from all my fears.

Psalm 34:4
So today I want to take a look at a selection of short verses that give strength, hope, encouragement, and faith to those who read them.
Short Bible Verses About Strength
Life can be so hard at times, and all of us can use some of God's encouragement and strength to help us get through the storm.
Here are some verses that point us to where to find strength when we're going through hard times.
Ephesians 6:10 Finally, be strong in the Lord and in the strength of his might.
Psalm 56:3 Whenever I am afraid, I will trust in You.
Psalm 27:1 The Lord is my light and my salvation—whom shall I fear?
Proverbs 18:10 The name of the Lord is a strong tower; The righteous run to it and are safe.
Nehemiah 8:10 Do not grieve, for the joy of the Lord is your strength.
1 Chronicles 16:11 Seek the LORD and his strength, seek his face continually.
Psalm 9:9-10 The Lord is a refuge for the oppressed, a stronghold in times of trouble.
1 Peter 5:7 Cast all your anxiety on him because he cares for you.
Isaiah 12:2 Surely God is my salvation; I will trust and not be afraid. The Lord, the Lord, is my strength and my song; he has become my salvation.
Philippians 4:13 I can do all things through Christ who strengthens me.
Exodus 33:14 My presence will go with you, and I will give you rest.
Psalm 55:22 Cast your burden on the LORD, and he will sustain you;
2 Thessalonians 3:3 But the Lord is faithful, and he will strengthen and protect you from the evil one.
Psalm 138:3 When I called, you answered me; you made me bold and stouthearted.
Joshua 1:9 Be strong and courageous; do not be frightened or dismayed, for the Lord your God is with you wherever you go.
Isaiah 41:10 Fear not, for I am with you; be not dismayed, for I am your God; I will strengthen you, I will help you, I will uphold you with my righteous right hand.
Short Bible Verses About Faith
Having Faith in God isn't always easy, but if we depend on His promises in the Bible, and ask him to increase our faith, His grace and mercy will be with us.
Hebrews 11:1 Now faith is the assurance of things hoped for, the conviction of things not seen.
Psalm 46:10 Be still, and know that I am God.
Mark 5:36 Overhearing what they said, Jesus told him, "Don't be afraid; just believe.
Mark 11:22 And Jesus answered them, "Have faith in God."
2 Corinthians 5:7 For we walk by faith, not by sight.
1 Corinthians 2:5 That your faith might not rest in the wisdom of men but in the power of God.
2 Corinthians 12:9 My grace is sufficient for you, for my power is made perfect in weakness.
Luke 1:37 For nothing will be impossible with God.
Psalm 86:15 But you, O Lord, are a God merciful and gracious, slow to anger and abounding in steadfast love and faithfulness.
1 John 4:18 There is no fear in love, but perfect love casts out fear.
Ephesians 2:8-9 For by grace you have been saved through faith.
Matthew 22:37 "You shall love the Lord your God with all your heart and with all your soul and with all your mind.
Luke 17:5 The apostles said to the Lord, "Increase our faith!"
Psalm 119:30 I have chosen the way of faithfulness; I have set my heart on your laws.
1 Thessalonians 5:18 Give thanks in all circumstances, for this is God's will for you in Christ Jesus.
Deuteronomy 31:8 It is the LORD who goes before you. He will be with you;
Short Bible Verses About Hope
The Bible talks about how faith in Jesus gives us hope in things eternal, for things in His kingdom that will never decay or waste away.
As Charles Spurgeon said, "Without Christ there is no hope."
And with Christ, hope springs eternal.
John 3:16 For God so loved the world that he gave his one and only Son, that whoever believes in him shall not perish but have eternal life.
Psalm 130:5 I wait for the Lord, my soul waits, and in his word I hope;
Romans 15:13 May the God of hope fill you with all joy and peace in believing, so that by the power of the Holy Spirit you may abound in hope.
Philippians 4:4 Rejoice in the Lord always. Again I will say, rejoice!
Hebrews 10:23 Let us hold fast the confession of our hope without wavering, for he who promised is faithful.
Romans 12:12 rejoicing in hope, patient in tribulation, continuing steadfastly in prayer
Psalm 37:4 Delight yourself also in the Lord, And He shall give you the desires of your heart.
2 Samuel 22:47 The LORD lives! Praise to my Rock! May God, the Rock of my salvation, be exalted!
Psalm 39:7 And now, O Lord, for what do I wait? My hope is in you.
Romans 5:1 Through him we have also obtained access by faith into this grace in which we stand, and we rejoice in hope of the glory of God.
Psalm 71:5 For you, O Lord, are my hope, my trust, O Lord, from my youth.
Psalm 119:114 You are my hiding place and my shield; I hope in your word.
Micah 7:7 But as for me, I will look to the Lord; I will wait for the God of my salvation; my God will hear me.
Proverbs 23:18 Surely there is a future, and your hope will not be cut off.
Psalm 119:81 My soul longs for your salvation; I hope in your word.
Hebrews 13:8 Jesus Christ is the same yesterday, today, and forever.
1 Corinthians 15:19 If in Christ we have hope in this life only, we are of all people most to be pitied.
Romans 5:3-4 We rejoice in our sufferings because we know that suffering produces perseverance; perseverance, character; and character, hope.
Short Inspiring Bible Verses
Sometimes we just need to be inspired, to be reminded of just how great God is, and all that he has done for us.
These verses will hopefully inspire you to remember who God is, what he has done for us, and what he promises to do.
Romans 12:12 Rejoice in hope, be patient in tribulation, be constant in prayer.
Galatians 6:9 And let us not grow weary of doing good, for in due season we will reap, if we do not give up.
Romans 8:31 If God is for us, who can be against us?
John 15:16 You did not choose me but I chose you.
Mark 10:27 Jesus looked at them and said, 'With man it is impossible, but not with God. For all things are possible with God.'
Matthews 17:20 Our faith can move mountains.
Psalm 107:1 Give thanks to the LORD for He is good: His love endures forever.
John 16:33 In the world you will have tribulation. But take heart; I have overcome the world.
Proverbs 3:5-6 Trust in the LORD with all your heart, and do not learn on your own understanding. In all your ways acknowledge Him, and He will make straight your paths.
Isaiah 41:13 For I, the LORD your God, hold your right hand; it is I who say to you, 'Fear not, I am the one who helps you.'
Exodus 14:14 The Lord will fight for you, and you have only to be silent."
John 15:12 This is my commandment, that you love one another as I have loved you.
1 Corinthians 16:14 Let all that you do be done in love.
Short But Powerful Scripture Quotes
Sometimes very short verses are powerful because they distill an important idea down into only a few words.
Here are some verses that despite being brief, give us insight into the mind of God, and our Christian faith.
John 3:16 For God so loved the world that he gave his one and only Son, that whoever believes in him shall not perish but have eternal life.
Psalm 46:10 Be still, and know that I am God.
Psalm 56:3 Whenever I am afraid, I will trust in You.
1 John 4:19 We love because he first loved us.
Proverbs 10:12 Hatred stirs up strife, But love covers all sins.
Proverbs 14:30 A heart at peace gives life to the body, but envy rots the bones.
Luke 1:37 For nothing will be impossible with God.
James 4:8 Draw near to God, and he will draw near to you.
Psalm 46:1 God is our refuge and strength, a very present help in trouble.
John 15:12 This is my commandment, that you love one another as I have loved you.
Ephesians 4:32 Be kind to one another, tenderhearted, forgiving one another, as God in Christ has forgiven you.
1 Corinthians 16:14 Let all that you do be done in love.
What Is The Shortest Verse In The Bible?
Most of the verses up above are relatively short and to the point, sharing their wisdom in few words.
But what is the actual shortest verse, in the English language, in the Bible? Here it is in John:
Jesus Wept.

John 11:35
In context, Jesus has just gone to see Lazarus after his friend's sisters Mary and Martha sent word of his illness and impending death. He arrives only to find Lazarus has died 4 days before.
On the surface, this verse seems to be just telling us that Jesus loved Lazarus, and wept for him after he died. To me, there is so much more meaning found in those words.
The verse speaks to the fact that Jesus, although fully God, was also fully man. He humbled himself, and became man, and was able to truly feel the sadness of the moment.
It also speaks to the fact that Jesus had great compassion for those who felt the loss of Lazarus. The Greek word for "wept" in this scripture means to "weep silently", whereas often in Hebrew culture loud weeping was done as a public show of grief, and was not always sincere. That he wept silently speaks to how sincere it was, and how Jesus truly felt compassion for the people there, the lost, and felt sadness that the "wages of sin is death".
The shortest verse may not be very long, but the meaning encapsulated in its brief telling is much deeper than might first be seen.
Here are four more of the shortest verses:
1 Thessalonians 5:16 Rejoice always
1 Thessalonians 5:17 pray without ceasing,
Luke 17:32 Remember Lot's wife! (In reference to the story of Sodom and Gomorrah in Genesis 19. In the next verse it says, "Whoever tries to keep their life will lose it, and whoever loses their life will preserve it")
1 Thessalonians 5:19 Do not quench the Spirit. (In other words, don't be unresponsive to the working and guidance of the Holy Spirit. If you aren't walking with Christ, this still small voice will be hard to hear.)
Short Bible Verses To Memorize
As a Christian, it is so important to store up God's word in your heart and to have His word be a guide for your life.
I have stored up your word in my heart, that I might not sin against you. Blessed are you, O Lord; teach me your statutes!

Psalm 119:11-12
What better way to store those precepts in your heart than to memorize some important scriptures so that wherever you go, they'll be in your heart and mind, helping you to live a life that points to Christ.
Here are a few short verses that you can memorize either on your own, or with your children.
Romans 3:23 for all have sinned and fall short of the glory of God,
Romans 10:13 For whoever calls on the name of the Lord shall be saved.
John 3:16 For God so loved the world, that he gave his only Son, that whoever believes in him should not perish but have eternal life.
Acts 16:31 And they said, "Believe in the Lord Jesus, and you will be saved, you and your household."
John 14:6 I am the way and the truth and the life. No one comes to the Father except through me
Romans 6:23 For the wages of sin is death, but the gift of God is eternal life in Christ Jesus our Lord
Proverbs 3:5-6 Trust in the LORD with all your heart and lean not on your own understanding.
Psalm 51:10 Create in me a clean heart, O God, and renew a right spirit within me.
Romans 8:28 We know that all things work together for the good of those who love God, who are called according to his purpose.
Psalm 119:105 Your word is a lamp to my feet and a light for my path.
1 Corinthians 13:4 Love is patient, love is kind. It does not envy, it does not boast, it is not proud.
Philippians 4:13 I can do all things through Christ who strengthens me.
John 15:13 Greater love has no one than this, that someone lay down his life for his friends
Psalm 150:6 Let everything that has breath praise the Lord! Praise the Lord!
Hebrews 13:8 Jesus Christ is the same yesterday and today and forever.
1 Corinthians 16:13 Be watchful, stand firm in the faith, act like men, be strong.
2 Timothy 1:7 For God has not given us a spirit of fear, but one of power, love, and sound judgment
Psalm 23:4 Even though I walk through the valley of the shadow of death, I will fear no evil, for you are with me;
Tips For Memorizing Short Scripture Verses With Kids
Many of the verses above are perfect for memorizing with your children. Short and sweet and full of encouragement and inspiration.
If you want to memorize some of the verses with your children, here are some tips to help make it more fun for you, and for them!
Have a time you set aside for Bible memorization: Set aside some time during the day where you have some unhurried moments where you can dwell on God's word, without having to rush off in a few minutes.
Talk about the verse, the context, and meanings of hard words: Talk about the verse with your child, explain any hard to grasp concepts, or give definitions for hard words. Help them to understand what they're reading and speaking.
Know your child and their learning style, and tailor Bible memory to them:

Auditory: If your child is an auditory learner, do things like put the verse to music, chant the verse, repeat the verse over and again, say the verse and stop suddenly, and see if they can continue the verse, etc.
Visual: If your child does better with visual cues when learning, do things like write the verse down on paper or a dry erase board, make a verse word scramble, put each word of the verse on a different sticky note and have them put them in order, and so on. Make it a treat for the eyes.
Kinetic: Some kids are in constant motion, and while they're learning, they're moving. For those kids you can make Bible memory an activity. For example, bounce a ball back and forth, each person saying a word of the verse. Or act out the verse charades style. Or even bounce on a trampoline, one word per bounce!
God's Word Can Change Lives, Even When It's Short And Sweet
God's word has a powerful way of finding us where we are, and speaking the truth to us, when we need it.
A verse doesn't need to be long and in-depth in order to reach us, often the shortest of verses has the most to say.
So here's my prayer. That the verses on this page, though brief, will make a big impact in your life. That you'll be reminded that the Lord Jesus Christ loves you, and that he wants you to follow Him. I hope you'll be encouraged, strengthened, and have a renewed hope for the future, in Him. God bless!
Do you have your own favorite short bible verses that you can share? Tell us what they are in the comments!