A home may be a person's castle, but it can also come with a hefty price tag when it comes to maintenance and home repairs.
For example, we moved into our house 3.5 years ago. In that time, we've had a plethora of home repairs including replacing the water heater, fixing faulty sensors in the garage door, replacing the heating and air-conditioning unit, repairing water damage in our child's room that lead to mold, and replacing our shower walls and dry wall. (Unbeknownst to us, a part broke in the handle of the shower, leading to significant water damage and mold in the wall).
Thanks to the mold damage, we also had to replace the carpet in two of the bedrooms with laminate, and we've replaced two leaking faucets, one in the kitchen and one in the bathroom. We have easily spent over $15,000 on all of these repairs, which averages out to $3,000 a year.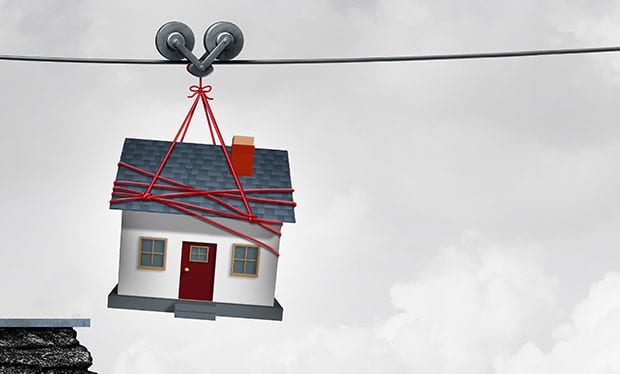 How Much To Save For Repairs
Traditional advice is that you should set aside 1 to 3% of the purchase price of your home annually for home repairs.
If you purchased your home for $150,000, that means you should be setting aside $1,500 to $4,500 annually or $125 to $375 monthly for home repairs and maintenance.
In the three years that we've lived in our house, we've easily used 3% per year for home repairs.
However, for many Americans who are in debt or living paycheck to paycheck, they simply cannot afford to set aside that much money every month. Instead, they don't put aside any money for home repairs, thinking they'll deal with home repairs as they come. This can lead to a series of financial disasters if homeowners aren't careful.
Putting Off Repairs
The easiest solution, but not necessarily the most cost-effective, is to put off repairs.
While putting off repairs costs nothing in the short-term, this strategy almost always ends up costing more in the long-term because most home repairs are cheaper to take care of when the problem is first noticed.
For instance, calling an electrician to check your wiring because you can't use certain outlets without blowing a fuse is much cheaper than putting off the repairs and having an electrical fire.
Borrow Money For Repairs
Some people who don't feel they're able to save money for repairs instead rely on borrowing money, whether that comes from a credit card, a loan from the company fixing the problem, or a HELOC. While this can be a solution once, you shouldn't rely on your credit card or loans to finance all of your home repairs.
The simple truth is that owning a home requires an investment in your time and money. A home needs to be repaired, and as our experience has proven, those repairs can be costly and numerous. Putting aside money each month for home repairs is the best way to tackle unexpected expenses.
When your home has an issue, chances are you will need to fix it. Your home doesn't way until you have money set aside.
In fact, Murphy's Law suggests that home repairs will be needed when you're least able to afford them.
Strategies To Save More
If you're budget is already tight without saving for home repairs, you can find areas where you can save.
For instance, pay cash for your purchases and pocket all of the changes to save for home repairs. Sure, you won't make a large dent with this strategy, but by the end of the year, you'll likely have $250 to $300 saved.
You can save money in small increments using a microsavings account like Rize or Qapital. Save in small amounts that add up to a larger emergency fund that you can use for repairs later on.
Yet another option is to using "free money" programs like Swagbucks to set aside the money or to curb your going out budget to put some money aside for repairs.
Finally, YouTube can be your friend and teach you how to do some home repairs on your own. My husband replaced the flush mechanism on our master bathroom toilet and unclogged a massive tub drain simply because he was fed up with paying repairmen and wanted to do it himself. YouTube taught him how to make these repairs.
Owning a home can be a blessing, but that blessing can feel like a curse if you're unable to set aside money for repairs. The key is to stay on top of your home maintenance tasks, and make the repairs as soon as you see a problem rather than waiting until you have the money. The longer you wait, the more expensive the repair will likely be!
How do you recommend people save for home repairs? What strategies do you use?