Last week I read a post over at Debt Free Adventure about how it's a good idea to start living on one income, whether or not you need to. If you're married and have no kids, it can be a good exercise to see what it may be like if you end up having children and one partner needs (or wants) to stay home with the child. It is also a good way to get ahead faster because you're living below your means, before you have to! So today I want to talk about living on less before you need to, and why it's a good idea.
Why We'll Be Living On One Income Soon
Part of the reason that I'm writing about this topic is because my wife and I are currently being thrust into a situation where my wife will no longer be working. We'll be living on one income.
No, we're not being faced with layoffs or a bad work situation. The reason we're going to be living on one income is that we have agreed that my wife will take on the important job of being a stay at home mom. Maria is currently pregnant with our first child, our son Carter, and we're expecting him to be born sometime at the end of June. We've had plenty of time to plan for this situation, not only because the pregnancy lasts for 9 months, but because we've just been looking forward to this day for some time.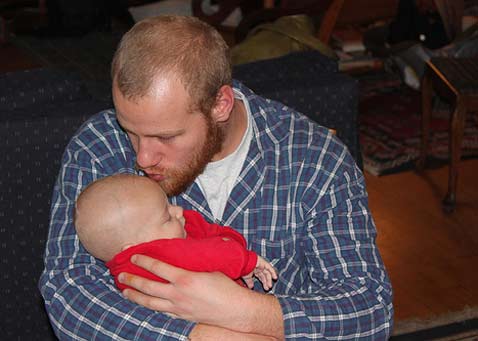 Yesterday my wife gave her two week notice at her job, and so now our life living on one income is two weeks away from reality. It's a bit scary, but we're ready.
The Switch To Living On One Income
We made our switch to living on one income a couple of years ago, not because we were planning to have children, but more just because we were scaling back and working our way through Dave Ramsey's Financial Peace University. We were attempting to pay off our non-mortgage debts, and it made sense to live off of my income, and use the rest to pay off our debts. It worked out really well and we had quickly paid off my last student loan, and the remaining balance on my car.
After our debts were paid off, it just made sense for us to continue living off of one income (much less than one income actually), and save my wife's income for retirement, emergency savings, and to save and pay cash for our next car. It's amazing how fast you can save money when you're living on a lot less than you make.
Now that we are expecting our first child, and are anticipating all the expenses that come with having a child, we're extremely glad that we started living with less long before we needed to. We've planned ahead and saved up a substantial 9 month emergency fund (in case of layoffs or other issues) and saved up and paid cash for all of the big baby items (furniture, clothes, car seat/etc). Now we're building a little bit of extra cushion into our budget for unplanned baby expenses as they crop up.
Because we planned ahead and updated our budget, we should be ready when the day we need to live on one income comes. (It's only 2 weeks away now!)
Some things you can do in preparation for living on one income:
Benefits Of Living On One Income
There are quite a few benefits to living on one income, and living on less than you make – before you need to. Among them:
If you're in debt, you can pay off debt faster.
Once debt is gone you'll have less stress because you'll have a surplus.
If one of you loses a job, you'll be able to absorb the loss easier since you're living on one income anyway. (unless the job remaining isn't enough to live on)
You can save money a lot faster.
Retirement funds can add up quicker.
Financial peace knowing that you're living below your means.
There are also benefits to sacrificing to live on one income when you have children. Some of the benefits include:
No daycare costs because one parent can stay home.
Healthier kids because of no daycare germ incubator!
You're able to devote yourself better to nurturing and raising the child.
Stay at home spouse can keep the home, which leads to less stressful evenings figuring out who is going to cook, when to clean the house, etc.
Those are just a few of the benefits that I came up with off the top of my head. I'd love to hear your thoughts as well, however – both positive and negative!
Sacrifices May Need To Be Made
If you're currently living on both incomes, and the thought of living on just one of them sounds impossible, it may be time to start thinking about ways you can cut back.
Can you move into a smaller house with a more affordable mortgage? Are there ways you can accelerate paying off your debts to reduce your debt obligations? Are you living a lifestyle that's above your pay grade?
Examine how you're living and figure out why you need both incomes currently. Once you figure it out, try finding things that you can change in order to facilitate a move towards a "living on one income household". We found that it was key in creating a sense of financial peace in our household, and we believe it will work for yours as well.
What do you think about living on one income in a dual income household? Is it something you are trying to do? What do you think about sacrificing one of the incomes in order to be a stay at home parent? Tell us your thoughts, we want to know!