If you've been disappointed the last few years by the historically low interest rates that you'll find when signing up for a "high yield" savings account, you may be considering your options when it comes to where you put your savings.
Since those savings accounts probably won't be seeing their rates go up by any significant amount in the near future, a lot of people are now considering putting their money in alternative account types. Anything from investing in peer-to-peer lending to a more liquid investment account like the ones at Betterment.com.
If those account types still sound too risky for your tastes, one stable savings vehicle a lot of people are trying are CDs.
What Is A CD (Certificate Of Deposit)
CDs, which stands for Certificates of Deposit, in some ways are very similar to a typical savings account. You can purchase a CD at most of the same banks where you would open a regular savings or checking account. The CD account is different from those other account types in that they aren't nearly as liquid because when you buy a CD you are committing to holding your money in that account for a set period of time. They can range anywhere from 3-6-9 months to a year, 2 years, all the way up to 5 years.
Check out currently featured bank for CDs, CIT Bank
What do you get in return for agreeing to keep your money in the bank for that set period of time? You get a higher rate of interest than you would in a regular savings account, and it is guaranteed for the term of the CD. In essence you're trading liquidity for a higher rate.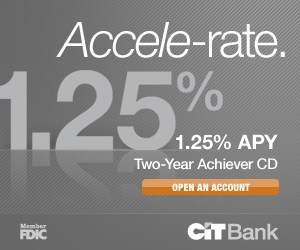 So to recap, the main points to remember about a CD are:
Fixed Interest Rate: If your CD has a 2% rate of interest, you will receive that 2% rate for the life of the CD. No matter if the rates go down (or up), you'll receive that fixed rate of interest.
Not As Liquid: When you purchase a CD you are committing your money to be in the account for a specific term. You can't take your money out without incurring some sort of a penalty. Because of that you should be careful about how much you put in, and for how long you put it in.
Creating A CD Ladder
What a lot of people will do when putting their money into a CD is create what is called a CD Ladder. CDs with different terms carry different interest rates. So for example a 5 year CD will hold much higher interest than a 6 month term CD. Because of that it would seem to be a good idea to put all your money in the 5 year term CD – except for the fact that that your money isn't very liquid.
A CD ladder is an attempt at helping you to keep some of your money's liquidity, while still achieving a higher earnings and interest. It'll also help to hedge your bets against rates going up or down.
What you do to create a CD ladder is start saving at the beginning in CDs with different terms. So for example, to keep it simple, let's say you want to save in CDs with terms of 1 year through 5 years. Here are some example of rates from CIT Bank as of 10/2012:
| Term | Interest Rate | |
| --- | --- | --- |
| 6 months | .45% | |
| 12 months | 1.06% | |
| 24 months | 1.20% | |
| 36 months | 1.42% | |
| 60 months | 1.80% | |
So as you can see the rates vary from .45% up to 1.80% for the 5 year. What you would then do if you've decided to save $5,000 in CDs, you would buy 5 CDs with equal amounts:
$1,000 in 6-month CD at .45%
$1,000 in 1-year CD at 1.06%
$1,000 in 2-year CD at 1.20%
$1,000 in 3-year CD at 1.42%
$1,000 in 5-year CD at 1.80%
Then you wait. After the first six months, when the first 6 month term CD expires, you would take that money, turn around and invest in a second 5-year term CD. So then your investments would look like this:
$1,000 in 5-year CD at 1.80%
$1,000 in 1-year CD at 1.06%
$1,000 in 2-year CD at 1.20%
$1,000 in 3-year CD at 1.42%
$1,000 in 5-year CD at 1.80%
So basically you'll always have at least $1000 of your money a year away from being liquid in case you need it. Your interest rates will slowly be going up as well because eventually you'll just have 5 laddered 5-year CDs.
Pros And Cons Of A CDs And A CD Ladder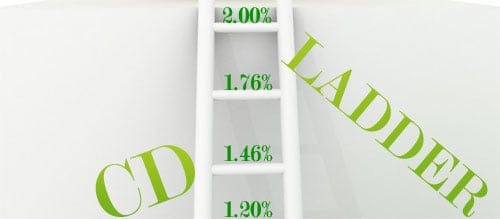 When considering whether you should set up a CD ladder, there are some pros and cons you should consider.
Pro – Hedge Against Inflation: If the interest rates go up, you'll have some short term CDs expiring soon that can be re-invested at higher rates. If rates go down, you'll have the longer term CDs hedging your bets.
Pro – FDIC Insured: Your money is FDIC insured, so it's safe in a CD. No worries about losing money like an investment account.
Pro – Higher Interest: With a CD ladder you'll be making better interest than a regular savings account, while being more liquid than you would just buying one big 5 year CD.
Con – Sometimes Short Term CD Rates Are Low: One thing you'll want to be wary of is that sometimes the shorter term CDs will have rates that are almost as low or lower than savings accounts at other banks.
Con – Penalties Associated With Early Withdrawal: Need your money early? You'll pay a penalty – although that penalty will vary from bank to bank.
Con – Less Liquidity: One of the biggest drawbacks of CDs is that they just aren't very liquid. Yes, you get higher interest, but you won't have access to that money.
Have you ever set up your own CD ladder, or have you considered doing it? Tell us your thoughts on the CD ladder, and on CDs in general in the comments.