Ever wonder how some people just seem to get ahead, while others can't seem to make any headway? Do you have some large goals you are saving for such as retirement or paying for your children's college education, but you don't know where you will find enough money to save as much as you would like?
The answer to financial freedom for many is practicing the law of just enough. Americans used to be very good at utilizing this principle thanks to the lean years of the Great Depression, but over time and generations we have lost those skills.
What Is the Just Enough Principle?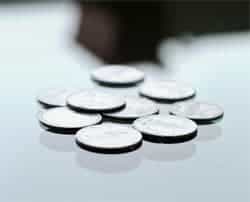 Simply put, buy just what you need and not any more. Too many of us project into the future and see future events that may or may not happen. We assume that they will happen, so we make purchases with those circumstances in mind.
For instance, after our first child was born, we moved up from our small Toyota Echo to a Toyota Sienna because we knew we would be having more kids and would need a vehicle. True enough, but the Echo only had a few more months of car payments on it, which we traded for a 5 year loan for the Sienna.
We did pay the Sienna off a year early, just in time for the birth of our second child. Yes, we did not have our second child until 4.5 years after our first one. Instead, of buying the Sienna, we should have paid off the Echo and saved as much in cash as we could for a minivan and bought it when I was pregnant with the second child. In our haste, we wasted thousands of dollars in interest.
What Does the Principle of Just Enough Look Like in Everyday Life?
In the housing market? Rather than buying the 5 bedroom home now because you know you will be having several children, why not buy a house that is less expensive and can suit your needs now? You will save on property taxes, interest, and utilities, not to mention closing costs and realtor's fees. Then, in five or seven years when you need a bigger house, you can move up.
How many people do you know who buy a large house in anticipation of having a family, and then move before they even have their first or second child because they want to be closer to family or they are transferred for work? Meanwhile, they have paid money that might have gone to investments or other interests to pay for a house that was too big for them right now.
The reverse is also often true. A family is in a house that they deem too small with their tween children; they move into a large house to accommodate the teens, and within a few years, the parents are empty-nesters. The old house would have sufficed just fine. Yes, it may have been tight for a few years, but they could have gotten by with the old house.
This principle can also apply to restaurant meals. Why not split an entree with your companion rather than buying your own and taking home a doggie bag of food that you may or may not eat later?
Warehouse stores have a siren song for many people. If you are single, are you really going to eat the 10 pound bag of quinoa before it expires, or would you be better off buying a small bag at your local grocery store or sharing the difference with a friend?
Look in your closet. How many pairs of shoes do you have? Do you really "need" 20, or would 5 suffice just fine? I had a friend in high school who had over 20 pairs of blue jeans. She would wear one pair to school, come home after school and change into another pair. Her mother was washing up to 14 pairs of her blue jeans a week. Couldn't 4 or 5 pairs have been sufficient?
Of course, you are free to spend your money as you would like, but if you would like to save for a goal that currently seems out of reach, applying the principle of just enough may be a way to free up some extra money in your budget.
Where do you find excess in your life?