A short while ago I wrote a post on this site and talked about all the things you need in order to have an affordable blog video setup. We looked at things like what camera you should buy, what video editing software to use, and how to do screencasting and video whiteboards. One of the things I talked about was creating a cheap DIY green screen setup, and today I thought I'd walk you through creating your own in more depth.
I bought a green screen fabric on Amazon a few months ago for around $20, and have done a few green screen videos here and there by pinning it to the wall and then editing the resulting videos using the Chroma Key/green screen dialogue in my favorite video editing software, Sony Vegas Video.
After a while I decided that I wanted a portable green screen stand for the screen to hang from whether I was in the basement, garage or the front yard filming. I found that a stand can cost quite a bit of money, however, upwards of $100-200 for many of them.
Making Your Own DIY Green Screen Stand
Instead of buying a green screen stand I came up with my own DIY green screen stand using 1/2″ PVC pipe and connectors, all for a little more than $10 at my local home improvement store. If you want to create your own, here's a video tutorial showing how I did it.

Items Needed For Building Your Own Green Screen Stand:
You can get these supplies at just about any home improvement store. I got mine at the Home Depot and Lowes hardware stores in my area.
4 – 10 foot 1/2″ PVC
2 – elbow for joints 1/2″ PVC
8 – T joints for 1/2″ PVC
4 – end caps for 1/2″ PVC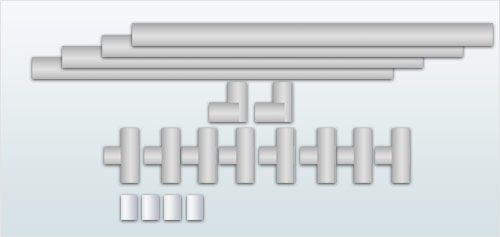 While still at the store, ask an associate to cut the PVC piping down to length for you. Have them cut the first 10 foot piece into two equal 5 foot halves, then cut in half again. The other three ten foot pieces should each be cut into 6 and 4 foot lengths. Then, take two of the 6 foot pieces and cut them in half, 3 foot pieces. Next, you take the first 4 foot piece and cut that into two 2 foot pieces. Next, cut one of the four foot pieces into 2.5 and 1.5 foot lengths. Finally, cut the last 4 foot section into four 1 foot pieces.
When you're done cutting you should have:
1 – 6 foot 1/2″ PVC
4 – 3 foot 1/2″ PVC
5 – 2.5 foot 1/2″ PVC
2 – 2 foot 1/2″ PVC
4 – 1 foot 1/2″ PVC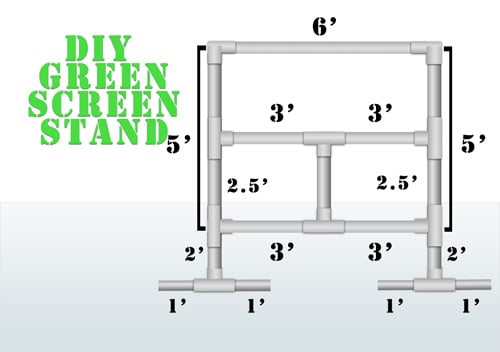 Once you've got your PVC tubes cut you just put them together using the elbow joints and t-joint connectors. See the diagram above or the video at the top for details on how that's done. Basically you'll have a 6′ top bar for hanging your green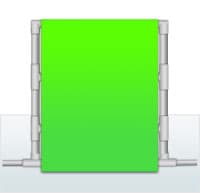 screen from, and then 6-7′ of height so you can stand or sit in front of your screen. The whole thing is braced with tubing in the middle as well. If you're using PVC thicker than 1/2″ you may not need as much bracing as I used in the center.
If you want, you can use PVC glue to make the stand more rigid and permanent, or if you prefer leave it unglued for easier dis-assembly and storage.
Once you're done putting the PVC together you just hang your green screen from the top 6 foot bar, setup your lighting and you're ready to go.
DIY Lighting For Your Green Screen Setup
One of the key elements of any green screen setup is the lighting. If your green screen isn't lit well, or has lots of folds and wrinkles you'll tend to get shadows and uneven coloring in your background. That will lead to awful looking green screen that doesn't work well in post production.
So how do you light up your green screen? I just use some standard clamp work lights you can buy at any home improvement store for lighting myself up, and then I use a set of bright work lights that I already had for lighting up the green screen.
Here's how I set them up.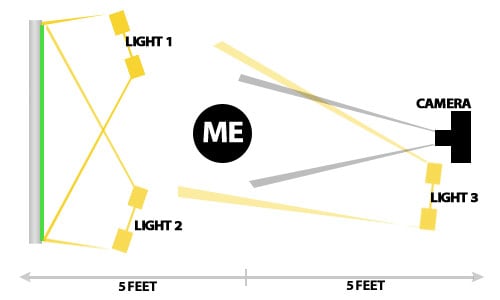 So basically you have two lights lighting up the green screen to avoid your worst enemy, shadows. Then I stand 5 feet away from the background to avoid shadows. The camera is about 5 feet in front of me. Then I've got a key light to the right of the camera lighting me up. I just use one light stand with two clamp lights on it, but for an optimal setup you can also do a light behind you to give you a bit of a halo, and another dimmer light off to the side.
For my main key light I've created another do-it-yourself project using PVC pipe and connectors, it's a DIY light stand!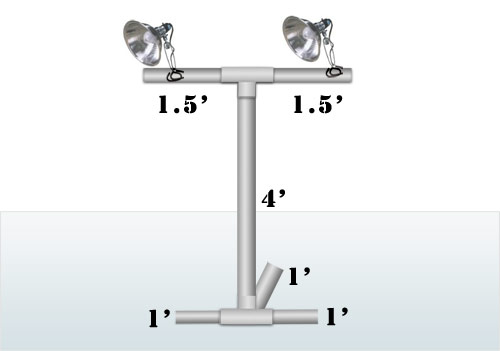 Here's all you need in order to create it your own:
1 – 10 foot 1/2″ PVC
1 – T joint for 1/2″ PVC
1 – 4 way T joint 1/2 " PVC
At the store have your 10 foot piece of PVC cut into pieces of 4 foot, 2 – 1.5 foot and three 1 foot lengths. Put together your stand by inserting three 1′ PVC pieces into the 4 way t joint, and then placing your 4 foot piece upright piecegoing up. On top of the stand you push on the 3 way t joint, and then install a 1.5 foot piece on each side of it. Clamp your work lights to those two cross pieces. If you want, add some diffusing to the lights using parchment paper. All finished!
Cost Of My Green Screen Setup
My DIY green screen setup was very affordable to make, and it does what I need it to. Here's a breakdown of what I spent on making it:
$12 PVC parts for green screen stand
$4 PVC parts for light stand
$20 for green screen fabric
$8 for two clamp lights
$0 for work lights I already had ($30 at Menards new)
So I spent a total of only $44 for my green screen stand, light stand, green screen and lights. It was $74 if you include the price of the work lights that I already had. You could probably do it cheaper by just getting a gallon of green screen paint and painting one of your walls, but it won't be portable, and for just a bit more, a total of $50-75, you can get entire green screen studio that you can take anywhere!
If you're delving into the world of video for your blog and are considering doing some green screen work, you might want to give this DIY setup a shot. If you do, let us know how it worked for you, or how you modified the plans for your own needs!