Years ago, high school sports were simply played for fun and physical fitness.
Over the years, however, kids' sports have become more and more intense.
Kids still in elementary school can join traveling sports leagues.
Little girls who like gymnastics and show promise are encouraged to practice for hours a day.
This obsession with sports doesn't come cheaply.
There are uniforms and equipment to pay for as well as registration fees, and that's just for the local teams.
Traveling teams can cost parents thousands of dollars as they travel around the country with their youngsters. This isn't even taking into consideration the time parents and children are spending on competitive sports.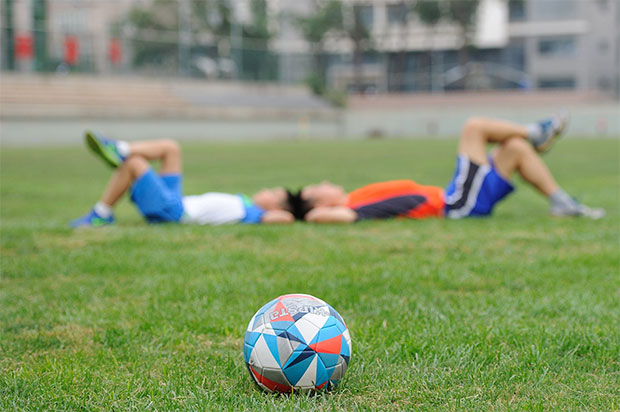 While there are benefits to playing on a sports team, how much is too much?
Benefits of Being On A Sports Team
There are so many benefits to kids being on a sports team. They
Are physically fit
Learn how to work as a team
Learn how to win (and lose) graciously
Stay busy and out of trouble
Learn how to manage a busy schedule
Make friends
Get extracurriculars for their college application
Learn leadership skills
These are all excellent reasons for participating in a sport or two. More and more, colleges are looking at well-rounded applicants who excel in and out of the classroom, and sports can be one piece of this.
As our children spend more and more time indoors and using electronics, the benefits of exercising their bodies and keeping busy can't be ignored.
Still, how far should parents and children take their interest in sports?
How Much Is Too Much To Spend On Kids' Sports?
While there are certainly many benefits to kids playing on competitive sports teams, there are indications you should monitor to see if you are spending too much.
If You're Accruing Debt You Might Want To Cut Back
If you have to go in debt to pay for the sport, you may be paying too much.
One family even was routinely late on their house payment because so much money was being funneled to their child's sport.
Unfortunately, this often happens when kids join traveling leagues or get private lessons.
Keep in mind, there are many other ways your child can get the benefits of playing a sport without going in to debt such as playing on a local team or joining a community center team.
Expecting Your Child To Earn A Scholarship
Many parents happily funnel thousands of dollars into their kids' sports in the hopes that the child will get a scholarship to college.
The truth is that getting a full-ride scholarship for a sport is rare.
If your child enjoys and is good at the sport, great, but realize there won't necessarily be a big financial payoff for your investment at the end of his high school career. Even if your child is a star athlete, unfortunately, the chance or career ending injury is real.
Your Child Is Unhappy And Doesn't Enjoy The Sport
Does your child still enjoy the sport? If you're funneling money into the sport, but your child has lost her passion for the game, you're paying too much.
Kids can benefit from sports for all of the reasons given above.
As the parent, you can choose how to best spend your money, whether that is taking a family vacation or traveling with the traveling sports team.
However, be careful that you're not spending too much, especially if you find yourself accruing debt, hoping for a full-ride scholarship for your child, or realizing your child is no longer fond of the sport.
How much did your parents pay for you to participate in sports? How much do you pay for your own kids? Do you think this amount is too much, or just right?