One of the biggest purchases people make is buying a new car.
According to KBB.com the average car sold for over $37k in May 2019!:
the estimated average transaction price for a light vehicle in the United States was $37,185 in May 2019.
While people do their best to find a great price when buying a new vehicle, far too often they neglect getting the best price for their old vehicle when they're selling it.
For most people the path of least resistance is to just trade their car in to the dealer where they're buying their new one. I know I've done that.
While you may get a fair price when trading in, more often than not you could be doing much better by selling your car as a private party.
We found out just how much better you can do recently when selling my wife's car, a 2009 Honda CR-V.
Today I want to look at some things you can do to ensure you get the best price when selling your used car, SUV or truck.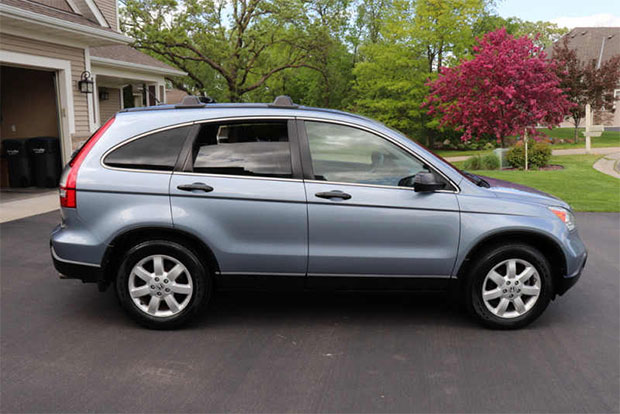 We Bought A New Vehicle
We just recently purchased a Toyota Sienna minivan for our growing family.
We needed more space for all the extras that come along with having multiple kids. Plus, my wife and I are both tall and when we put our daughter's car seat in the back seat of our old SUV, the front seat passenger would literally have their knees pressed into the dash. Not comfortable.
The purchase price for our new van came in below the average price I mentioned above, but not by much.
We probably could have spent less on the van, but my wife had some specific criteria in mind for her daily driver.
The van had to be all wheel drive (only Toyota makes an AWD minivan), with less than 40,000 miles, and my wife wanted it to be a certain color. She also wanted to get the entertainment package that had the rear TV screen for the kids, for long trips.
We did what we could to save as much as we could on the purchase of our vehicle. We were patient with our purchase timeline, making sure to do a test drive quickly when a car that fit our criteria went for sale. At the same time we were careful and made sure to pay for an inspection of the car we ended up buying.
For my day job I work at an online automotive classifieds website, so I had an inside track on seeing vehicles as soon as they were listed. While the inventory levels for what we wanted were low, eventually we found exactly what we were looking for. A silver 2016 Toyota Sienna minivan.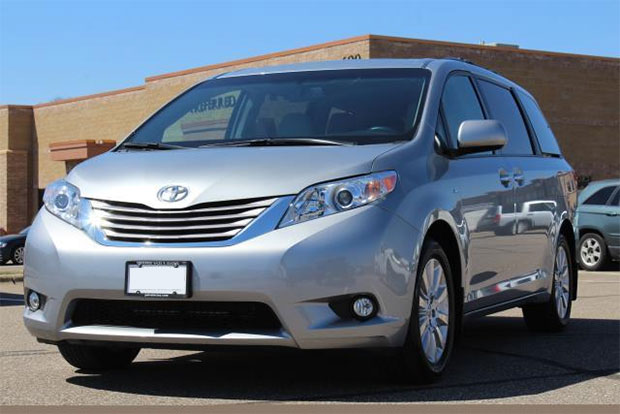 We test drove the vehicle, had it inspected and fell in love with it. We paid cash for it that same day. (Yes, we save up and pay cash for our cars).
Should We Trade In Our Old Vehicle, Or Sell It Ourselves?
While we had the vehicle that we wanted, now we needed to get top dollar for our old used SUV to ensure that our purchase price for the new van was as low as possible.
The first thing that we did was figure out just what we could expect to get for our used car. To do that we went on several different websites to get some average prices for a vehicle of our year, make, model and miles.
Sites To Check For Trade-in & Private Party Values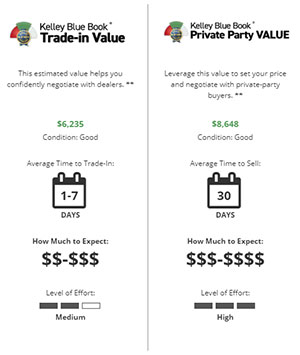 There are a lot of sites where you can get a trade in value, and a private party value for your used car. Most will just ask you for some basic information about your car like year, make, model, color and miles. Then they'll ask you what options and extras the car has, and what condition it's in.
Here are the sites we used:
Once you check the pricing and vehicle values via pricing tools like KBB and Edmunds, and then check actual pricing for cars on the market in your area, you'll have a nice range of prices to give you an idea of where to price your vehicle.
Here is what we found when searching for pricing on our 2009 Honda CR-V.
KBB Trade-in value: $6,948
KBB instant cash offer: $6,780
KBB private party value: $8,691
Edmunds private party value: $7,307
Actual pricing on cars for sale on multiple sites: $9,000-$12,000
As you can see we had quite the range of pricing to work with.
The trade-in values we got for the car where somewhere in the range of $6000-7000. The private party values were in the $7,300-8,700 range. When we looked at the prices online for similar cars that were actually for sale, we were seeing prices quite a bit higher, in the range of $9,000-$12,000.
So if you compare the lowest pricing to the highest pricing, there's a gap of almost $6,000. Seeing that gap we knew we were probably going to make quite a bit more for our vehicle if we sold it ourselves.
Seeing the prices people were listing their vehicles for, and knowing our car was in pretty good shape with less miles than many of the ones for sale online, we decided to price the car at $10,500 to start, right on the low to middle end of what others were pricing at. If need be we could work our way down from there.
We knew we didn't want to accept any less than the high end of the private party values we saw – somewhere around $8,500.
Things To Do When Selling Your Car To Get Top Dollar
Before you list your car for sale, there are a lot of things you can do to make your car more presentable, and attractive to your buyer.
Remove your personal items from the car: Take out all of your personal items from the car so that the person looking at it can imagine their own stuff in the space.
Get the vehicle cleaned: Making a good first impression when selling your car is key. If the car is clean, smells nice and has recently been through the car wash, it will present much better. We paid for a full car detailing where they vacuum the carpets and shampoo them, clean the seats, wipe down all interior surfaces and even clean the tires and engine compartment. We paid just over $100 for that through a local place, and it was well worth it. Our car was shining when they were through and it made a great first impression with everyone that came to see it.
Take good photographs of the vehicle: After getting the car detailed, take some pictures of the vehicle right away, while the vehicle is still clean. Most sites will allow you to list between 24 and 30 photos of the vehicle. Make sure to take pictures of the vehicle from different angles, pictures of the trunk or rear hatch, pictures inside the vehicle, and pictures of any of the features you want to highlight on your vehicle.
Get a vehicle history report: When we placed our ad we paid for an Autocheck and Carfax report to give to potential buyers. Hopefully it would give them assurance that the car had no accidents, was in good shape and had been maintained well. Carfax reports run around $39.99 for one. Autocheck charges $24.99, although ours came free with our CarSoup ad.
Touch up any small dings or small damage: If you have door dings on the side of the vehicle and have touch up paint for your car, you might want to consider fixing those small chips. It will look better. Our vehicle came with a small bottle of the same color paint as our car to fix those small problems.
Get together any paperwork: Get any receipts and maintenance records you have together and put them in a folder that you can show to potential buyers. If nothing else it will show that you were careful about maintaining the vehicle and records. Also get your title ready, and if you need to talk to a bank about a loan payoff, you may want to do that now as well – to see what you need to do to settle that if the car does sell.
Take care of routine maintenance items before you sell: If there are small things you can do before you sell, like getting an oil change, rotating the tires or putting on new wipers, do that and let the buyer know it's been done. They'll appreciate it.
Where To List Your Car For Sale
There are a lot of car sites and classified listing sites that you can list your vehicle for sale. The key is to know which ones are the hottest in your area, and list your vehicles there. Listing your vehicle at multiple sites is a good idea if you want to sell quick, just be ready to field a lot of emails/calls.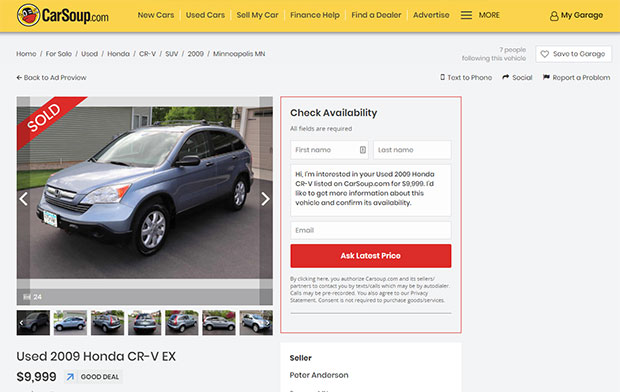 Some options of places to list your vehicle for sale:
Craiglist: Just about everyone at least places an ad on Craigslist these days. It used to be free, but when we sold our car it cost $5 to place an ad, so it's still low cost. You will likely get some good action there, but you should be aware that you may get some strange people contacting you via Craigslist, and there may be some scammers and low ball offers. Be careful.
Facebook Marketplace: More and more people are selling things via Facebook Marketplace and Facebook Groups for their local area. Consider listing your vehicle there and then sharing it with your entire network of friends – both on Facebook and other social media.
CarSoup.com: Full disclosure, I actually work at this company. It's big in our region here in Minnesota, and it's actually where I ended up selling the vehicle in the end. $15-30 to sell a car, depending on the ad package you choose.
Autotrader: One of the bigger online automotive classifieds sites. Ads run from $25-100 depending on the package.
Cars.com: Another of the biggest national automotive classified sites. Ads run from $0-49, depending on the ad package you choose.
CarGurus.com: Listings are free, but it will cost $99 when you sell, so it isn't super cheap.
Selling apps: There are more and more selling apps that you can use to sell everything from old baby clothes to used cars. Try using one that's popular in your area to list your car. Some are free, some charge fees.
Things To Include In Your Ad
When placing your ad online there are some things you'll want to remember to include in the ad, in order to give buyers exactly what they're looking for.
Detailed description of the vehicle: The more details you include in your ad about your car's features and condition, the more effective it will be. Plus it will keep you from answering too many questions from somewhat interested potential buyers.
Photos, and lots of them: Take lots of photos of your vehicle as I've mentioned previously, and make sure include as many as the site you're using to list allows. Pictures are worth a thousand words.
List a realistic asking price: Make sure to list an asking price that is based on your research, and that will be a fair price. Many listings sites will say whether a price is a "great deal", a "good deal", a "fair deal" or overpriced, so make sure to be careful about listing your price – and knowing how it will show. Some sites will give an option to not list a price at all and to have people call for the price. I wouldn't recommend doing that.
Explain why you're selling the car: This is a common buyer question, so it pays to just say up front why you're selling it. For us we were selling the car because we bought a bigger one for our growing family.
Highlight low mileage: If the car has lower mileage than average cars of that year/make/model, mention it in the ad, and why it's so low.
Highlight any extras, add-ons or special features: If the car has any features that set it apart from other similar vehicles, mention them. For our car it had a tow package, a roof rack and a tow-behind package so the SUV could be towed behind an RV. Those all set it apart from other vehicles.
Mention maintenance and service records: Talk about what you've done with the car to keep it maintained, mention any brake jobs, oil changes, new tires purchased or maintenance of any kind that you've had done. Mention that you have maintenance records available, if you do.
Give an honest assessment of the car's true condition: While it might seem like a bad idea to list any problems the car has before someone comes out to look at it, in the long run it will save you the trouble and time of people who won't be interested when they see a problem. If it has a bit of rust on the door panel, mention it.
Disclose any issues: If the car has transmission trouble or needs new tires, mention it in the ad, and update your price accordingly.
Set your negotiating terms: Make sure you make it clear in the ad if the price is firm, if it's negotiable, or if you will take the best offer.
Define acceptable payment types: Let people know up front what form of payment you will accept. For us that meant we would only accept cash. Make sure not take personal checks, and verify that any certified checks from a bank are legit before taking them.
Once you've placed your ads online it's important to make sure that you keep all of your ads updated. If you do make changes to pricing/photos/etc, make the change on all the ads. You don't want to have your car listed for a lower price at one site, and a higher price at another. Make sure to keep them all updated.
The Hassles That Go Along With Selling Your Car Privately
There's a reason why a lot of people forego selling their car online, it can be a hassle dealing with all of the phone calls, emails and texts. Beyond that, some people are just plain weird.
As soon as we listed ads for our SUV on craigslist and CarSoup, we started receiving emails almost immediately. The first day we had 3-4 emails. We responded to those emails and within a day we had 2 people come and look at the car. One person told us our car was their second favorite, and that if a dealer didn't budge on price on their first favorite, they would buy ours. Apparently the dealer budged. The second looked at the car for a relative and said they'd be back with them, but never did come back.
We went back and forth with people for the next few days or so, with a couple more people coming to look at the car. One person didn't like the color of the car (couldn't they see that in the pictures?), while another didn't like that the tow hitch we never used was slightly rusty.
Finally, after a week or so we decided to lower the price to $9999. When we lowered the price we must have started coming up to a new set of buyers on the "under $10,000" searches on the sites, and within a couple of days we had a buyer test drive and fall in love with the vehicle. He agreed to pay full asking price for the vehicle in cash.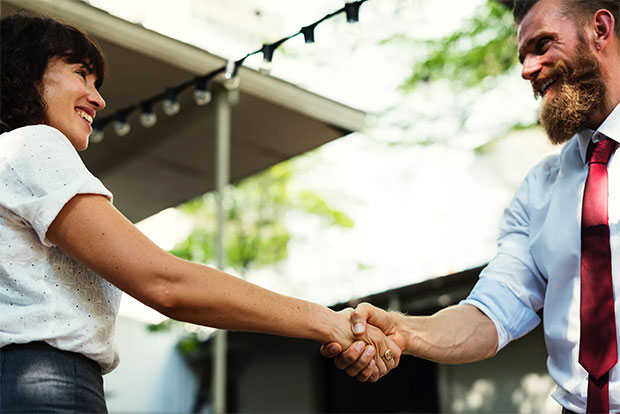 While we may have been able to sell the SUV sooner if we had been more flexible on our price, we had time on our side and were in no hurry to sell. Because of that we were able to get what we were hoping for, and more than what the pricing sites said we would.
Completing The Sale: Things To Remember
When selling a car online there are quite a few things to be careful about when attempting to complete the sale.
Test drives – make sure they have a license and insurance: When someone comes to look at the vehicle and wants to do a test drive, make sure that you get a copy of their driver's license (to make sure they have one) and their insurance card. I would just take a photo of them both, and delete it from my phone later if all went well. Also, go along with people on the test drive, you can help guide them on a good path to try the vehicle out, and make sure they're not gone too long.
Be open to having the vehicle inspected: Some people will want to have a vehicle inspected before they purchase it. Be willing to meet them at a close by location to have an inspection done.
If you're firm on price, make sure you mention it in the ad: We were firm on our price and weren't really open to negotiating, so we put that in the ad. It probably meant we missed out on some buyers, but we were fine with that. Some people still tried to haggle.
Be careful about what payment types you accept: Most people will say to only accept a cashier's check or cash. We decided to only accept cash. Probably the best way to do it is just meet the person at their bank, and you can be present when the money is counted out – and you'll be assured that the money isn't counterfeit. We met the buyer at the bank and deposited the cash after the teller checked it.
Fill out a bill of sale: A lot of classified sites will have a bill of sale available for you to fill out once you've made the sale with your information, and the buyer's information. We did that via CarSoup and printed a copy for us and for the buyer.
After receiving payment, make sure to transfer the title right away to limit liability: After the buyer paid for the car at the bank, we went directly to the DMV and waited in line to transfer the title right away. Some people will say you're fine to just fill in the title and sign it over to the buyer, without doing this step. But I've heard a horror story from my father-in-law how he sold a car once and didn't go to the DMV, he just signed over the title. The buyer didn't file the title transfer right away, and then went and got a bunch of parking tickets. My father-in-law ended up having to pay them. Better safe than sorry, transfer it right away. If you are selling a car that still has a loan on it, this step may be a bit more complicated, and may take extra steps to get the lien release and a signed over title from the bank.
Verify if there is other necessary paperwork: Look into the laws of your state and see if there are any other things you need to do as far as filing with the state, removing your old license plates before transferring ownership, or anything else.
Selling Our Vehicle For More Than We Hoped For
We were able to sell our vehicle within a couple of weeks of listing it for sale. We figured out what the car sites said the SUV was worth, and then we verified what actual owners were selling their vehicles for. We found we could probably list it for more than the pricing sites said.
In the end we got trade-in offers for our CR-V for about $7,000, and when all was said and done we sold it ourselves for almost $10,000. That's a difference of almost $3,000!
What did we put into the effort to sell the vehicle?
We paid about $35 for car listings, $100 to have the car detailed, and we put in a few hours to show the car to people, get payment and transfer the title. I say it was well worth that minimal effort.
So if you're heading down the path of trying to figure out whether you should sell your own car privately, or just trade it in, my suggestion is this.
Do your homework.
Figure out what the car sites say your car is worth, and what people are actually trying to sell them for. Figure out if your particular vehicle is desirable, and if you think it will sell relatively quickly for a price that is better than the trade value. Chances are, you can take home a lot more money just by selling your vehicle yourself.
Have your own tips to maximize your returns when selling your car? Tell us in the comments!