We're shopping for a used car right now. We've been looking into buying a mid size SUV with all wheel drive for my wife for some time now. She wants the all wheel drive because of the harsh Minnesota winters, and we both wanted something with a little more space than her little Honda Civic. We just had a son last year, and plan on having at least one more child at some point – so we'll be needing more space for our growing family, and growing number of things we need to take with us everywhere we go.
Shopping for a used car can be an intimidating experience, more-so when you only do it every 5-10 years like we do. Used car salesman have a bit of a reputation as always being out to gouge you for hidden profits, to take you for a ride and leave you with your head reeling – not knowing what hit you.
While I think those ideas of salesmen are somewhat overblown – and there are both good and bad car dealers, the point is that car dealers are still in the business to make a profit. They're not there to help you find a good deal, they're there to make themselves a commission or a sale.
So what are some things you need to do to better prepare yourself when looking for a used car?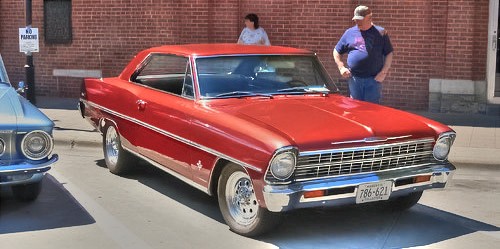 Used Car Shopping Tips
Shopping for a used car means you'll need to be doing a lot of research, brushing up on your negotiating skills, and checking your emotions at the door. Here are some things to remember when shopping for your next used car.
Shop around a variety of used car stores online first: In the Internet age there is no excuse for not shopping around for a variety of good used car options. Don't get sucked into loving one particular car or one particular dealership. Keep your options open.
Don't be a monthly payment buyer or a cash buyer: One of the first questions you might hear at a lot of these dealerships is "are you going to finance"? Make sure to tell them that you haven't decided yet. If you answer in the affirmative, it means that you've become a monthly payment buyer in which price has become secondary, as long as they can creatively finance you into a certain monthly payment. If you say you're paying cash they may try to gouge you on the front end since they know they won't make any money on you in the finance office – one of their biggest profit centers. Leave some mystery as to how you're going to pay until after you've come to a firm price.
Get a used car history report: Make sure to get a used vehicle history report from one of the well known companies like Carfax or Autocheck. It can help to quickly identify a car you may want to avoid if it's had flood damage, accidents or other negative marks on it's history. Most car dealerships will offer these for free nowadays, but if you're also looking at private party vehicles you can buy unlimited reports from Autocheck for $44.99, well worth it in my opinion.
Make sure to test drive and check out the vehicle: Far too many people don't check out a car very thoroughly when buying, they take it for a spin around the block and that's about it. Instead,

do the following. Drive the car slowly at first. Feel, and count, the shift changes

.

Any slipping? Any hesitation? Any vibrations?

Drive the car long enough so that it warms up enough and wait to see if any warning lights come on (many warning lights won't come on until the car is warm). Then make sure to do a highway test drive where you listen for any excessive road or engine noise, hesitations when accelerating, strange noises, or problems when braking. Make sure to put it through it's paces.
Step away from the aftermarket products: Don't allow yourself to get suckered into buying a bunch of aftermarket products that you don't need. Buy the vehicle at the dealership, not the accessories.
Research pricing on specific makes/models/mileages: Know what the vehicle you're looking at is worth, and what you're willing to pay before you go to the dealership. I usually check Edmunds.com, NADA Guides and Kelley Blue Book for market pricing on the vehicles I'm looking at. Also try searching for that make, model and mileage on local used car sites to see real world pricing on other vehicles. Even print out a few like vehicles with lower prices for leverage later on.
Negotiate a price: Negotiating a price on your vehicle once you've decided that you would like to purchase it is one of the most important steps. Since you've done your pricing research in the previous step, you should have a good idea of what you want to pay, so don't go over the number that you've come to. Read up on how the process normally works, but usually you can expect to be sitting with a salesman who will go back to his sales manager with your offer, and there will be some back and forth. The dealer WILL test you to see how much profit they can get out of you. You, on the other hand, can test the dealer by keeping your power to walk out on the deal. Always keep the walkaway power. The dealer knows if you walk out the door they'll most likely never see you again – so walking away will tell you if they'll do better.
Make sure extras and other things are written into the deal: If there is a dent on the car you want fixed – and they have said they would, make sure it is written into the deal. If the dealer will be providing an extra set of keys for no charge, make sure that's written in as well. Any promises made by the dealer don't exist unless you get it in writing.
Get the vehicle inspected after a firm price is agreed to: When buying used you can't always know for sure where the car has been before. Consider getting the vehicle inspected if you're serious about buying it – to get an expert eye on the vehicle and make sure it hasn't had any accident damage or mechanical issues. Most local repair shops will do a full inspection for anywhere from $100-300. Once an inspection is done you may have some further wiggle room on price if any issues are found.
Shop around if you're not satisfied with anything: If you're not happy with anything to do with the deal, don't feel bad walking out of the dealership without buying anything.
Check your emotions at the door: Don't fall in love with a car because of an imagined status you'll get with the car, or the adventures you'll take in that vehicle. Try to keep your emotions in check and realize that this is a expensive transaction that you'll overpay for if you let your emotions get in the way.
So there you have it, some quick tips for finding and buying the right used car for you. Do your research, don't fall in love with a car before you buy it, and be willing to walk away if you don't get the deal you want.
Do you have any of your own tips or best practices for buying a used car? Give us your tips in the comments.