Getting from point A to point B. If you live in an area without a lot of public transportation, or spread out over a wide area like the Minneapolis area is, you're probably going to need transportation of some sort.
We use cars for commuting to our jobs, driving to the grocery store, going to the doctor or visiting family. Having a reliable car can be pretty important just for living every day life.
Buying a car is also one of the biggest purchases you'll probably make besides your house, and as such it's important to consider the financial ramifications of this important decision.
So when it comes time to buy a car, the question is, how big should your car down payment be? How much of a car can you afford?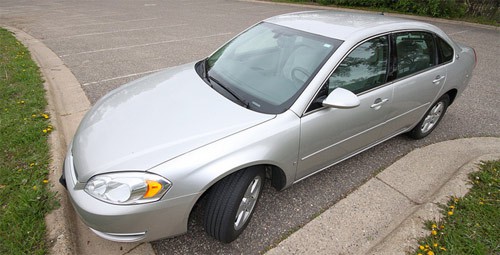 A 100% Down Payment?
At our house, we're at a point financially where the only down payment we'll consider on a car is a 100% down payment. While that may sound a bit crazy, it's actually not as hard as you might think.
We follow a plan similar to "Drive Free Cars and Retire Rich" plan offered by Dave Ramsey where you first buy an older car worth $1,000-2,000 in cash. Instead of paying a car payment, you then save up what would have been your car payment, and within a year or so, you'll have enough money in the savings account along with your trade-in in order to afford a significant upgrade in car. Do that once more and after a couple of years you'll be able to afford a nearly new car with what you've saved. At some point the car you're driving is going to last longer than you'll need to save up the replacement cost for a new car, and you'll be able to start putting that money away for retirement or other savings goals instead.
Consider this: The average new car transaction price last year was $29,509. The average down payment in 2011 was 11%, so that leaves a loan balance of $26,246. If you were to get an 5 year loan on that car, with an average 5% interest rate, your monthly payment would come out to $495.29. Without any extra payments you would end up paying over $3700 in interest over the life of the loan.
So let's say instead of buying a new car with that $495.29 payment, you banked it for 12 months while driving that old beater. At that point you'd have $5943.48 saved up, along with a car that is still probably worth about $1,000-1,500 (since used cars don't depreciate as fast). You use that money to buy a car worth somewhere in the range of $7,000-8,000, and then repeat the process. This time, however, you can save up for longer since the car is in better shape and should last longer without major repairs. After repeating this process a couple of times you'll already have the balance saved up for your next car, without needing to replace the current one. At that point you can start taking that extra money and putting it directly into savings, retirement or some other savings or giving goal.
What If You Can't Afford 100% Right Now?
What if you can't afford the 100% down plan like we propose? What's the next best thing? I would suggest that you put down as much as you can without affecting your other goals. Some good reasons to put down as much as you can:
Larger down payment can mean a shorter term, and less interest: A bigger down payments can mean shortening the term from 5 to 3 years, and reduce the amount of interest you're paying over the life of the loan.
A larger down payment will help avoid being upside down in the car: A new car depreciates on average about 21.8% in the first year of ownership. Putting down as much as you can help avoid a situation where you're upside down if you wreck the car or want to trade it in a year later.
A bigger down payment means a lower payment, leaving more money to pay extra on the car, and pay it off sooner: With a bigger down payment your monthly payment will be lower, leaving more left over to make extra payments – and pay the car off sooner.
So putting down as much as you can on the car is a good bet.
What's The Minimum I Should Put Down?
So let's say that you don't have a lot of extra to put down on a car, what's the minimum that experts suggest that you put down?
Reading a bunch of sites I've found that the minimum to put down varies from new to used cars.
New Car Minimum Down Payment – 20%

The average down payment last year on new car purchases was 11 percent of the purchase price, or an average of $3,263 per vehicle. That is less than most experts would recommend, and many think it's because of the low interest rates and low down payments required these days. People think they can get better returns on their money elsewhere.
Based on the fact that the average new car will depreciate between 20-25% in that first year, most experts suggest that you put down at least 20% on a new car when you purchase it. That way you're covering that first year's depreciation and won't end up underwater if you decide to trade the car in one year later, lose a job or if you end up in an accident. If you don't put anything down you could end up in a situation where you have to pay several thousand dollars out of pocket to settle your loan – if the worst case happens.
Used Car Minimum Down Payment – 10%

Used cars depreciate at a much lower rate than a new car, with an average depreciation of around 10% per year. Because of that a lower minimum down payments is suggested by experts. Edmunds.com suggests a down payment of at least 10% for used car purchases to cover the depreciation.
What Other Things Do I Need To Consider?
When considering how much of a down payment to to pay, there are some other things to think about.
How is your credit? If you've got bad credit, you may want to wait longer and save up a bigger down payment because you're probably not going to get a very good interest rate on a car loan. That means you'll pay a ton more in interest if you do end up getting a loan. Here's how to figure out if you've got a good credit score.
Do you really NEED a new car? In my opinion far too many people decide that they absolutely need a new car, when the reality is that their current car would probably last a few years longer with a few repairs. Figure out if your current car can be made to last longer, and save up a bigger down payment in the meantime!
If your down payment isn't enough on the car you want, downgrade! If you're only able to get a 10% down payment on that new car, consider buying a used car or a less expensive car instead. It will depreciate less anyway, and your down payment will be a larger percentage of the purchase price.
What We Did At Our House
At our house, as mentioned, we follow a plan where we put 100% of the purchase price down – we pay cash. So for my wife's car that we purchased last year, here's the progression we followed to get where we are today.
Purchased an older Honda Civic for cash in 2000: She paid about $5000 for the car before we were married, and it ran like a champ for several years, while we saved up payments for the next car.
Purchased a 3 year old Honda Civic for cash in 2005: We paid about $15,000 in cash after selling the old Civic for about $4,000.
Purchased a 2 year old Honda CRV for cash in 2011: We paid about $21,000 in cash, after selling the old Civic for about $8000.
So each time we've bought her a new car we've upgraded a bit, buying a more expensive lower mileage car, but paying cash because we saved a car payment automatically ever month into our goal based savings account with Capital One 360. We also did our research and bought cars that held their value well so we were able to re-sell them at a decent price with minimal depreciation.
We are still saving our car payment every month in anticipation of my next car, and at this point we've already got almost enough saved. After that is saved we'll start adding that monthly payment to the retirement accounts.
What are your thoughts on how much to save for a car down payment? Do you prefer to pay a big down payment or to pay cash, or a smaller one and put your money elsewhere in hopes that it will grow? Tell us your thoughts.