Looking to sell your old stuff?
Want to earn some extra cash to improve your bottom line?
Even just 5 to 10 years ago if you wanted to sell something you either had to have a garage sale, go to your local pawn shop or sell your stuff in the newspaper classifieds.
These days there is a plethora of options when it comes to selling your stuff, whether it's selling your things locally, or selling things online.
Today I want to look at a variety of selling apps that you can use to sell your stuff and make a bit of extra cash.
Here are 21 selling apps to help you sell your stuff locally and online!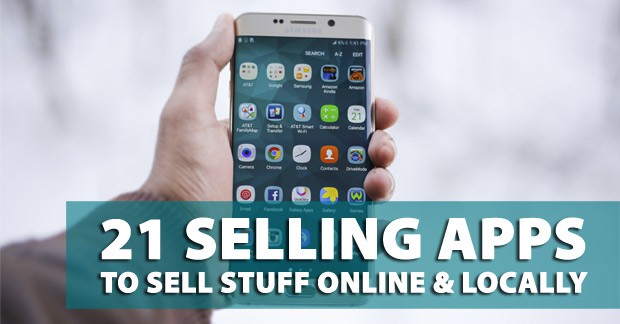 Choose The Best Selling App For You
Before we jump right in to our giant list of selling apps, it might be good to take a moment and talk about a couple of things that might help narrow down which app is best for you.
The apps are not all one size fits all, and there are things you should consider when choosing which app to use.
What Are You Selling, And What Does The App Specialize In?
The first thing to consider when choosing a selling app is what types of things that particular company specializes in selling.
Let's say you're selling a bunch of old CDs, DVDs and video games, you might want to consider Amazon or Decluttr since they both give pretty decent prices for those things.
If you're selling some designer clothes, you may want to consider using Poshmark or threadUP since they both have large clothing marketplaces. If you're not sure, or if you're selling a wide variety of things, there are plenty of all purpose selling sites and apps as well, but apps that specialize in a specific thing will often give you a better price for your item.
What Are The App Selling Fees?
Another thing to consider when choosing a selling app is the fees that are associated with using the app.
For example, some sites like eBay or Poshmark there are often listing fees or final value fees associated with your listing.
Others like Letgo or OfferUp make their money from other things like advertising on the site.
Make sure you know before you sell what kinds of fees you'll be paying, and whether the fees are worth it. Often there will be similar apps that will bring a similar price for your items, but one will have fees which will cut into your profits.
The flip side of the coin is that sometimes the sites that have fees will bring in a larger profits on your items, making the fees worthwhile. Something to think about.
Selling Apps To Buy And Sell Stuff Online (To Make Some Extra Money)
There are a ton of selling apps out there that will help you to buy and sell your things online. Whether it's selling your old cell phone or selling designer clothes that you no longer wear, the options are pretty endless.
Here are a bunch of our favorite sites and apps to sell your stuff online.
Decluttr Buy And Sell App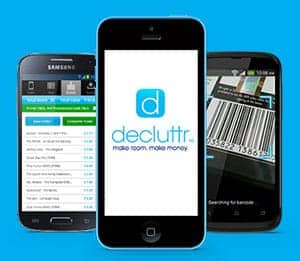 Decluttr is a website and app that allows you to sell your unwanted or unused items for cash. They will buy a wide assortment of things like CDs, DVDs & Blu-Ray, games, game consoles, books, cell phones, Legos and more.
Selling to Decluttr couldn't be easier. Just download their app on iOS or Android and scan the barcodes of the items you want to sell. For items that don't have a barcode like tech items, just look the items up, tell them about the item's condition and add it to the cart. Selling Legos? Just put them in a bag and weigh the bag (they buy them by the pound).
Once you have added all your items that you want to sell to your cart, just submit your order. Then you'll pack all your items into a box with no more than 200 items.
Finally, Decluttr will send you a free shipping label – just stick it to your box and drop your items off at one of thousands of UPS locations throughout the country. Once they receive your box they'll process it and give you a final offer based on the condition of the items as they see them. If you accept the offer they'll pay you via direct deposit, PayPal or an old fashioned check. I've used Decluttr and recommend them.
Read our full Decluttr reviews here: Sell to Decluttr – Buy on Decluttr
Letgo Selling App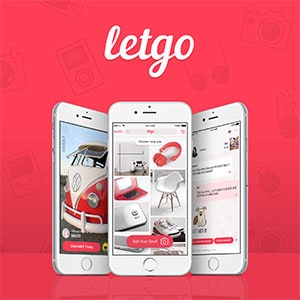 Letgo is one of the the biggest and most recognizable selling apps out there due to their funny commercials on TV recently. You may remember their ad template; Someone is in a life and death situation, carrying some dead weight (a grill, a bowling ball, or something else), and by listing the item on Letgo a buyer appears instantly to take the item and allow the person to escape with their life. Letgo to the rescue!
While the actual app may not sell your items as quickly as portrayed in the commercial, it is one of the most popular selling apps online. You can sell anything from a wedding dress, to jewelry, clothing and electronics.
Just download the app, take a picture of the item you'd like to sell, set the price you want to sell your item for (or mark it as negotiable), enter the zip code you're in and you're set to go. You can also add additional photos, and a description of 1,500 characters.
Once a buyer is found you just work out the details about of the purchase and how they'll pay for the item. The app is free to use, probably one of the best free alternatives to Craigslist.
OfferUp Selling App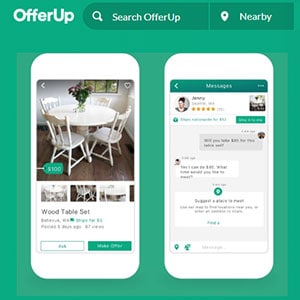 OfferUp is another selling platform where you can sell all your un-needed stuff. Like Letgo it's a free app that is best accessed through their clean and simple mobile app.
To get started just download the OfferUp app, enter your zip code and the follow the prompts to sign up for an account.
Posting an item for sale is pretty simple. You'll just take a photo (up to 5 can be added), select a category and condition, add a description and a price, and then choose your selling location. If you want you can have it post the item to your Facebook account as well.
Once your item is listed people can contact you through the app so that they can meet you to inspect the item and arrange payment.
Facebook App – Marketplace And For Sale Groups
Facebook is a great place to sell your items online. My wife uses this option constantly, and pretty successfully.
Go get started selling on Facebook you just go to the "Explore" menu, and then click on "Buy and Sell Groups".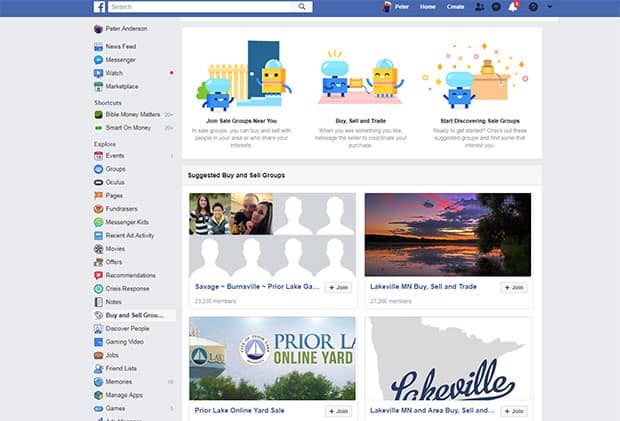 Once you go the linked page it will have a bunch of suggested local selling groups in your area. To sell or buy in any of those group you just have to join the group by clicking on the "+Join" button. Make sure you're joining a buying and selling group, and not a yard sale announcement group, as those groups are mainly for listing local yard sales.
When joining a buying and selling group make sure to read the group guidelines first as they may have limitations on what types of things you can sell in the group, or other restrictions. Make sure to follow the group rules.
You can also sell things on Facebook via the Facebook Marketplace. Just click on the "Marketplace" link, and then click on the "sell something" button. From there it will ask you to choose a category, what you're selling, a price, location, description and photo. Then all of your friends can view what you have for sale, and then share the item with their friends.
CPlus Craigslist Selling App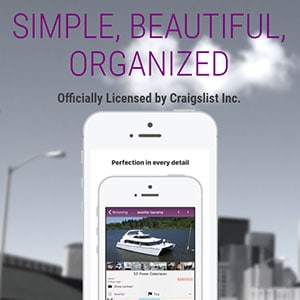 CPlus is an app that a third party has created for one of the most popular online marketplaces, Craigslist. Craigslist doesn't really have their own mobile app, but CPlus is officially licensed by Craiglist and is well reviewed with over 10,000 ratings averaging 4.8 stars.
Selling your stuff on Craigslist using Cplus means you'll have to have signed up for a Craigslist account, which you can easily do on their website. Once you're signed into your Craigslist account you can proceed in the app and start posting items for sale.
To list an item just choose your location and hit the "go" button. Next you'll choose what type of posting you're doing, which in most cases will be a "for sale by owner" type post. Next you'll enter a title, price, specific item location, postal code and a description. Finally you'll add images to your listing.
Once your item is listed you just have to wait for the buyers to contact you. Once they do you can setup where you'd like to meet and arrange payment. For us we like to meet people at our local police department's online selling meeting place at the local precinct. The area is covered by security cameras, has a police presence and is usually convenient for buyers and sellers.
5Miles Selling App
5Miles is another selling site that will allow you to sell all your unwanted things. Alternatively you can also sell your services, list home rentals and more.
To get started you just sign up using a name and email address or your Facebook or Google account.
Once you're signed up you can start listing items for sale. Just click on the camera icon at the bottom of your screen and take a photo or video of the item. Next, add a title, description and hashtags to help buyers find the item. Then add a category and price, and select whether the transaction should be cash only or "cash or 5Miles wallet".
The 5Miles Wallet is a payment feature built into the app that allows you to pay for items using a credit or debit card. Basically it acts as an escrow account of sorts where the person can pay for an item you're selling, and then after they inspect and accept the item, it can then release the funds to the seller after the buyer gives the OK. Very cool to have that functionality.
Selling an item can be done in a variety of ways, either you can choose to meet the buyer in person, and have the buyer pay cash, you can do the online payments and ship the item to the buyer.
For the most part listings on 5Miles are free, but some things may have a fee associated after a certain number of listings, mainly autos, motorcycles and related items.
Vinted Selling App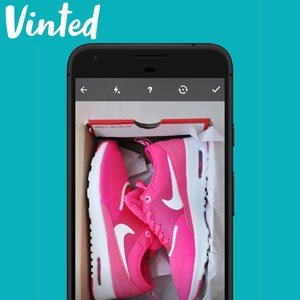 Vinted is a clothing selling or swapping app.
To list your pre-owned clothing you just go to the site or app, create a profile, and then start a new listing. Add a photo (or video), a price and description and you're set to go.
Once an item is sold you just ship it within 5 days of purchase. Once the buyer receives the item and clicks the "everything is OK" button, your payment will be released into your Vinted wallet. Payouts to your bank account will take up to 4 business days.
Listings with Vinted are free, so you don't have to worry about paying any costs to list. If you're a buyer, however, you do have to pay the shipping cost set by the seller and 5% of the order price + $0.70. Something to keep in mind in case you end up wanting to buy.
Varage Sale Selling App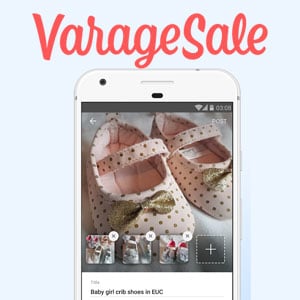 Varage Sale is the virtual garage sale app where you can buy and sell locally.
The app is based on 100% real identities for users, so everyone goes through a manual review process before they can buy or sell. Just find your community, connect with your Facebook account and an admin will review your request to be added. Then you can conduct transactions with other verified users in your area.
Got stuff to sell? Just take a photo, describe the item and have it listed in minutes.
Free to buy, sell or browse on the platform, no fees of any kind.
Poshmark Clothes Selling App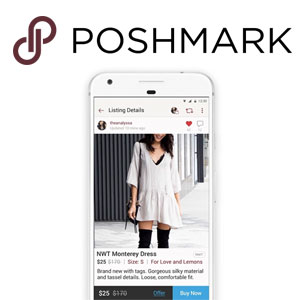 Poshmark is an app to buy and sell pre-owned clothing items, focusing mainly on designer and name brand clothes.
To get selling you just need to download the app and start listing your items. When listing your items you'll want to take some good photos of the item for sale (you can add up to 8), be descriptive and make sure to describe your item honestly.
Once your item sells, Poshmark will supply a pre-paid shipping label for you to ship the item to your buyer. Your buyer will have 3 days to accept the item, or return it if they don't like it.
Once they accept the item you'll be paid, minus Poshmark's cut. At the time of this post that cut was $2.95 for items under $15, or 20% of the item price if it's over $15.
While Poshmark isn't free, it is a great place to sell high dollar designer threads for a good return.
thredUP Clothes Selling App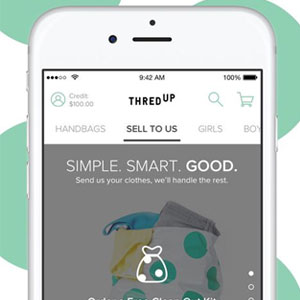 thredUP is an app built specifically for selling your used clothes, and they are now accepting clothes from over 35,000 different brands.
The threadUP site lists specific items that they're looking for at any given time, so you know which items they're most likely to buy from you.
To use the service I would suggest first using the "thredUP payout estimator" on the site to see what potential earnings you might have from sending in your used clothes. Not everything will really be worth it to send in.
Once you have a general idea of what kind of payouts you can expect from your used clothes, it's time to move on to the next step, ordering what they call their "free closet cleanout kit".
The cleanout kit bag will arrive with a shipping label so that you can send in all the clothes you want to sell. You can then choose to receive a cash payout or you can donate the proceeds to charity.
Swap.com Consignment Selling App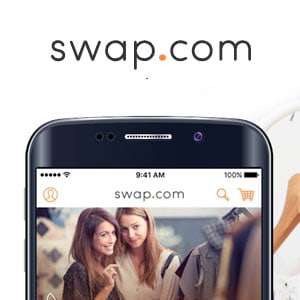 Swap.com is an online thrift store with over 2 million consignment items on sale. They have anything from used apparel to toys, sporting gear and accessories.
While they may not be the best option if you're able to spend time selling your own items, if you're busy and you just want someone else to sell your items for you, Swap.com might be a good, time saving choice.
To consign your items on Swap.com just go to their site, print out a pre-paid shipping label or request an inbound box to send the items you'd like to sell on Swap.com.
The Swap team will let you know what items were accepted, price them and list your items on the site. They accept new and used apparel as well as toys and games for babies and kids.
Once your item sells, they'll send you an email and you'll earn money for your used clothing!
Ebay Selling App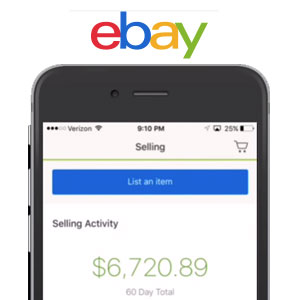 eBay has been around since the mid 1990's, which probably makes it the granddaddy of all the selling apps we've been listing in this article.
At one time in my life I was making a decent amount of side income from eBay. I would buy items I found at local stores on clearance, 70-80% off, and then turn around and sell the items on eBay for a profit. I know some people have turned that sort of arbitrage into a full time income.
Listing items for sale with the eBay app is just about as simple as it is on the desktop site. You just sign up for an account, and then go about listing your item.
You can list the item directly from the app by clicking on the "Selling" tab and the on "List an item". From there if your item has a barcode you can scan it directly in your phone's app and it will pre-populate product details for you into your listing. If it doesn't have a barcode you'll just enter a descriptive title for your item, and then it will give you suggested categories for your item. Choose the one that fits best. Next, you'll be able to add photos, description, a listing format (auction, buy it now, etc), and whether the item can be shipped or is for local pickup only.
eBay isn't free to use, there are listing fees and final value fees. Usually the main fee that you're going to pay as a small time seller on eBay is the final value fee, which for most categories is 10% of the final item price. So if the total price for your item is $50, you would pay a $5 fee.
Instagram App – Sell With A Pic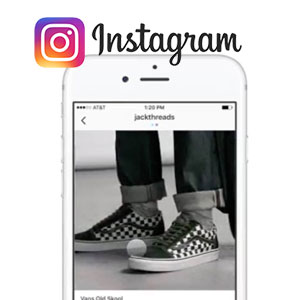 Instagram may not immediately come to mind as a selling app, but if you have enough people following you, and you use the right hashtags, you can definitely sell your item on Instagram.
The site has the ability to add "shoppable posts" if you're a business that actually have in image links to products off site. If, however, you're just an individual trying to sell an item your best bet is to take a great photo of the item, describe it fully, and be sure to add relevant hashtags in the description.
You can also add a link on your bio to a place where the person can buy the item. I use a software called Linktr.ee that allows you to create a landing page off of your instagram page where you can link to relevant content on a website, or if you're selling something – to a PayPal profile to purchase an item. So when you list your item, just mention that they can get further details via the link in your bio, and link them to a page where they can purchase it if they want.
Trove Furniture Selling App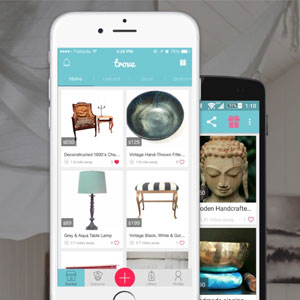 Trove is a great place to buy and sell used furniture online.
Using the app is pretty easy. Just take pictures of your item for sale, add a description and a price (and let them know if you'll accept offers). Then you just let buyers know if the item is shippable or when you're available to meet in person in order to inspect the item.
You can accept credit cards or cash, and the listings are free.
Great way to sell unique or vintage furniture or art in your local area.
Chairish Furniture Selling App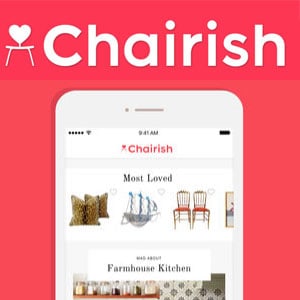 Chairish is another furniture selling app where you can sell your used furniture.
Just snap a picture of your item for sale, create your listing with a rich title and description and set a price.
The listings on Chairish are free, but there is a commission of 20% on any items that you sell. When an item sells the buyer has 48 hours to return the item through Chairish. After that 48 hour window you'll receive your payment, minus the commission.
While the commission makes Chairish less attractive in some respects than Trove, it tends to have furniture selling for higher dollar amounts. So in some cases even with the commission you may earn more through Chairish.
Amazon Seller Marketplace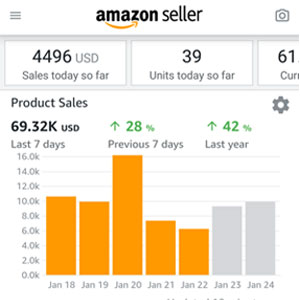 Not only is Amazon is a great place to buy all of the things you need in life, but it's also a great place to sell all of the things you no longer have a use for.
The Amazon Seller Marketplace has one of the largest captive audiences of buyers in the world, and you can usually do pretty well selling a lot of things on there.
Things that do especially well on Amazon include electronics, books and jewelry.
Using the Amazon Seller Marketplace isn't free. If you're an individual user it will cost $0.99 per listing, and then there are closing fees, which vary depending on the item. For example, a "media product" like a book, music, video game or DVDs would have a closing fee of $1.80. So if an item sold for $10.00, you would get the total of $7.21 deposited into your account ($10 – $0.99 – $1.80 = $7.21). Not cheap, but if your items are selling for more it may be worth it.
I've sold quite a few things on Amazon and the things that usually tend to do the best are relatively new electronics and video games.
Shpock Selling App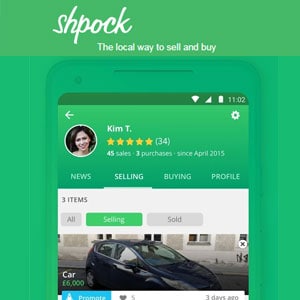 Shpock (A Shop in your Pocket!) is one of "the most downloaded flea market and classifieds apps with over 10 million users".
Thousands of items are listed daily in their online marketplace, and to list your first item should only take minutes. Just take a photo, add a title and description, and you're set to go.
You can communicate with buyers in the app privately, and arrange to meet in real life. There are also options to pay for items via PayPal in the app directly, and you can receive PayPal seller protection.
There are no listing fees or transaction fees.
Wallapop Local Selling App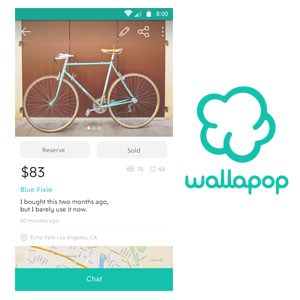 Wallapop app is a free mobile virtual flea market and classifieds app. You can use it buy and sell stuff locally in your area.
The app is available everywhere, but currently is most adopted in larger cities like New York, Chicago, Washington D.C., Boston, Philadelphia and others.
To sell using the app you just sign up for an account, take a picture and enter a description and price, and your item will be listed for sale in your local area. Then users can contact you and chat directly in the app to setup a time and place to meet.
There are no fees for using the app.
Mercari Selling App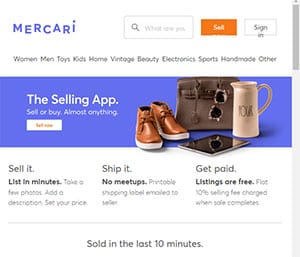 Mercari is a selling app that allows you to sell pretty much anything you want. They say, "If it ships, you can likely sell it!".
There are categories on the site for clothing, home goods, vintage items, electronics, sporting goods, handmade items and more.
To get started you just sign up for an account, and then list a new item. Mercari says your best bet is to take good photos, describe the item fully and price it fairly. If you do you'll have a good chance of selling your stuff.
Mercari isn't free to use. While there are no listing fees, there is a 10% flat selling fee when your item sale is complete. Once a buyer purchases an item and the package is delivered, the buyer has 3 days to confirm that the item is as specified and provide a rating. Once the sale is complete your funds are added to your account balance where you can use it to purchase things on Mercari, or you can cash out.
Depop Selling App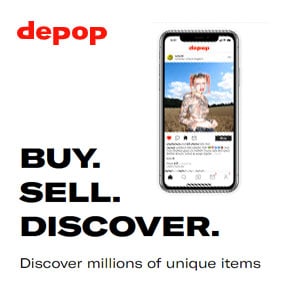 Depop is a mobile marketplace for the creative community. Buy and sell unique clothes, sneakers, streetwear, vintage pieces and more.
To start selling open your Depop shop where you can sell used clothing, original creations, art, books, vintage finds, and just about everything else.
To sell an item all you have to do is take a photo, name a price and submit. Then promote your shop on social media and elsewhere.
When a buyer purchases your item you will receive payment via PayPal, after Depop takes their 10% cut of the sale price.
Etsy Selling App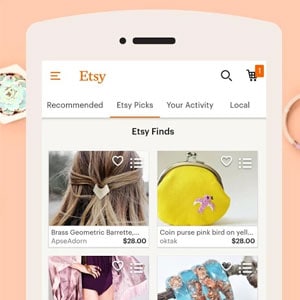 Etsy is a great place to sell online if you are into arts and crafts, or you have a creative hobby you want to turn into some cash.
There is a local seller search on Etsy that can connect you to local buyers.
The cost to use Etsy 20 cents per listing, and there is a 5% transaction fee on the final item + shipping cost when you sell an item.
When you sell an item you will be paid by Etsy via a direct deposit, so you'll need to have a bank account linked to Etsy.
Blinker Car Selling App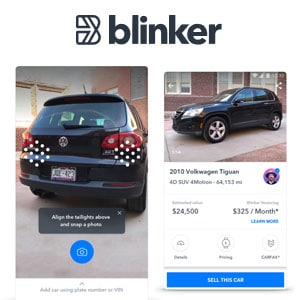 Blinker is a car selling app for iOS and Android that will allow you to sell your car without a lot of hassle.
The app is simple enough. Just snap a photo of your car, or enter your VIN number, and Blinker will automatically pull up your car's details – including an estimated value for your car. You can then edit your description, pricing and more and then list the car for sale. You can then setup test drives, negotiate and even pay for cars right through the app.
The email address and driver's license of every seller and buyer on Blinker is verified, so you can sell your car with some peace of mind. The buyers can contact you through the app so you never have to share personal information like emails or phone numbers.
The app and service is free to use, and you can even sell your car through Blinker if you still owe on the loan. Just make the sale, Blinker will pay off your existing loan with a portion of your proceeds, and deposit the rest.
NOTE: Use our referral code PAHDK89U on the Blinker app, and Blinker will pay you $100 when you buy, sell or refinance a car through their app. Go to "Account/Enter Promo Code" on the app to get your $100 credit.
Tips To Stay Safe When Selling Online
When selling online via an app or website it's important to make sure that you're aware of the many scams that sellers fall prey to when using selling apps and classified sites.
As an online seller there are quite a few prevalent scams that you should be ready for, and things that should be a red flag when selling online.
Red Flags When Selling Online
Not a local buyer: When you're a seller and your potential buyer informs you that they aren't local and can't meet in person, it might be a red flag. Craigslist says that keeping transactions face to face and only with buyers in your area will avoid 99 percent of scams. If you are meeting someone in person, be smart about where you meet. In our city our local police department has a well lit area at the precinct that has cameras where you can meet to do an online transaction. Both the buyer and seller can feel safer doing business there.
Non-standard payment methods or amounts: When selling locally or online via an app it's probably best practice to keep your accepted payment methods to cash only, or to regularly accepted online payment methods like PayPal or Venmo. If someone offers to pay via other methods like wire transfer (Western Union, MoneyGram), it's almost always going to be a scam. Also avoid personal checks as they're often fraudulent or bounce. Also keep an eye out for partial payment scams where they offer to give you partial payment up front, and will pay you the rest after delivery of the item. Often they'll just pay you half, and then never pay the second half after they get the item.
No specifics about your item or area: Quite often scam buyers will send vague emails with generic terms talking about "the item" or offering to meet in "your area", but with very little actual specific information. The reason for these emails is that sometimes the scammers will send out very vague initial emails to thousands of sellers, hoping to get a bite from someone. Keep your eye out for these vague non specific emails, and also watch for the bad spelling and grammar that often accompany these emails.
Too good to be true: Sometimes when you're selling an item, be wary of deals that sound too good to be true. Sometimes they will offer to pay you more than the item is worth, but want you to send give the excess balance to a third party, and keep some for yourself. The payment is usually bad and they'll make off with your money in the meantime.
When selling online, use some common sense. Don't get greedy and let your guard down, the scammers are hoping that you will.
With A Little Work, Selling Apps Can Make You Extra Money
The 21 options listed above should give you just the right app for your situation, to help you find a buyer for your stuff.
Just make sure you know which service is the ideal place to sell the items that you're placing up for sale.
Know whether or not the items you're selling are more likely to sell through a marketplace that has fees associated with it, or whether you're better off with a free app.
And when it comes time to sell, be sure to be wary of online scammers, who are constantly on the prowl, especially on sites and apps like this where money is changing hands.
Have your own favorite selling apps or did we miss any obvious ones? Tell us what they are in the comments!