My family and I recently went on vacation to Florida for a week to visit Disney World's Magic Kingdom, as well as going to a condo on the beach for a few days.
The trip was a lot of fun, but it ended up being kind of last minute because we weren't sure if we were going until a couple of weeks beforehand. I didn't have as much time to prepare for the trip as I had in the past for other trips.
One of the things that I had to research and pay for in a short time was a rental car. In the past I've exhaustively researched where we were going to get our rental to ensure we got a great deal, and it took a lot of time.
This time I discovered a site that allowed me to save a ton of money on my car rental, without having to do a lot of work on my own.
Finding A Great Car Rental Deal
When I started the process, I decided to do what I've done in the past when I've rented cars. I looked at online aggregators and car rental sites to find the best deal, and then looked to stack discounts. Some of the sites I typically search include:
In the end I found the best deal I could find at the time via the Dollar rental agency's own site.
I rented an "Intermediate SUV", a Toyota RAV4, via the Dollar.com site.
While most sites were giving me a week long rental price of $250-300 for an "Intermediate SUV", the price I received via the Dollar.com site was $219.24. To get that deal I had to book using a coupon code and also take advantage of an Orlando only "city special" rental deal.
I thought I had gotten a pretty good deal, and after checking with another family member who had rented a car for the week as well, I still thought it was a pretty good deal.
Tracking My Rental Price With AutoSlash.com
After I reserved a car via Dollar, I remembered a website a friend had told me about a while back that he recommended using when reserving a rental car. The site is called AutoSlash.com.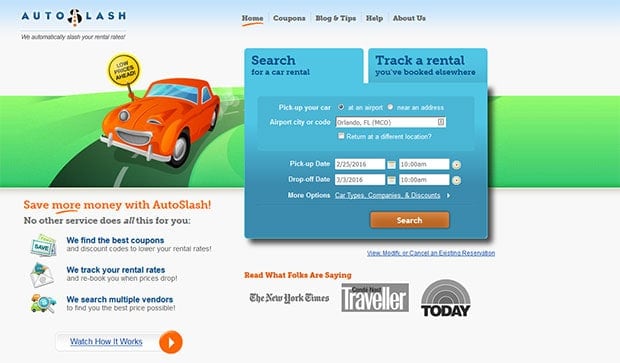 According to AutoSlash, 85% of rental bookings end up saving by using their service.
Basically what AutoSlash does is to make the process of finding the best deal on your rental car automatic. So instead of having to spend hours searching the web for the best deal, AutoSlash will do all that work for you (at no cost).
If you book your car rental through AutoSlash they'll keep checking every day for a better rental price and better coupons and other discounts for your rental, right up until your trip.
If they find a better deal they'll automatically cancel your original reservation and re-book you with the better deal, whether it's with your own agency or a different one.
Since most car rental agencies allow you to cancel a reservation with no cancellation fees, there is typically no limit on the number of times you can do this. Most people just don't even think to keep checking for better deals once they've booked, because it's so much work.
If you book your car rental through a site other than AutoSlash (like I did), you can still use their service to track the price on your rental, and have them notify you when a better deal comes up. Since I had already booked through another company, I decided to do that.
Using AutoSlash To Save 30% Off My Rental
I went and found my rental confirmation, and setup a price tracking alert for my reservation, to see if AutoSlash could save me any money. I was confident that I had a pretty good deal, but was willing to give it a try.
On the AutoSlash site they will ask you for your name, email, rental company you booked with, confirmation number, pickup dates and the price you reserved your rental at.
After I entered that information and submitted, it sent me a "tracking confirmation" email, stating that they would now be tracking my rental for me:
Note that rental car companies change prices constantly. While this provides an opportunity for you to score a lower rate, it also means you have to act quickly when rates drop. If you receive an email offer for a better deal, lock in the lower price before it gets away. Also note that reservations made through AutoSlash can be changed or cancelled at any time without penalty, and you can even add your frequent renter number to your reservation to skip the rental counter at companies that offer this service!
So now it was a waiting game to see if they would be able to beat my price.
A Better Rental Car Deal
It didn't take long.
That same day I received an email with no fewer than 8 rental deals for intermediate or standard SUVs at lower prices than I had found. Their deals would save me anywhere from $11.62-$63.42. There was even a better price on the rental via Dollar, where I had already rented an SUV, that would save me almost $40!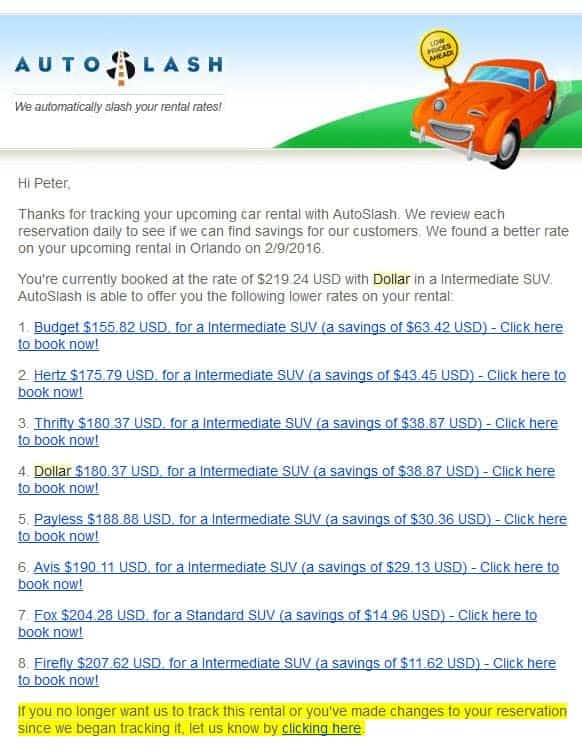 AutoSlash found me a better deal, and in their email they recommend booking the deal as quickly as possible because rental prices are changing constantly, even multiple times per day.
To re-book you just click on the link in your email, and it will take you to the AutoSlash site where you can view all of the deals that are offering a better price on your vehicle type. Just click on the one you want to proceed with and book it via the AutoSlash site.
Cancel Your Old Rental Reservation
The email from AutoSlash had a helpful link at the bottom that you can click on to cancel your old reservation if you decide to move forward with one of the better deals that they've found.
It should take you to the website for the company you originally reserved with, so that you can cancel. I was able to cancel my original Dollar reservation with no problem.
Re-booking A New Reservation
After canceling my Dollar reservation, I clicked on the link to re-book a new reservation with Budget via AutoSlash. (If you book originally through AutoSlash, this whole process is even more automated).
The new reservation was for another "Intermediate SUV", this time a Jeep Compass. It included a reduced AutoSlash rate, as well as a $25 off coupon code from their updated coupon list. The final breakdown looked like this:
Original (canceled) rental car reservation: $219.24
Final rental car reservation: $155.82
Total AutoSlash savings:

$63.42
I saved almost 30% off of my booking price by using AutoSlash! I'll take those kind of savings any day of the week!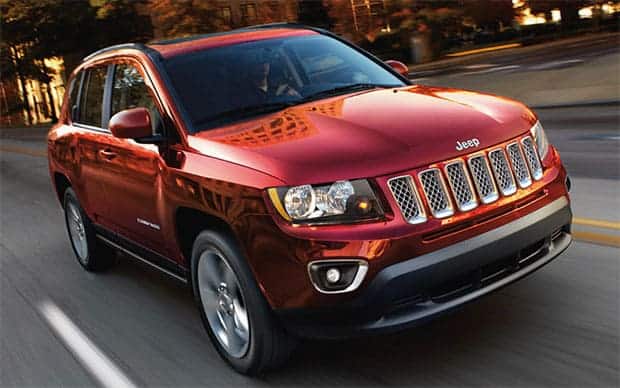 Try AutoSlash Next Time You Book A Car Rental
After a friend recommended I give AutoSlash a try, I used it to book a rental car for my recent trip to Orlando. While I was skeptical it would save me much, in the end I saved close to 30% off of my rental bill.
If I had it to do all over again I think I would have booked my original rental through AutoSlash to begin with to make the process even more automatic. Who knows, I may have saved even more!
AutoSlash is the perfect solution for those of us who enjoy the lazy man's way of saving, saving via automated technology that does all the heavy lifting for us. If you're looking to book a rental car for an upcoming trip, I'd recommend giving it a try.
Have your own tips and tricks for saving on a car rental? Tell us what they are in the comments!