The first time my husband and I tried to cut our expenses significantly, we were newly married.
I'm not going to lie—our penny pinching made life miserable.
We bought food that we didn't like because we could get it cheaply with coupons. We made gross casseroles that used all of our cheap processed foods that we bought. We slept on a mattress on the floor because we didn't want to buy a bed frame.
Now, 15 years later, we still like to penny pinch, but we also realize that it's important to enjoy life.
Thankfully, we've found creative strategies to trim our expenses without making life unbearable.
Make Restaurant Food At Home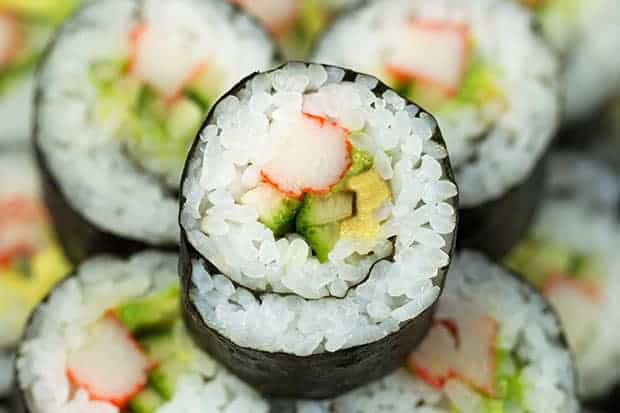 My husband is Japanese, and we love sushi. However, with three growing kids, taking the whole family out to eat for a sushi meal easily runs us $100 or more.
Ouch!
But that doesn't mean we give up our enjoyment of sushi. Instead, once a month I splurge and buy smoked salmon, avocado, cucumbers, and seaweed. My husband makes the sushi rice, and we have hand rolls. True, we'd get more variety if we went out to eat, but doing it this way, we only spend around $20 to enjoy sushi instead of $100 or more.
Thanks to Pinterest, there are many restaurant knock off meals you can make from home. Whether you choose PF Chang's Mongolian Beef or Red Lobster's Cheddar Biscuits, you can make the restaurant food you love at home for a fraction of the cost.
Patiently Wait For Clothes To Go On Clearance
I have two daughters who are just 18 months apart. I buy clothes for the oldest and then hand them down to the youngest. However, I found that buying cheap clothes from the stores resulted in clothes that wore out before they could be passed down. That strategy didn't save me any money.
Now, I often find good quality clothing at garage sales or second hand stores where I can buy the brands I like at a fraction of the retail price. I've also come to adore Hanna Andersson's quality clothing. However, I can't pay full price. Instead, I wait for their twice a year clearance and buy the clothes when they are 75% off retail.
Keep Track Of Grocery Sales Trends
My kids are starting to eat a lot, as in more at a meal than either my husband or I eat. It takes a lot of food to fill their growing bodies. One way I do so inexpensively is by keeping track of sales. Last December, Sprouts sold oranges 4 pounds for $1. I bought a 40 pound case for $10. This December, they did the same thing. Now I know that this is a pattern that I can plan for.
In addition, I've learned when Sprout's puts their meat on clearance. If I show up sometime around 9 a.m., I can usually get quality meat deeply discounted. I buy as much as my budget allows and store it in the freezer so that I don't have to pay full price for meat.
Another strategy I use to save on groceries is to get rainchecks. Sprout's rainchecks don't expire, which is nice. Recently, they had grass-fed beef on sale for $3.99 a pound. I bought about 20 pounds worth. In addition, whenever I was near Sprout's that week, I stopped by. Because this sale was so popular, they were often out of beef. Each time, I got a rain check. Now, I have four rain checks that I can use at any time to buy low cost, healthy beef.
With a little ingenuity, you can maintain your lifestyle while saving a bundle.
What are your favorite ways to enjoy upscale tastes at a fraction of the cost?