My wife and I went on vacation last week, and since we were planning on driving to several cities all across Florida, we decided that we would probably need a rental car. Renting a car should be pretty simple, right? Well, yes AND no.
There are a lot of things to remember when renting a car, and it probably a good idea to do your research before renting. Here's a quick look at our experience. (that's our rental car below!)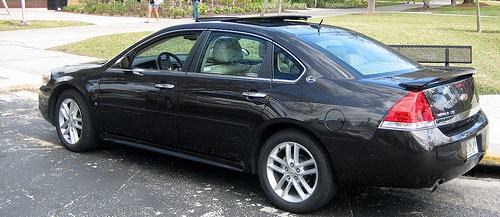 Where To Rent
There are a ton of places that you can rent a car, anywhere from the major car rental agencies like National, Hertz and Avis, down to the third party aggregator sites like Hotwire and Priceline.
If you're renting far in advance you may be able to find a good deal through one of the rental agencies, and even find special deals to cut the costs a bit. If you're in a situation like we were, booking right before the trip, your best bet is usually going to be through a 3rd party aggregator like Hotwire.com or Priceline.com.
We checked out all of the rental agencies websites, and after doing our homework we realized that we would have to pay in excess of $300 or so for a full size car for 1 week. We felt like we could probably do better than that. We then checked out Priceline and while the price was slightly under $300, it still wasn't amazing. Finally, we checked out Hotwire. Through Hotwire.com we found a full size car for a grand total of $220 for 1 week. That was about $80 cheaper than the next closest quote.
The only caveat with Hotwire is that you don't know which rental car company you'll be using, and once you've paid your costs are non-refundable. So make sure you want to do it before you commit to paying for your rental car. We've used Hotwire 3-4 times now, saving a ton of money – and always having a satisfactory rental experience.
Here's a few places that we've had good luck in finding a rental car at a good price:
Another thing to remember is that you may be able to find a better deal if you're able to rent a car at a non airport location. The airport locations have to pay for things like shuttles, 24 hour staffing, etc – which usually makes them more expensive to rent from. Renting from a off airport location will work better if you have someone picking you up at the airport, or if there is public transit you can take to the rental location. For the convenience factor, we just rented from the airport location.
Bonus Tip From Commenter NC: If you have a Happenings Book, there are usually corporate codes in there that you can use to get great prices too. Otherwise, do a Google search, and you can find codes for various corporate discounts. I can almost always find a code for National (my preferred company) which gets a price that is less than the ones I found at the discount search engines.. and that way I also rent from the same company each time, which makes it easier to get free upgrades, etc.
Extras To Remember When Renting
When renting a car you may think all you have to pay for would be renting the car. When you step up to that rental agency desk, however, you'll be asked if you want to pay for a whole host of other extra options. They'll play on your insecurities and worries, telling you that you NEED to have these things.
Most of those things will considerably change the cost of renting. In most cases you shouldn't even consider paying for these extras because they're just a waste. Some of those extras include:
Insurance: This is the only one that you might actually consider paying for. If you're in an accident of some sort, you'll want to make sure that you're not liable in any way for the damages. In most cases the insurance you hold on your personal vehicle at home should transfer over to any car you're renting. We checked on our policy, and our coverage WAS transferrable. Buying coverage from the rental company would just mean duplicate coverage, and why pay for something you don't need? Many people have credit cards that will also give insurance coverage on rentals, as long as you pay for the rental car with that credit card. Once again, our card had that option, and we were covered – so no need to pay extra for coverage. One caveat – if you have only liability coverage on your vehicle at home, you may want to pay for the coverage so you're not liable for the costs to repair the vehicle.
Rent A GPS: When we arrived at the rental counter one of the options we were given was to rent a GPS for the week. The costs to rent a GPS can be anywhere from $8 a day to upwards of $15 a day. Since we were renting the car for a week that would mean anywhere from $56-$105. We already owned our own GPS, so we didn't even consider this option. Also, when you think about it, it doesn't make a whole lot of sense to rent a GPS for a week when you can buy your own for about the same cost! We bought our GPS used on ebay for $60! Another thing to think about – if you lose the GPS or if it is stolen from the car, the rental agency will often charge you upwards of $500-600 dollars to replace the GPS!
Pre-Paid Gas: When you step up to the counter they'll ask you if you want to pre-pay for gas. That way you won't have to worry about finding a gas station to fill the car up when you bring it back to the airport. The fine print? They're going to charge you at least double of what gas costs outside of the airport area. Our contract showed a per gallon cost of $4.16 to pre-pay for our gas. Instead of doing that we filled up the car before going back to the rental agency for only $1.96/gallon.
Upgrade Your Car: When we showed up my wife really wanted to get a car with a sunroof. We're in Florida – we want to enjoy the sun, right? The agent at the counter told us that the only way to get a sunroof was to rent a covertible, for $75 more for the week. My wife was disappointed, but we declined. When we actually got to our car, we were excited to find out that it in fact DID have a sunroof, at no extra cost whatsoever! (most places allow you to choose your car – we chose one with a sunroof). We heard one guy next to us fall for the upgrade ploy – and he ended up paying $100 to get an Escalade, just because it sounded cool. Ugh..
Pre-Paid Tolls: Florida has quite a few toll roads, and you can end up taking a lot of time waiting in line to pay your tolls. The rental agency offered an extra "pre-paid tolls card" so that you could just whip through the tolls without stopping. Nice convenience, but the pre-paid tolls card wasn't cheap – and it was definitely more than just waiting in line and paying tolls. We weren't going to be going through that many tolls, so we declined!
Roadside Assistance: Some rental agencies will offer roadside assistance plans that you can add on to your contract. Many people have AAA or another plan through a credit card, so they probably don't need this to begin with. Also, it's pretty unlikely that you're going to need roadside assistance – and if you do, you can self-insure yourself against that eventuality. Take the risk!
What tips do you have to save money when renting a car? Let us know in the comments!
Start Your Rental Car Search Today On Hotwire.com!