Getting life insurance can be a time consuming and tedious process.
Or at least, it used to be.
If you've ever gone through the process of getting life insurance, you know all about the potential for high pressure sales tactics, the physical exams and the reams of paperwork.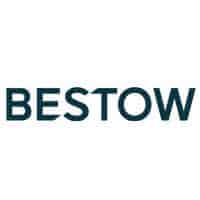 I remember getting term life insurance a few years back, and while it wasn't the worst thing in the world, it felt like the process could be refined, and made easier.
In the past 5 years online life insurance brokers have popped up that have made the process much easier, and while the process has improved, they haven't been able to completely cut out the medical exam and paperwork.
Bestow is a new online life insurance provider that has come onto the scene, and they've refined the process and made it quick and painless.
How? They use proprietary algorithms to provide you with a life insurance quote, and a policy approval within just a few minutes.
There is no lengthy underwriting process, no medical exams or doctor appointments and depending on what policy you end up with, it can cost as little as $3/month.
Bestow is one of the easiest and pain free ways to get term life insurance. So let's dig into the details in this Bestow review.
Quick Summary
Term life insurance from10-30 year terms.
Quick online application with no exam.
Coverage from $50,000-$1.5 million.
Quotes in seconds, policy in minutes.
Term Life Insurance Is Key For Families
I've written time and again on this site about how important I believe it is for families to have good term life insurance. After all, what would your family do if you were to pass away unexpectedly?
Since starting this site I've heard quite a few stories of people passing away unexpectedly in their 30s and 40s, leaving their families to scramble, trying to figure out how to keep their heads above water because they didn't have life insurance.
It's not fun to think about, but if you want to protect your family, it's a pretty important piece of a good financial plan.
Bestow Has An Easy To Use Quote Engine
Bestow has taken the process of getting term life insurance and turned it on it's head. They've made it a process that takes mere minutes, instead of days or weeks.
How do they do it? Their proprietary underwriting technology helps them to do what they call "accelerated underwriting".
Instead of a manual underwriting process where you often have to do an in person interview, a medical exam, lab tests and a ton of paperwork, Bestow will simply ask you some basic questions about your health and lifestyle, and then they'll use available data to verify your history.
When you decide to go through the process of getting a policy with Bestow, you should be ready to answer questions about things like your height, weight, tobacco usage, extreme sports or hobbies you partake in, travel plans, medical history and more.
The application process is pretty easy, and their site makes it kind of fun with their easy to read forms, whimsical animations and helpful prompts.
In order to do this review I went through the process and it didn't take me more than 10-15 minutes to fill it all out.
Once you've filled in your information Bestow will use their data vendors to verify all of your information including your identity, your prescription history, motor vehicle history, and financial data.
Based on the information you've given them, and the information that they pull, they'll decide on what risk tier you fall into. Based on that they'll decide on whether they can offer you a policy, and for how much.
Bestow's Available Term Life Insurance Policies
What kind of life insurance policies does Bestow offer?
You have the choice of either a 10, 15, 20, 25 or 30-year term life insurance policy.
Their policies are backed by two A+ financial-rated insurance partners, Munich Re Group and North American Company for Life and Health Insurance®. They're 2 of the largest insurance companies in the nation so you can be sure that your policy is with a respected company.
There are two main types of term life insurance plans to choose from:
10/15//20/25/30 year term life insurance: This policy can be purchased for anywhere from 10-30 year terms, in 5-year increments. This is a more typical term life insurance policy, and you can get coverage anywhere from $50,000 all the way up to $1.5 million dollars. Policies start at only $10/month and rates will vary based on your situation/age/health/lifestyle.
Flexible Payments
One of Bestow's goals with their term life insurance policies was to keep premiums low, but they also want to make sure the process of paying for your policy is as easy and pain-free as possible as well.
Every policy has a 30 day "Free Look" period during which you can get a full refund if you decide that the policy isn't for you. Just cancel the policy within 30 days after making your purchase.
They also know that life happens and that there may be a time when you accidentally forget to make a payment on your policy. Maybe you just forgot, or maybe you changed banks. But with Bestow if you miss a single payment, you don't need to panic, your policy won't be terminated. Your policy will remain in force for the next 30 days.
As long as your payment for the following month comes through your policy will remain in effect.
You have 60 days to pay a past-due premium to keep your coverage in good standing. If you neglect to make good, on the 61st day your policy will be terminated.
Make sure you don't have any problems by setting up automatic billing!
Who Can Get A Policy With Bestow
There are some restrictions when buying a policy with Bestow, not everyone is eligible to get term life through their site.
First, you must be a U.S. resident, and residents of New York are not eligible to use the site currently.
Second, there are age restrictions. Check the site for current restrictions as if you're too old (or too young), you might be out of luck.
Third, there are some health, career, and hobby reasons why you might not be able to get a policy. If you have certain health conditions like heart disease, cancer, or HIV, you might not be eligible. If you've got risky hobbies like scuba diving or skydiving, you might not be able to get a policy. If you have a career with high-risk levels like a pilot or a linesman, you might need to look elsewhere.
Other than those things, pretty much anyone can get a policy that fits their needs.
Would I Recommend Bestow?
I love what Bestow is trying to do with their online insurance quote engine. It's making the process of getting life insurance easier, less intimidating, and keeping the costs affordable.
Are their costs always going to be the lowest for a comparable policy? Not necessarily. You can likely find a slightly cheaper policy elsewhere, especially if you're older or in a higher risk pool.
On the other hand, if the fact that you don't have to do a medical exam and can do the process quickly and efficiently will mean that you actually follow through and purchase term life insurance, it's definitely worth it.
I would recommend giving Bestow a try. After all, it's a quick and painless process and all you have to lose is a few minutes of your time!
| | | | |
| --- | --- | --- | --- |
| | 10, 15, 20, 25, 30 year term policies | | |
| | 10, 15, 20, 25, 30 year term policies | | |
| | 10, 15, 20, 30 year term policies | | |
| | Depends on the insurer chosen | Depends on the insurer chosen | |
| | 10, 15, 20, 25, 30 year term and other policies | | |
| | 10, 15, 20, 25, 30 year term policies | | |
| | 10, 15, 20, 30 year term policies | | |
| | 10, 15, 20, 25, 30 year term policies | | |
| | 10-30 year term policies (in any yr length) | | |