This post is sponsored by Haven Life. All thoughts and opinions are my own.
For years I've written about the importance of having good term life insurance on this site.
While life insurance isn't a pleasant topic to think about — since it typically involves thinking about your own or a loved one's death — without the safety net that it provides, a family can be left in financial ruins.
Whether you're just starting out as a married couple, considering having kids, or if you already have children, I believe that getting term life insurance should be an integral part of every family's planning for the future.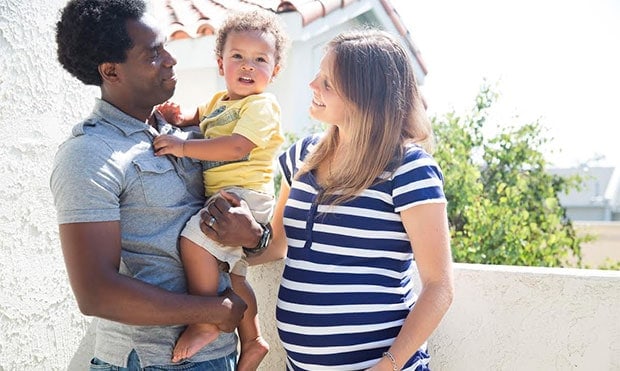 Why I Bought Life Insurance
When we were first married, my wife and I didn't have any life insurance. I think we believed that since we were both young, healthy and employed, it wasn't really something we needed to think about.
Later on in our marriage, when we started to get our finances in order, we realized that we really needed to plan more for the future. We figured out how much life insurance we needed, with a calculator like this one, but we still didn't purchase a policy.
What really drove home our need for life insurance was when my wife had a massive blood clot in 2008. Here entire leg clotted, and she was in the hospital for several weeks recovering from what could have been a fatal health event. Thankfully my wife was able to recover from her clot, but it did make us think. One day she's a healthy 27 year old, and the next she's on the verge of death. What if we hadn't gotten her admitted to the hospital as quickly as we did? Would she still be here today? Probably not.
At the time, we were thinking about having children and knew we really needed to start planning ahead – in case one of us were to pass away unexpectedly.
When we found out that we were pregnant with our son in 2009, we finally took the plunge and bought term life insurance. And, I think we should have done it sooner.
How Much Life Insurance Do You Need?
One of the first things you'll need to do when buying life insurance is figure out how much life insurance you really need. One rule of thumb I regularly hear is 8 to 10 times your annual salary.
So if you're making $50,000/year, you should look to purchase a policy for around $500,000 in term life insurance. Personally I prefer to have even more, somewhere in the neighborhood of 15-20 times my annual salary. But, that preference depends on what your monthly budget allows and your personal situation.
While a rule of thumb is helpful, it doesn't take into account your personal situation.
To figure out how much life insurance you might need, you need to consider your current situation. Are you the primary breadwinner? Are you a stay at home parent, whose daily duties would need to be replaced? Do you have significant debts? How many children do you have? Do you plan on paying for their college tuition?
There are numerous online calculators available out there that make it very easy to understand your life insurance needs. If you're unsure of what you need, try Haven Life's calculator. They'll also tell you if you don't need it yet.
Why I Like Term Life Insurance
There are two main types of life insurance that you can buy, permanent life and term life.
Term life is insurance that you buy for a specified term (10/15/20/30 years) and your beneficiary receives a payout if you die during that term. Term life insurance premiums are usually significantly lower than that of most permanent life insurance policies.
Permanent life insurance covers you for a lifetime and typically is more expensive than term life insurance. It carries cash value that you can borrow against, or receive if you surrender the policy. However, borrowing or partial surrenders reduce the value of the policy and the death benefit. It can also increase the chance that the policy will lapse, and can have tax implications.
Personally, I prefer term life because it is very cost effective and easy to understand. You just pay your premiums and you're covered for the term length.
Getting A Quote
These days getting term life insurance is easier than ever. While getting term life insurance through a lot of insurers can take 4-6 weeks after you apply, thankfully there are providers out there these days that are making the process easier and quicker.
Haven Life, who is the sponsor of this post, has made buying life insurance a lot easier. They're a life insurance startup (backed by a top life insurer, MassMutual) that lets you apply for term life insurance online, and if approved, you can start your coverage right away. Takes 20 minutes or less.
By way of example, a recent quote I ran through their site for a 20-year, $500,000 Haven Term policy could cost a 30 year old in excellent health less than $24 per month. Very affordable! Another nice thing is that Haven Life lets you compare quotes of top-rated insurers.
If People Are Counting On You, Make Sure They're Covered
If you have people counting on you financially, it's important to think about the worst case scenario.
What would your loved ones do if you unexpectedly were to pass away?
In our family a major negative health event opened our eyes to just how fragile life is, and pushed us down the road of buying term life insurance. Don't push it off as long as we did, make sure to get your insurance, before you need it.
Do you have life insurance, or are you planning on getting it? Have you gone through the free life insurance calculator provided by Haven Life? How much insurance does it tell you that you need?
Haven Term is a Term Life Insurance Policy (DTC, ICC14DTC) issued by Massachusetts Mutual Life Insurance Company (MassMutual), Springfield, MA 01111 and offered exclusively through Haven Life Insurance Agency, LLC