If you've been looking for a financial service that will not only provide investment advice, but also offer direction for your entire financial life, SAVVI Financial is a service you need to check out.
Unlike robo-advisors, you don't deposit money with them, and have them manage it.
Instead, they aggregate all your financial information on the platform, then make investment recommendations. But that advice also extends to general financial advice, such as saving to purchase a home, planning your children's college education, or even getting out of debt.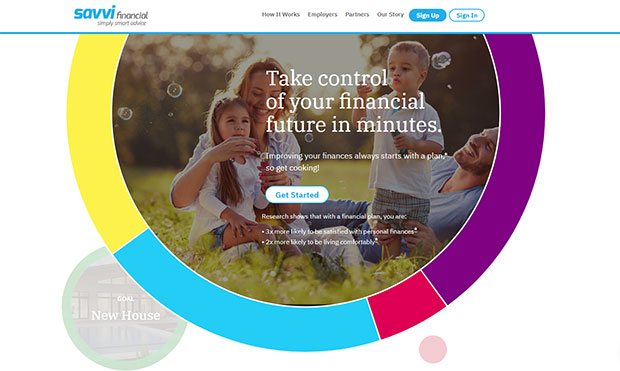 Beyond their premium version, they also have a free version that can be helpful for anyone, and so we decided to take a deep look at Savvi Financial in this review.
About SAVVI Financial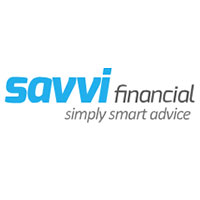 Based in Waltham, Massachusetts, and founded in 2013, SAVVI Financial LLC is a registered SEC investment advisor. It's an Internet service that provides personalized investment portfolio recommendations.
This includes:
Target asset allocations.
Recommendations of asset allocations for each of your investment accounts.
Ongoing rebalancing guidance.
Recommendations for money movements between accounts.
Other financial advice.
SAVVI Financial shouldn't be confused with robo-advisors. The investment advice they provide are recommendations for you to make within your own portfolio. But they do not take control of your account, and manage it for you, as is typical of robo-advisors. In fact, once an investment recommendation is made by the service, it's up to the individual investor to follow the advice or not.
The service uses artificial intelligence to optimize your investment portfolio. The AI is designed by MIT-trained Ph.D's and world recognized data scientists.
How SAVVI Financial Works
When you sign up for the service you'll be asked a question: "How confident are you that you're doing what's needed to meet your longer-term financial goals?" The answers will include:
Not confident
Slightly confident
Somewhat confident
Moderately confident
Very confident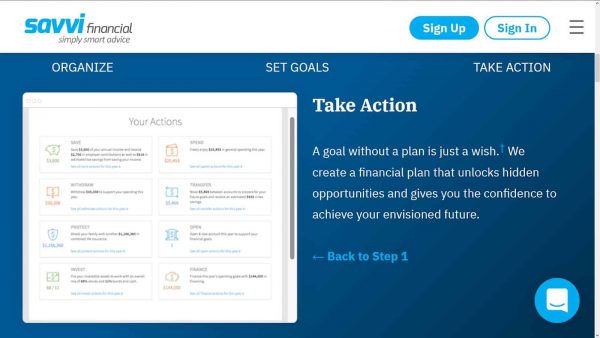 You will then be asked to link all your financial accounts on the platform.
The purpose of linking your accounts is to get a 360° view of your finances and long-term outlook. SAVVI Financial is looking to make investment recommendations based on a holistic look at your total financial picture. It also helps to minimize the tax liabilities of those investment selections. This is very similar to what Empower and other investment platforms do.
SAVVI Financial can link to more than 17,000 financial institutions, but you can add yours manually if it doesn't appear on the list. The links are accomplished with a secure, read-only connection with your financial institution. That means that while SAVVI can see what's going on with your financial counts, they can't control them, access them, or move money.
Recommended linked accounts include:
Bank accounts, like checking and savings accounts.
Credit card accounts.
Home loan accounts.
Investment accounts.
Retirement accounts.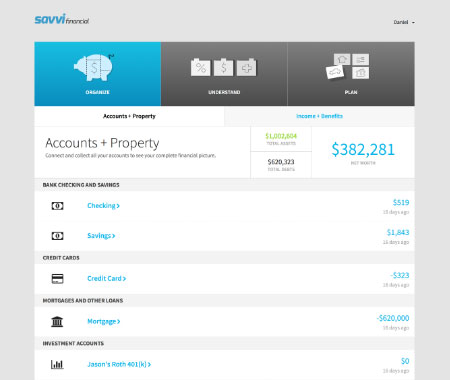 With your financial information entered onto the platform, you'll then share your financial goals. Based on your financial information and goals, SAVVI Financial evaluates the options, then provides you with step-by-step guidance on spending, saving, investing, and protecting your finances.
The SAVVI "Advice Engine" works with the accounts you have, within the various influences that affect individual financial outcomes. These include income tax considerations, Social Security elections, inflation assumptions, investment projections and more. (SAVVI assumes 3% average annual inflation and wage/pension/Social Security income growth for projection purposes.)
SAVVI Financial Invest Investment Methodology
When you sign up with SAVVI Financial you'll receive comprehensive financial advisory services. This includes goals based financial planning, investment advisory and retirement income solutions.
The personalized strategy will provide advice on asset allocation, asset location, contributions and withdrawals, Roth conversion feasibility, Social Security election, retirement age, debt payoff, and required minimum distributions in retirement, among other services.
Investment advice centers around limited asset classes and investments in exchange traded funds (ETFs) and mutual funds. It does not include recommendations for stocks, other individual securities, or alternative investments, like commodities, precious metals, or cryptocurrencies.
Though the company charges a flat annual fee for providing investment advice, they don't actually manage your investments directly. That means you will incur trading commissions and other investment fees through the firms were your investments are actually held.
SAVVI uses algorithms to analyze the cash flow needs and timing for each individual investor, in conjunction with the risk tolerance.
Investors are grouped into five risk tolerance categories:
Conservative
Moderate-Conservative
Moderate
Moderate-Aggressive
Aggressive
For investment portfolios, SAVVI Financial uses the following general asset allocations for each of the five different risk tolerance levels:
Stress Test Simulator. This is one of the most interesting features of the SAVVI Financial program. Once they recommend an investment plan, they test it against simulations of how it might perform under high stress market conditions, like the Great Depression, the Dot-com Bubble and, most recently, the Financial Meltdown.
SAVVI Financial Features and Benefits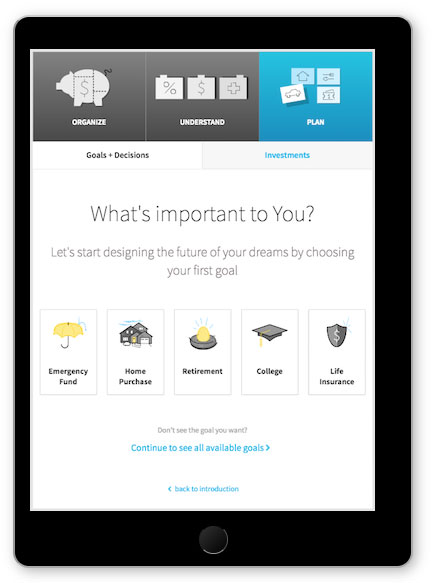 Minimum initial investment: None, since SAVVI Financial is a financial advisory service, and not a direct investment manager.
Available account types: As a holistic financial advisory service, SAVVI Financial works with the accounts you have. There are no specific account types required, like taxable investment accounts or IRAs. But they do include employer sponsored retirement plans when developing financial and investment recommendations.
SAVVI may be available through your employer: SAVVI works with employers to provide financial wellness integrated with your workplace benefits. That means you can sign up with your employer, if the program is offered. They don't currently disclose participating employers, so ask your employer if it's offered.
Fees and Pricing: There is a free version that is still very helpful in planning for financial goals. The premium plan has a flat annual fee of $120 for the service, payable by credit card. The fee is collected at registration, and annually thereafter. The fee will be refundable up to five days after payment. But if you're worried about whether the service will be helpful, just try out the free version first.
You can cancel your subscription at any time after the initial subscription period. The company does not pay prorated refunds if cancellation occurs before the end of the subscription period.
Clearing agent/account custodian: None. SAVVI Financial works with the accounts you already have, including investment and retirement accounts, as well as bank accounts and loan accounts.
Customer service: Available mainly by live in-app chat.
Platform security: SAVVI Financial is an investment advisory only, therefore they never actually take custody of your funds. However, they use a wide range of tools and resources to safeguard your personal information:
All connections to and from the SAVVI website are encrypted using Secure Socket Layer (SSL) technology.
No individual or system within the company has access to your linked financial institution's login credentials.
Credentials are handled directly by SAVVI's data aggregation partner, Envestnet/Yodlee
SAVVI only collects data deemed necessary to deliver top level service. For example, they do not store full account numbers or Social Security numbers.
How to Sign Up with SAVVI Financial
To sign up for the service, you must be a citizen or legal resident of the United States or its territories. When applying, you'll be asked to provide both names and birthdates for you and your spouse, as well as the names of your dependent children.
As noted earlier, you'll also be asked to enter information about your asset accounts and debts. But they'll also ask for your current income, ongoing contributions to retirement plans, and any expected pension income.
The information requested is much more extensive than is the case with most robo-advisors because, as a financial advisory service, SAVVI Financial focuses on comprehensive financial advice, and not just the investment side of your finances.
SAVVI Financial offers two different plans, Free and Standard: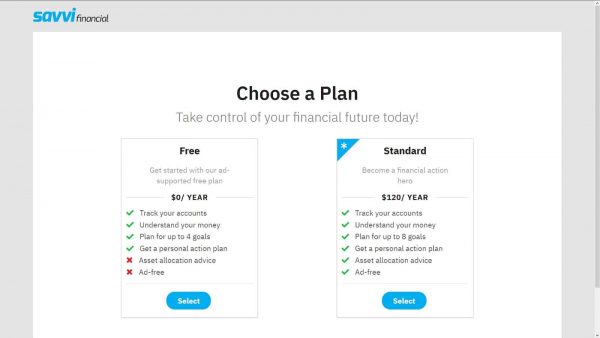 The Free plan obviously has no annual fee, but like many free services, it will include third-party ads. This is similar to Credit Karma, for example, where you'll see ads offering higher returns on savings and lower rates on loans and credit cards. The Free version will enable you to organize your accounts, set goals (up to four), and get actionable advice. However, the Free version does not offer the expanded investment advice. You'll have to switch to the Standard plan to get that advice.
The Standard plan is the paid version, at $120 per year. If you sign up for the Standard plan you will need to put a credit card on file.
The Standard plan comes with all the features of the Free version, except you'll be able to plan for up to eight goals and get asset allocation advice. And since it's the paid version, there won't be any ads.
The advice given will be personalized and independent. Since SAVVI Financial is a fiduciary, they put your own personal interests first, as fiduciaries are required to do by law.
SAVVI Financial Pros & Cons
Pros:
SAVVI Financial takes a holistic approach to your entire financial situation, and not just to your investments. That will ensure your investing activities are consistent with your financial situation and future goals.
The goals based financial management approach centers more on generating a future cash flow for specific purposes, rather than reaching a specific portfolio dollar amount.
Investment portfolios are highly individualized, since they're based on the specifics of your financial situation. This is unlike robo-advisors, that are more focused on portfolios built around risk tolerance, with similar portfolios designed for those of the same risk tolerance level.
SAVVI offers both the Free version, which does not include investment advice, and the Standard plan, for which you pay a single annual flat fee.
SAAVI tracks and calculates employer sponsored retirement plans in its investment recommendations.
The annual fee of $120 is lower than that charged by typical robo-advisors on portfolios of $50,000 or more. On that portfolio size, the annual management fee works out to be 0.24%, which gets lower as the portfolio size increases. At $100,000, it drops to 0.12%. By comparison, the typical robo-advisor fee is 0.25%. If you compare the fee to the cost of a typical financial plan, a recent survey by Kitces Research found that the median flat-fee pricing for a standalone financial plan is $2,400. So when comparing it to that, it's a huge win.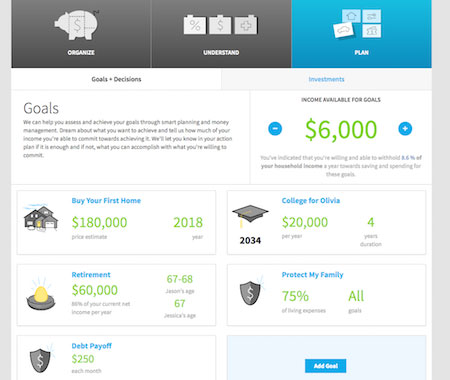 Cons:
SAVVI Financial does not provide direct investment management. Instead, it makes investment recommendations, but it's up to you to act on those recommendations in your own investment accounts.
The service makes investment recommendations limited to exchange traded funds and mutual funds. No advice is provided on stocks, or other individual investments.
Since SAVVI does not take custody of your investments, you will incur trading commissions and other investment fees in the accounts where your investments are held, plus the annual fee payable to SAVVI.
The annual fee of $120 is higher than the fee on a typical robo-advisor on portfolios less than $50,000 (while still being much lower than a typical financial plan as mentioned above). Thankfully they do have the free version if you want to give it a test run first.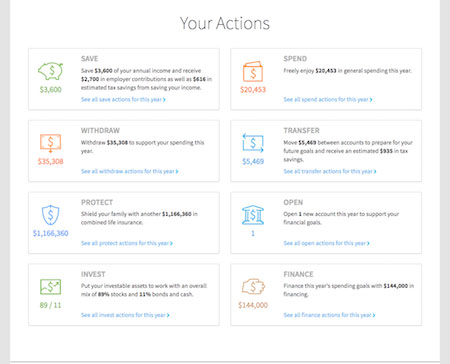 Should You Sign Up with SAVVI Financial?
If you're looking for more than just investment management, extending to your entire financial life, SAVVI Financial is worth checking out. As a financial advisory service, they do provide direct investment advice. That includes portfolio allocations and individual investment selection recommendations. They don't actually manage your money for you, but give you the advice you need to do it on your own. That can make a perfect advisory service to supplement your own self-directed investment activities.
But the real benefit of SAVVI Financial is that the service is comprehensive in nature. They go beyond investing alone, and provide recommendations to help you better manage your finances. That includes saving more money, including saving more for retirement, paying down debt, and aligning your financial situation in preparation for future goals. Many millions of people can benefit from this type of service and advice.
The fee of $120 per year for the Standard plan is very reasonable when you consider the many levels of financial advice you receive. It would be a bargain if it was simply investment advice, but when you add the general financial advice, it's a price well worth paying, and much less than you would pay for a typical financial plan. They have a free version to start – so give that a try if you're hesitant.
If you're looking for a robo-advisor, which is an automated, online investment management service, that handles all investing activities for you, SAVVI Financial isn't what you're looking for. They don't manage your investments directly, and they don't even take custody of your money. But they do help you to better manage your money, and provide you with the information that can enable you to create and manage your own portfolio in much the same way robo-advisors do. And if you have a portfolio of at least $50,000, the investment advice provided by SAVVI Financial is less costly than most robo-advisors.
If you'd like more information, or you'd like to sign up for the service, check out the SAVVI Financial website.
This article is a paid partnership with Savvi Financial. All opinions are our own.
Savvi Financial
Pros
Holistic view of your finances
Goals based financial planning based on future cash flow
Individually customized investment portfolio
Free and premium versions
Includes employer retirement plans in projections
Cons
Investment advice only, no direct management
Investment recommendations limited to funds only
Trading commissions and fees with 3rd party brokers
Annual fee is high on portfolios < $50,000