If you've been investing for a while, you're undoubtedly aware of alternative investments.
Most people invest in "paper assets" like stocks and bonds. These should be the core of any portfolio, because they have a long, documented history of providing a mix of growth and safety. But there's another class of assets, loosely referred to as alternative assets, so named because their performance often moves in different directions from stocks and bonds, creating greater diversification.
The most common alternative investments include real estate, precious metals, and more recently, cryptocurrencies. But still another category is art. Most investors don't think of art as an alternative investment, but this is largely because it's considered to be an investment by the super wealthy. After all, the most valuable art pieces to own are typically worth millions of dollars. That's beyond the reach of the average investor.
But not anymore.
A company called Masterworks is bringing art investing to the masses, by using the crowdfunding approach.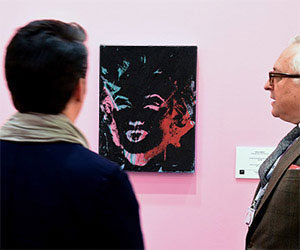 Sure, you may not be able to afford a masterpiece artwork for $1 million. But you will be able to afford to participate in owning a priceless work of art along with hundreds of other investors.
Masterworks is a very unconventional investment platform, but maybe only because investing in art is something the average investor never thinks of. But the Internet is opening up investment opportunities in all kinds of places small investors were once prohibited from going.
Think about the way real estate crowdfunding platforms and real estate investment trusts enable small investors to invest in large commercial real estate projects. This is exactly what Masterworks does for priceless works of art.
Thanks to Masterworks, an average sized investment portfolio no longer excludes you from investing in art.
About Masterworks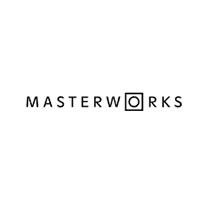 Based in New York City and founded in 2017, Masterworks is a company dedicated to "opening the doors to top-tier, blue-chip art investments to everyone". They're looking to disrupt the art world that has limited access to top art investments to the wealthy alone.
The company allows investors to buy shares of great masterpieces by artists like Pablo Picasso, Claude Monet and Andy Warhol. The team behind Masterworks has more than 75 years combined experience in art collecting and have founded companies valued in excess of $1 billion.
Why Invest In Art?
One of the most enduring arguments put forth to support investing in real estate is "Buy land – they ain't making any more of it" (originally credited to either Will Rogers, Mark Twain, or both).
The same can be said of masterpiece works of art. Even more so than land, each piece is totally unique. That's why artwork has been so treasured for centuries, and why it's generally risen in value over time.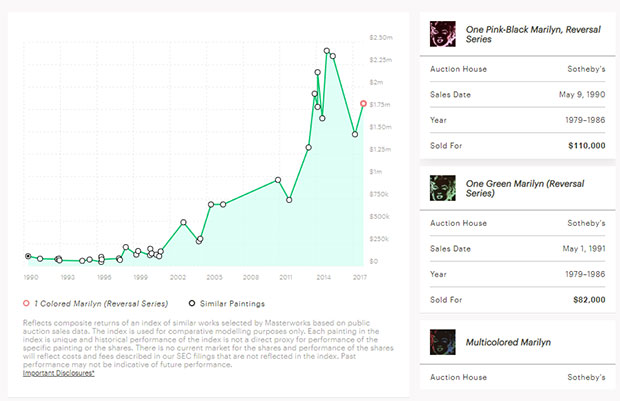 A classic example is Leonardo DaVinci's famous painting Mona Lisa. Valued at $100 million in 1962, it was estimated to be worth as much as $1 billion by 2017.
The Mona Lisa is hardly unique. Paintings valued at greater than $10 million have risen in value by 148% over 10 years. This price growth is largely driven by the explosion in the number of millionaires worldwide. There are now more than 36 million millionaires in the world, and 38% are active in the arts and collectibles markets, especially more valuable pieces. Demand for high-value art is expected to expand as both the number of millionaires and the extent of their wealth grows.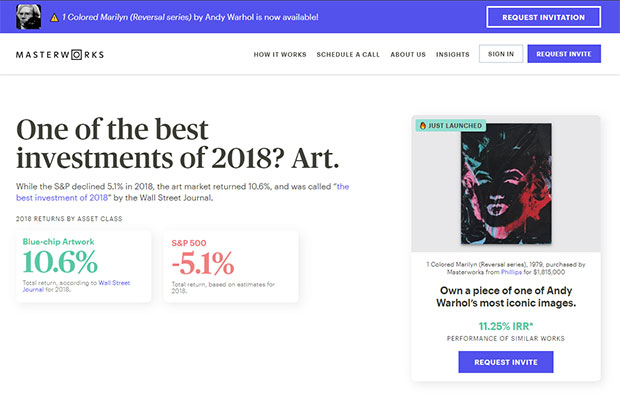 The screenshot above shows that "blue-chip artwork" easily outperformed the S&P 500 during 2018.
But more significantly, the recently created Artprice100 Index indicates that between 2000 and 2018 the S&P 500 index has increased by less than 200%, while the ArtPrice100 index has increased by more than 450%.
The Future Potential of Masterpiece Artwork

Since it largely takes place out of sight from the general public, the average investor isn't aware of the size of the art market. In fact, global art sales reached $67.4 billion in 2018.
In an article issued by Deloitte, Art as an investment: Why should art be considered as an asset class? the following was noted:
"With the long-termed, worldwide trend of increasing wealth, alongside a growth in knowledge about collectible markets, a much larger community has started to be interested in collecting and/or investing in art or rare collectible assets…Art as an asset is attractive over the long run as it is a store of value that generates moderate positive real return. Art also has a low correlation with stocks and bonds which offer diversification possibilities."
The article also projected increasing interest in art from the financial community. Though art hasn't been considered an investment among the general investing public, it's been quietly building in value in recent years, and gaining in reputation as an alternative investment.
Simply put, as overall wealth and the number of millionaires grows worldwide, so will both demand and prices for rare works of art.
How You Can Invest In Art Masterpieces Through Masterworks
One of the inherent limitations in buying art, particularly for investment purposes, is the ability to distinguish between ordinary art and "investment grade art". The casual investor may pay $10,000 for a painting that will look beautiful in the family room. But that doesn't mean the painting will rise in value, particularly if the artist who created it is still alive.
When it comes to artwork, the only pieces that can remotely be considered investment grade are original works from well-known artists, most of whom are long gone. Those pieces are usually worth millions of dollars, because the artist who created them is no longer alive to create more.
One of the most basic services Masterworks provides is in identifying those investment grade works of art, and enabling you to buy a "share" of ownership in the piece. After all, unless you're a multimillionaire, you won't be able to participate in the market at all. In a real way, Masterworks is democratizing the fine arts market, opening it to small investors. It may be the first investment platform of its kind, specializing in fine art.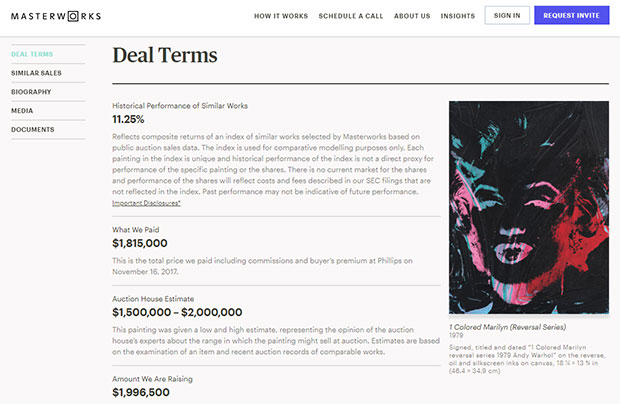 The Masterworks Investment Process
The fine art investment process works like this:
Masterworks determines suitable purchases after reviewing sales data for similar pieces with historical appreciation rates of between 9% and 15%.
They attempt to buy them at below fair market value using a combination of auction guarantee strategies and established relationships with auction houses.
Following the purchase, an offering circular is filed with the Securities and Exchange Commission (SEC), as well as to respond to SEC comments to qualify the offering.
Once the offering passes review with both the SEC and FINRA, Masterworks makes shares available to investors.
Investors can purchase shares in a particular work of art at $20 per share. For example, you can purchase 50 shares in a fine art piece for $1,000.
Though it isn't an option at the moment, the company expects to be able to offer trading or sales of shares through brokerage relationships. That process is expected to be available within the next year, however Masterworks makes no guarantee that arrangement will become a reality.
The sale of the art work. If a collector makes an offer to buy a painting, you as a shareholder can vote to sell or not. The expectation is that each painting will be held for five to 10 years. But a collector can offer to buy the piece at any time, which would trigger a vote to sell by all shareholders. The sale will be approved if the majority of shareholders vote in favor of the sale. At that time, your share of the net proceeds on the sale will be distributed to you, net of costs related to the sale.
Features and Benefits of Investing with Masterworks
The share purchase process is compliant with regulatory authorities. As described above, Masterworks files paperwork with both the SEC and FINRA for each fine art piece offered for sale, before shares are made available to investors.
Exclusive art market insights to monitor your investment. Like so many other investment firms, Masterworks uses analytics and big data to bring transparency to the art market. Content will be published regularly. This is especially important because the art market is one of the largest unregulated markets in the world.
Masterworks fee structure. Masterworks charges two fees. The first is an annual fee of 1% of your investment to cover storage, insurance and transfer of the artwork. This is very similar to costs associated with purchasing numismatic coins and other valuables. The second is a 20% commission on the profits interest made on the sale of any piece of artwork.
Investor contact. Contact is available by either phone or email, presumably during regular business hours. If you want to get more information, you can select a date and time for a call.
How to Sign Up with Masterworks
To be eligible to invest through Masterworks you must be at least 18 years of age. The sign-up process involves applying for "membership", in which you provide basic information and create a password. Once you do, you'll need to click "Request Invitation" to initiate the membership application process.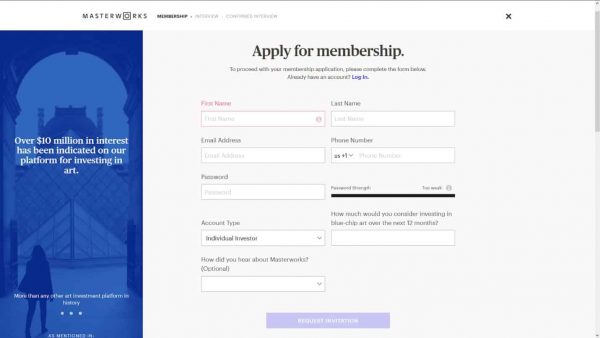 You will need to link a bank account to your Masterworks account to both send and receive funds. This will be accomplished through the Plaid service. Once the account is linked, you will be set up with a Dwolla account to both hold and manage your funds on deposit with Masterworks.
Masterworks Pros & Cons
Pros:
Masterworks enables small investors to participate in an alternative investment market that has, up to this point, been available only to the very rich.
According to the Artprice100 Index, fine art has easily outperformed the S&P 500 index.
Fine art is a true alternative investment, because its performance – and particularly the performance of any single piece – is not correlated to the financial markets.
You can invest in a piece of fine art for as little as $20, which also enables you to spread a small investment across multiple pieces.
Unlike many other alternative investments, you are not required to be an accredited investor (high income or high net worth) to invest through Masterworks.
Fine art is a potential hedge against inflation. Since each piece is unique, and interest is primarily by the very wealthy, art values tend to rise over time.
Cons:
The typical holding period on a piece of fine art is between five years and 10 years, so you will need to plan to hold your stock for several years.
Though the company is looking to establish a trading market for art shares within the next 12 months, there's no guarantee that will actually happen.
Like virtually every other asset type that depends on price-performance for investment success, price appreciation on any single piece of artwork is never certain.
Unlike bonds, bank investments, and many stocks, fine art does not provide a steady income in the form of either interest or dividends.
There is an annual fee of 1% of your investment.
Should You Invest in Art with Masterworks?
Because Masterworks is both a relatively new concept and platform, our advice is to invest, but with caution. Though blue-chip artwork has certainly proven to be a valuable investment through the centuries, it's been mainly as a speculation for the very wealthy. But it typically occupies only a very small corner of their total net worth.
If you're interested in investing in fine art, you should apply the same principles. For most investors, fine art as an investment is a complete unknown. Perhaps more importantly, it's a highly illiquid market. Since each piece is unique – and expensive – the sale of a painting at a higher price will depend entirely on the willingness of a specific individual to make the purchase. Neither the sale nor a higher price can be guaranteed.
Masterworks does minimize much of the risk, by carefully studying the fine art market, and by attempting to buy pieces at below market value. They also minimize individual risk by enabling you to buy shares in each piece of artwork for just $20. That minimize the potential risk of loss on any single piece, while also enabling you to spread your investment across many different paintings.
We see this as a speculation, best done with only a small percentage of your portfolio. And it must be with money you're prepared to lose. The vast majority of your portfolio should be held in more traditional investments, like stocks and bonds.
But if fine art – and the potential for long-term appreciation – interests you, Masterworks will give you an opportunity to participate in that market, even though you don't have millions of dollars.
If you'd like more information, or if you'd like to sign up to invest in great works of art, visit the Masterworks website.
Masterworks.io
Minimum investment
9.0/10
Investment strategy
5.5/10
Pros
Low initial investment
Small investors participate in asset for the wealthy
Art has outperformed stocks since 2000
Alternative investment not correlated to stocks
Art is an inflation hedge
Cons
Retuns not guaranteed
Illiquid investment
No income stream
1% annual fee