Have you been thinking about diversifying beyond stocks and bonds?
After the roller coaster years in the financial markets in and since 2018, it's a rational strategy.
One of the best diversifications from traditional financial assets is real estate, and especially commercial real estate. Not only does it have an impressive track record of high returns, but it represents a real diversification away from a portfolio comprised entirely of paper assets, like stocks and bonds.
Real estate crowdfunding platforms are popping up all over, giving even small investors an opportunity to invest in commercial real estate. One prominent example is Rich Uncles. By investing in one of their pre-packaged real estate funds, you can earn high rates of return on your investment, as well as take advantage of the potential for capital appreciation.
What sets Rich Uncles apart is their investment methodology.
They are very selective with the properties they invest in, and especially with the tenants who occupy them. They rent only to commercial tenants with very strong financial positions, and generally in which the tenant pays all expenses related for the upkeep of the property – plus the basic rent.
If you're spreading your investment wings into commercial real estate, Rich Uncles is one of the very best platforms to do it from.
UPDATE: Rich Uncles has been rebranded as Modiv. The company's offerings and details have changed since the review below was written.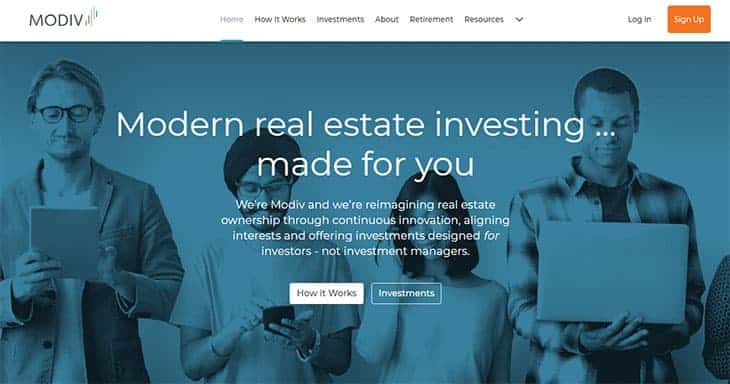 What is Rich Uncles?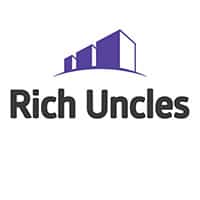 It may surprise you to learn that Rich Uncles really does involve a couple of "uncles". It's a real estate crowdfunding platform run by "Uncle" Ray and "Uncle" Harold. More formally, that's founding investor Ray Wirta and CEO Harold Hoffer.
Each brings a strong real estate pedigree to the platform. Ray is the chairman of CBRE Group, Inc., which is the world's largest commercial real estate services and investment firm. Harold has been involved in $2 billion worth of real estate transactions, including sponsored real estate funds for individual investors in the form of limited partnerships (LPs), limited liability companies (LLCs), and real estate investment trusts (REITs).
With these two "uncles" at the helm, your money is in good hands, even if you know nothing at all about commercial real estate investing. And that's important, because Rich Uncles is one of only a handful of real estate investment firms that don't require you to be an accredited investor. You can begin investing on the platform with as little as $500.
Rich Uncles began in 2012, operates out of Costa Mesa, California, and has a Better Business Bureau (BBB) rating of A+ (on a scale of A+ to F), where it's been accredited since September, 2014.
How Rich Uncles Works
Rich Uncles investments are set up as real estate investment trusts (REITs). These are something like mutual funds for real estate. They hold several commercial properties within the trust, manage the cash flow, and make distributions to investors. And since it operates as a REIT, it has a lower investment fees than you would pay if you invested directly in individual real estate deals.
One of the main advantages of a REIT is that you can invest in a portfolio of properties with a relatively small investment. This will enable you to achieve a level of investment diversification that you never could by investing in individual properties. A single REIT can be invested in a dozen or more individual properties.
And since REITs are invested in real estate, at least some of your dividend income will come to you on a tax-free basis. That's because real estate investments are able to take depreciation expense, which is a non-cash expense that creates a tax deduction, without reducing cash flow.
REITs have another major benefit when it comes to taxation. Since the REIT doesn't pay income taxes as a business entity, more cash flow can be distributed to investors. In fact, REITs are required to payout 90% of their income to their investors, in the form of dividends. For this reason, REITs have become a major source of stable, above average dividend returns.
As you'll see when we discuss the REITs available with Rich Uncles, the dividend payouts are much higher than what you will get with typical fixed income investments, like Treasury securities and certificates of deposit, and even higher than dividends paid on most blue chip stocks.
Rick Uncles Investor Requirements
A bit earlier, I wrote that you don't have to be an accredited investor to invest with Rich Uncles. That's important. If they had that requirement, you'd only be able to participate if you could meet the following qualifications:
Have an individual income in excess of $200,000 in each of the two most recent years or joint income with that person's spouse in excess of $300,000 in each of those years, with a reasonable expectation of reaching the same income level in the current year, OR
An individual net worth, or joint net worth with that person's spouse, in excess of $1 million not including your primary residence.
If the accredited investor requirement applied to Rich Uncles, at least 90% of Americans wouldn't be able to invest on the platform. But don't worry, because that's not a requirement. Rich Uncles is a commercial real estate investment platform for the guy and gal who aren't rich yet, but are working on getting there.
Rich Uncles Features and Benefits
Minimum initial investment. From $5 to $500, depending on the specific REIT you invest in.
Accounts available. Taxable investment accounts using all three REITs offered. IRA and 401(k) investments are available through the NNN REIT only (see description under the section for this REIT).
Dividend reinvestment. Rich Uncles enables you to reinvest your monthly dividends to increase your total investment.
Availability. Rich Uncles is open to investors in the following states: California, Colorado, Connecticut, Florida, Georgia, Hawaii, Idaho, Illinois, Indiana, Kentucky, Louisiana, Missouri, Montana, New Hampshire, Nevada, New York, South Carolina, South Dakota, Texas, Utah, Virginia, Vermont, Wisconsin, and Wyoming.
"Triple net leases." This is a term unique to real estate investing. It means Rich Uncles tenants are responsible for paying all property expenses, including real estate taxes, property insurance, and building maintenance. This means the rent income Rich Uncles receives does not need to be paid out for typical real estate expenses.
REIT fees. This is an area where Rich Uncles has a big advantage over most REITS. Typically, REITs pay 10% of their annual income for fees to intermediaries, who handle much of the mechanics of the properties held in the trust. But Rich Uncles pays just 3% for organization and offering costs. The remaining 97% of income can be paid to investors.
This enables Rich Uncles pay higher returns to investors than typical REITs. Below is a hypothetical example of $10,000 invested with Rich Uncles for five years: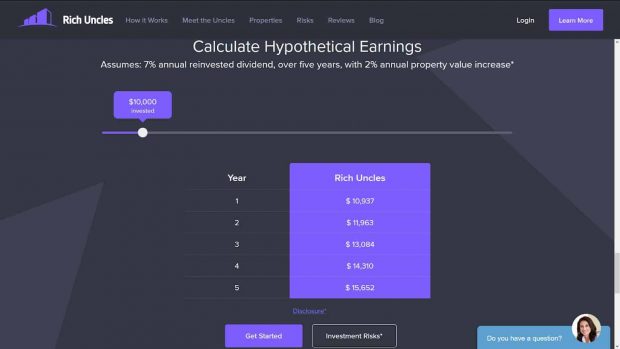 Dividend distributions. Rich Uncles dividends are distributed to investors on a monthly basis. Income payments will begin in the first month of investor participation. Dividends will be prorated the first month, then paid monthly thereafter.
Limited liquidity. Rich Uncles REITs are non-public, and therefore not available to be traded on public exchanges. As such, investment positions have very limited liquidity. Shares of the NNN REIT only may be redeemable each month through the Share Repurchase Program, but will be subject to limitations and fees.
Customer service. Rich Uncles may be reached by phone, email, or the online contact form. They are available during regular business hours.
Rich Uncles Investments
Unlike some online real estate platforms, Rich Uncles restricts investment offerings to REITs. They currently offer three.
Rich Uncles BRIX Student Housing REIT, Inc.
You can actually invest in this REIT with as little as $5. This is a REIT that invests in recently constructed, high quality properties built to serve public and private universities nationwide. But it has recently expanded to include casual dining operations, such as Starbucks, McDonald's, Buffalo Wild Wings and Panera Bread, as well as fitness centers and convenience stores. The portfolio is expected to generate a 6% annualized dividend yield.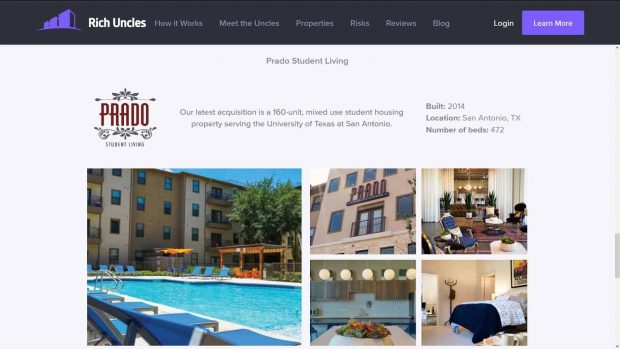 Rich Uncles NNN REIT, Inc.
This is Rich Uncles National REIT. It requires a minimum investment of $500, and has a current annual dividend yield in excess of 7%. The trust is invested in 18 commercial, retail, and industrial properties, leased to high quality single tenants. Those tenants include Walgreens, Dollar General, Northrop Grumman, 3M, Williams-Sonoma, and several companies in the healthcare industry.
Each property is leased on a triple net basis. Under that type of lease, the tenant pays the real estate taxes, insurance, and repairs and maintenance, in addition to the base rent paid to Rich Uncles.
This REIT alone qualifies for the Rich Uncles Share Repurchase Program, which may enable you to redeem some shares each month, subject to limitations and certain fees.
Rich Uncles Real Estate Trust I
This REIT also requires a minimum initial investment of $500, and has an expected annual return of 6%. But the company does impose financial restrictions on investors in this trust.
Those requirements are:
A net worth of at least $250,000, OR
A gross annual income of at least $75,000, AND a net worth of at least $75,000.
These limits are far below those for accredited investor status, but it will restrict investment to those of at least moderate financial ability.
In addition, investors in this REIT must be residents of the state of California.
The purpose of this REIT is to provide attractive and stable cash dividends, as well as to preserve and return your capital investment. The trust will also attempt to increase the value of your investment. Investment properties consist primarily of single tenant income producing corporate properties, located mostly in California.
Rich Uncles Fees
Another of the Rich Uncles advantages is that there are no fees to invest. That means the dividends you receive on a monthly basis are pure income to you.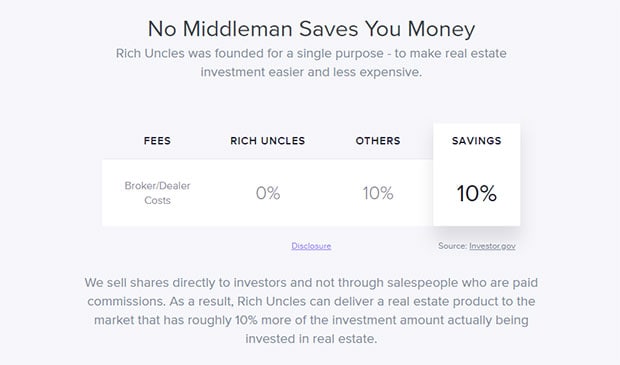 How to Sign Up with Rich Uncles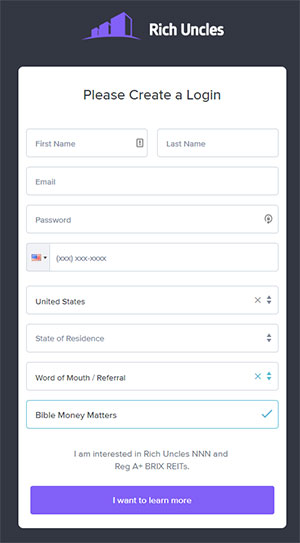 To invest with Rich Uncles you need to be at least 18 years old, but you can be either a US citizen or resident, or a non-US resident or citizen.
You start the process by entering your name, email address, phone number, country of residence, and state of residence (if a US resident). You then choose the REIT you want to invest in, and the number of shares you'd like to purchase (each is roughly $10 per share).
You'll also be asked to confirm how you'd like to receive your dividends. You'll be given a choice to either receive them directly, or to reinvest them in additional shares of the REIT you're investing in.
Additionally, you'll be asked whether you'll be taking ownership as an individual, jointly with another party, or as a trust or within a retirement account. You will then provide your Social Security number, and required documentation to establish your identity. You'll then need to review and sign any required documents, then fund your account.
Rich Uncles Pros & Cons
Pros:
Rich Uncles has no annual investment fee, which is unusual in the real estate crowdfunding space.
You're not required to be an accredited investor to invest with Rich Uncles.
The minimum initial investment of $500 is one of the lowest in the industry.
Chose from one of three REITs.
Small investors can invest in diversified commercial real estate portfolios without needing to be involved in hands-on management.
Dividends are paid monthly, and due to depreciation, some of it will be tax-free.
Rich Uncles is available to non-US investors.
Cons:
Liquidity is always an issue with real estate investing. You must be prepared to invest for several years.
As is the case with any equity type investment (including stocks and funds) there is a risk of loss of some of your principal investment.
Dividends aren't guaranteed, which is true of all dividend paying investments.
Rich Uncles is not available to residents in all states.
Not all Rich Uncles REITs are available for an IRA account.
Rich Uncles REITs are not publicly traded.
Real Estate Trust I has minimum net worth requirements, and is limited to residents of California.
Should You Invest with Rich Uncles?
One of the major advantages Rich Uncles has over other real estate crowdfunding platforms is that there is no investment fee paid by the investor. By contrast, RealtyMogul charges a fee of up to 0.50% per year, while Fundrise charges a 1% annual fee. As a long-term investment, even these seemingly small fees can seriously reduce your overall return on investment. But with Rich Uncles, the fee isn't a concern.
All Rich Uncles REITs pay dividends, that can be in the 6% to 7% range. That's a healthy return, particularly when added to the potential for capital appreciation.
But perhaps the biggest advantage is that Rich Uncles is designed with the small investor in mind. Not only do you not have to be an accredited investor, but you can also invest with as little as $500, or as little as $5 in the BRIX Student Housing REIT. And with just that small investment, you'll be invested in a portfolio of various properties invested in several different markets.
If you'd like more information, or you'd like to sign up for the service, visit the Rich Uncles website.
More Details About Rich Uncles
| Crowdfunding Site | Fees | Account Minimum | Accredited Investor | Review |
| --- | --- | --- | --- | --- |
| * Groundfloor | None | $10 | No | Review |
| * Fundrise | 1%/year | $10 | No | Review |
| * DiversyFund | None | $500 | No | Review |
| * RealtyMogul | 0.30% - 0.50%/year | $5,000 | No | Review |
| * stREITwise | 3% up front fee, 2% annual management fee. | $1,000 | No | Review |
| * FarmTogether | Intake fee of between 0.5% and 1.0%. 1% annual management fee. | $10,000 | Yes | Review |
| CrowdStreet | None | $10,000 | Yes | Review |
| Yieldstreet | 1-4%/year | $2500 | No | |
| Equity Multiple | 0.5% service charge + 10% of all profits | $5,000 | Yes | Review |
| PeerStreet | 0.25% - 1.0% setup fee | $1,000 | Yes | Review |
| Sharestates | 0-2% setup fee | $1,000 | Yes | |
| Patch of Land | 0-3% of loan total | $1,000 | Yes | |
| Cadre | Intake fee of between 1-3%. 1.5-2% annual management fee. | $25,000 | Yes | Review |