Have you been thinking about adding some real estate to your investment portfolio?
If you do, but the large investment and the prospect of managing a physical property is holding you back, there is an easier way.
RealtyMogul is an Internet-based platform that invests in commercial real estate. This is one of the most profitable forms of real estate investing. And since RealtyMogul handles all the management and details, you'll have a completely passive investment income source.
And unlike some online real estate investment platforms, RealtyMogul is open to investors at all financial levels.
Interested? Read on…
What is RealtyMogul?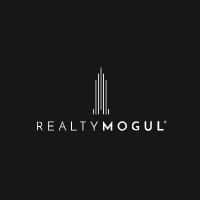 RealtyMogul is an online marketplace for real estate investing. It offers both real estate investment trusts (REITs) and private real estate investment placements. The platform has attracted more than 175,000 investors and more than $800 million in investments.
Based in Los Angeles, RealtyMogul has paid out over $100 million in investment distributions, even though the company was only founded in mid-2013. The company is comprised of a team of professionals with experience in real estate, technology, and finance.
The platform is also available for both individuals and institutions looking for debt or equity for real estate projects. In that way, RealtyMogul functions as a peer-to-peer (P2P) platform, bringing project sponsors and investors into commercial real estate transactions.
RealtyMogul maintains that commercial real estate has historically been one of the very best investments available. One of the biggest benefits is that commercial real estate generates passive income. But it's only been available for the wealthiest investors. The platform aims to make commercial real estate investments available to investors of all sizes, including small investors.
The company works with North Capital, its broker-dealer partner. They provide compliance and regulatory oversight.
RealtyMogul has rating of A+ (on a scale of A+ to F), with the Better Business Bureau and has been accredited by the agency since 2013.
How RealtyMogul Works
When you invest with RealtyMogul you start by creating your account profile, in which you will share your investing goals. For most investors, the goal will simply be personal investing. Once you join the platform, you'll have access to individual investments, and can even view the past performance of each.
Once you've selected an investment, you can fund your account for the amount you plan to invest. At that point, you can also choose whether you want to take your distributions in income, or reinvest them back into the deal.
From there, you can track the performance of the investment through the RealtyMogul dashboard. It will keep track of the amount you've invested in the deal, the distributions you've received, and whether they've been paid directly to you or reinvested. You'll also get quarterly investment reports and annual tax documents.
The platform invests in office and retail space, as well as apartment buildings. They report that they invest in only one out of every 1,000 projects offered, which means the vetting process is highly intense. It includes meeting with the major stakeholders and performing an investigation of the property, the owner's financial and legal conditions, as well as a physical inspection of the property.
As an investor, you'll have an opportunity to review due diligence materials before choosing your investments.
Return of invested principal. Once you've invested, you'll receive monthly or quarterly distributions. Your principal, plus any capital appreciation thereon, will be returned at the end of the holding period of the specific investment.
RealtyMogul Investor Requirements
To invest in RealtyMogul private placements, you must be an accredited investor as defined by the Securities and Exchange Commission (SEC). To qualify, you must:
Have an individual income in excess of $200,000 in each of the two most recent years or joint income with that person's spouse in excess of $300,000 in each of those year, with a reasonable expectation of reaching the same income level in the current year, OR
An individual net worth, or joint net worth with that person's spouse, in excess of $1 million not including your primary residence.
In short, you must be either a high income or high net worth individual, or both.
However, you do NOT need to be an accredited investor to invest in RealtyMogul's public, non-traded real estate investment trusts. For that reason, RealtyMogul is available to investors of all levels.
RealtyMogul Features and Benefits
Minimum initial investment. $1,000 on REITs, but $5,000 for an IRA account. Minimum initial investments vary widely on private placements, and can range from $15,000 into the millions, depending on the deal.
Accounts available. Taxable investment accounts and self-directed individual retirement accounts (SDIRAs).
Investment updates. These can vary by the particular deal you're invested in, but will be provided on at least a quarterly basis. They are available either on the RealtyMogul dashboard, or through email. You'll also receive year-end tax statements after the end of each year.
Customer service. You can contact RealtyMogul by either phone or email, during regular business hours.
Platform security. The RealtyMogul website is protected by multiple layers of security, including the following procedures:
Internal and external review of public and non-public Internet sites and services.
Use of specialized technologies, such as firewalls and encryption.
Rigorous, multi-stage testing of the operability of products and features before they are exposed to the Internet, as well as updates for known vulnerabilities.
Monitoring their system's infrastructure to detect weaknesses and potential intrusions.
RealtyMogul Investments
RealtyMogul offers three basic investments: The Income REIT and The Apartment Growth REIT real estate investment trusts, and private placements.
You do not have to be an accredited investor to invest in The Income REIT or The Apartment Growth REIT.
The Income REIT – Real Estate Investment Trust
As the name implies, this is a real estate investment trust. It's a public, non-traded REIT that requires a minimum investment of $5,000, with an annualized distribution rate of 6-8%, with a monthly distribution frequency. It invests in a diversified range of properties, with a primary goal of providing capital preservation, as well as consistent cash distributions.
The REIT has nearly $325 million invested in 18 properties, with more than 6,300 individual investors. The investments are in senior secured loans, mezzanine debt, preferred equity, and equity structures. Investments are held in multi-family, office, industrial, self-storage, and retail properties.
The REIT has met the 8% distribution level in 2016, 2017, 2018 and 2019. Distributions were down to around 6% in 2020 and 2021 during the pandemic. These results are net of a 0.5% servicing fee for loans held in the portfolio, as well as a monthly asset management fee at an annualized rate of 1%.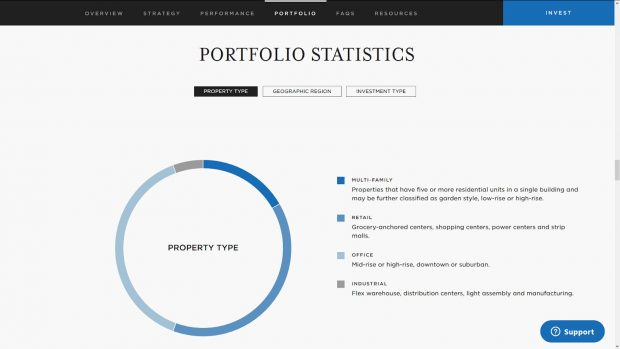 The Apartment Growth REIT – Real Estate Investment Trust
Where the Income REIT emphasizes income and preservation of capital, The Apartment Growth REIT is designed to realize capital appreciation over the long term. But it also pays attractive and stable cash distributions in the process. The trust is also a public, non-traded REIT, that invests in apartment buildings. That can include renovation and repositioning of multifamily properties.
There are 2,590 investors with $236 million in total assets invested in seven properties. The minimum investment is $1,000, and the annualized distribution rate is 4.50%, paid on a quarterly basis. This is net of an annualized management fee of 1.25%. Distributions have been paid at that level in each of the first three quarters of 2018.
The Apartment Growth REIT fund is that it's only been in existence since the beginning of 2018, but during that time it has met its annualized distribution rate of 4.5% in 2018, 2019, 2020 and 2021.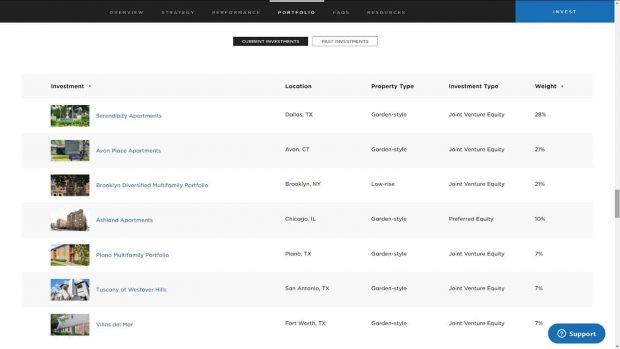 REIT repurchase plan. Real estate investments are not liquid. You must generally maintain your position until the deal pays out. However, RealtyMogul does offer a limited repurchase arrangement for its REITs. This is a very generous program on a non-publicly traded REIT.
It works as follows:
Investment held less than one year, no repurchase allowed.
Investment held between one and two years, 98% repurchase.
Between two and three years, 99% repurchase.
Three or more years, 100% repurchase.
Private Placements – Individual Deals
RealtyMogul offers these investments, but only to accredited investors. The typical investment requires a minimum of $15,000 to $50,000 and has an investment horizon between three and seven years.
Private placements also offer 1031 exchanges. The benefit of this type of exchange is that it enables investors to defer capital gains on the sale of one property, then to invest in a new property. They provide 100% passive investments, including monthly distributions. It requires a minimum investment amount between $25,000 and $50 million.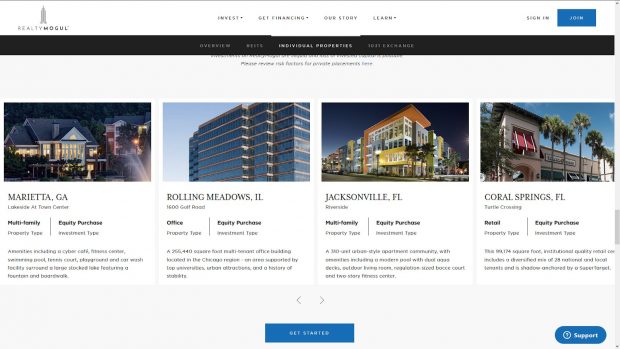 RealtyMogul Fees
There is no cost to sign up with RealtyMogul, However, there are fees associated with each individual investment.
For REITs this varies between 1% and 1.5% annualized, based on the amount of your investment.
Fees involved in private placement deals vary based on the individual investment, as each deal is unique.
How to Sign Up with RealtyMogul
To sign up with RealtyMogul, you'll need to meet the eligibility requirements.
You must be at least 18 years old, and as noted above, an accredited investor if you plan to invest in private placements.
There is no citizenship requirement, and non-US citizens and residents of foreign countries are allowed to participate as long as doing so does not violate the laws in the applicant's country of residence.
You'll need to provide your name, email address, phone number, and then create a password. You also need to agree to both the Terms of Service and the Privacy Policy.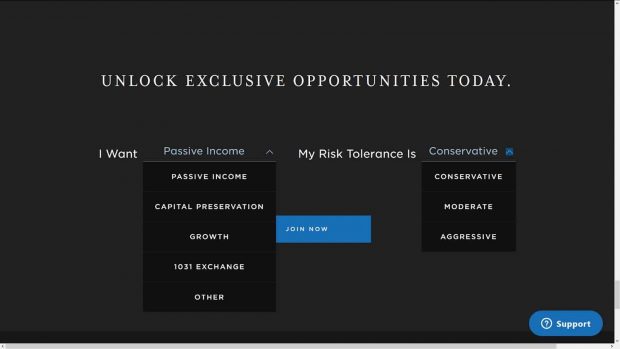 Once you sign up for RealtyMogul, you can fund your account using a standard ACH transfer from your bank account, for amounts up to $100,000. Higher amounts require the use of a wire transfer.
RealtyMogul Pros & Cons
Pros:
RealtyMogul investments can provide monthly distributions with an annual return that's substantially higher than what's available with fixed income investments, like certificates of deposit, bonds, or Treasury securities.
Many RealtyMogul investments offer capital appreciation, in addition to generous monthly or quarterly distributions.
You do not need to be an accredited investor to invest in either The Income REIT or The Apartment Growth REIT investments.
The REIT repurchase plan allows you to get out of the REIT investments after just one year.
RealtyMogul is available for IRAs as well as taxable accounts.
Credit checks are not run on investors.
Cons:
You must be an accredited investor to participate in RealtyMogul's private placement deals.
As is the case with all real estate investments, RealtyMogul investments are not liquid (except for REITs, which are liquid after one year).
Much as is the case with stocks and standalone real estate, RealtyMogul returns are not guaranteed, and are subject to loss of principal.
The Apartment Growth REIT specializes in capital appreciation, but it's largely unproven.
Should You Invest with RealtyMogul?
RealtyMogul gives investors at all levels an opportunity to invest in one of the most profitable areas of real estate investment, which is commercial property. Imagine being able to invest in office buildings, large apartment complexes, and retail space, with as little as $1,000?
The investments have the potential not only to provide regular income distributions but also capital appreciation. You can even decide which type of investment you prefer – income generation, capital appreciation, or a mix of both.
What's more, investments in commercial real estate, particularly through REITs, has been comparable with the performance of the S&P 500 from 1972 through 2018. Given that reality, commercial real estate is an excellent diversification in a well-balanced portfolio that also includes stocks and bonds.
Real estate may also represent a true diversification in that it may perform well in markets where stocks decline. For example, real estate tends to perform especially well during times of higher inflation. Commercial real estate, with its emphasis on physical investments, can be the perfect way to move away from an all-paper investment portfolio.
RealtyMogul is well suited for this purpose, since it's available to investors of all levels, and can be used for either a taxable account or an IRA. RealtyMogul REITs provide an opportunity to invest across many different property types with a single small investment, and if you qualify as an accredited investor, you can choose the deals you invest in, as well as the amount of your investment.
And once your investment is made, it's fully managed in much the same way as a mutual fund. There's no simpler way to invest in commercial real estate.
If you'd like more information, or if you'd like to open an investment account, visit the RealtyMogul website here:
More Details About RealtyMogul
| Crowdfunding Site | Fees | Account Minimum | Accredited Investor | Review |
| --- | --- | --- | --- | --- |
| * Groundfloor | None | $10 | No | Review |
| * DiversyFund | None | $500 | No | Review |
| * Fundrise | 1%/year | $500 | No | Review |
| * RealtyMogul | 0.30% - 0.50%/year | $5,000 | No | Review |
| * stREITwise | 3% up front fee, 2% annual management fee. | $1,000 | No | Review |
| * FarmTogether | Intake fee of between 0.5% and 1.0%. 1% annual management fee. | $10,000 | Yes | Review |
| CrowdStreet | None | $10,000 | Yes | Review |
| Yieldstreet | 1-4%/year | $2500 | No | |
| Equity Multiple | 0.5% service charge + 10% of all profits | $5,000 | Yes | Review |
| PeerStreet | 0.25% - 1.0% setup fee | $1,000 | Yes | Review |
| Sharestates | 0-2% setup fee | $1,000 | Yes | |
| Patch of Land | 0-3% of loan total | $1,000 | Yes | |
| Modiv | None | $1000 | Yes | Review |
| RealCrowd | None | $5,000 | Yes | |
| Cadre | Intake fee of between 1-3%. 1.5-2% annual management fee. | $25,000 | Yes | Review |
RealtyMogul
Pros
Investment options for non-accredited investors
Returns higher than many fixed income investments
IRAs as well as taxable accounts
No credit check
REIT repurchase plan allows you to get out after one year if needed
Cons
Must be accredited to participate in private placement deals
Investments are not liquid (except REITs after 1 year)
Returns aren't guaranteed
Still pretty new