A few years ago a friend of mine, Phil Taylor, came up with a plan to do a meetup of personal finance bloggers once a year. A small group of us thought it was a great idea, and we thought that all 15 or 20 of us that showed up would have a great time networking and hanging out.
Phil had something so much bigger in mind than we had ever dreamed.
In 2011 the Financial Blogger Conference was launched and had it's inaugural get together in the windy city, Chicago. It brought together several hundred of the brightest and best of the financial world. It was a conference not only for bloggers, but for financial media, authors, personalities and more. It was the best and the brightest of the financial world. It was a huge success, and many said it was their favorite conference they had ever attended. You can read my recap of the events here.
In 2012 the conference was held in Denver, and while I wasn't able to attend, I was told that it also an unforgettable time.
Last year the FinConExpo was held in St. Louis, and thankfully I was able to attend again. Once again Phil and his team put together a great event with big name keynote speakers, a great event hotel and extremely useful learning tracks for people to follow. Read a full recap of the 2013 FinCon festivities here.
FinCon14 Registration Is Now Open!

Today, February 4th 2014, the early bird registration for FinCon14 in New Orleans has opened! The conference will be held from September 18-20, 2014.
If you want to get in on the event of the year for bloggers and finance nerds, head on over to the registration page now, the tickets tend to sell out quick!:
Register for the Financial Blogger Conference 2014
Here's a video the FinCon team put together asking people why they love coming to the conference every year.
10 Reasons You Should Attend FinCon14 In New Orleans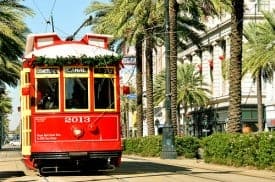 There are a lot of great reasons to attend FinCon. For me the main reason I go is for the relationships you're able to create with other people you typically only meet in the virtual world. But that's not the only reason. Here's my top ten.
Meeting new people: I've attended 2 of 3 FinCon conferences, and I've made a myriad of connections with other bloggers through the networking events, just having meals with others and chatting in the hallways. If you want to make connections with other bloggers and financial folks, this is the place to be. I met a bunch of other Minnesota bloggers, and we now have meetups!
Meet industry reps and financial companies: Not only will you meet other bloggers and finance nerds, but there are a ton of financial companies and affiliate reps attending the conference. Want to get an inside track on a new affiliate program for your favorite bank? Meeting with the reps and having that personal connection can help you make deals down the road.
Up your blogging game: There are so many brilliant minds in the personal finance blogosphere, and many of them will be teaching tracks to help you up your blogging game. Learn about SEO, the newest blogging tools, and how to create a workflow for your blog. There is so much you can learn here!
Learn about the industry: One thing that I remember vividly from last year's industry presentations from Chase and Everbank was just how interesting and informative they were. They weren't just pitching their products, but trying to inform us about how the industry works.
Keep your blog growing: The connections you make at FinCon can help you to grow your blog. From connections with other bloggers, to meeting big media contacts that you can partner with, there are a lot of ways you can use what you learn, and who you meet – to grow your blog.
Great get-togethers and social activities: FinCon always has a several great parties sponsored by the banks and other financial companies. Last year's highlight for me was on the Friday night when we went from one party to the next, one of them on a rooftop bar overlooking the National League Championship Series at Busch Stadium as the Cardinals won the pennant.
FinCon will get you motivated! The energy at FinCon is palpable, and you can't help but become energized to up your game, and take your blog, and your financial life, to the next level.
It's a great value: The FinCon Expo is a great value when it comes to conferences. Some of the conferences will run upwards of $1000 for a ticket alone, and that's not even factoring in the cost of a flight or hotel. With FinCon the ticket is extremely affordable at a couple hundred bucks in comparison, and Phil does his best to get affordable rates at the conference hotel. For my money FinCon is the best conference value out there!
New Orleans is a great location – stay longer and make it a vacation! New Orleans is the location for this year's conference, and if you haven't been there before it would be a great location to stay a bit longer than the conference and make it a mini-vacation! I think my wife and I will likely be doing that this year!
You'll get to talk about blogging and personal finance without the other person rolling their eyes! Not everyone gets our obsession with blogging, and with personal finance. FinCon is a great place to talk with others who are like minded, and who won't fall asleep or start rolling their eyes as soon as you start talking about WordPress, or about the latest smartphone app from one of the online banks. You're among friends!
You probably have your own reasons that you can find for attending too, the point is – there are a million reasons to attend – so buy your tickets now!
Tickets Are Going Fast! Register Now Before They Sell Out!
I just checked the conference website and the conference tickets are selling fast and furious. It seems to me they're selling even faster in the past if that's possible. I bought mine this morning just to be safe.
So if you want to get in on the exciting and fun time at the Financial Blogger Conference 2014 in New Orleans, you better register soon! Click on the link below for more details!
Sign Up For The Financial Blogger Conference Here