This past weekend I was in St. Louis for the 2013 Financial Blogger Conference.
For those who don't know, FINCON is a gathering of the brightest and best in the financial blogging and journalism worlds.
You have big names like the Today Show's Jean Chatzky and Smart Passive Income's Pat Flynn. Then you have over 500 other bloggers, journalists, financial company reps and others who are all there to network, learn and have a nice weekend in one of our country's great cities.
The convention started for many folks on Wednesday of last week, and finally concluded on Sunday with a late brunch.
It was a long week where I was able to meet lots of new and interesting people, as well as make some good industry contacts. I also learned alot, and today I thought I would go over my 4 days at FINCON13.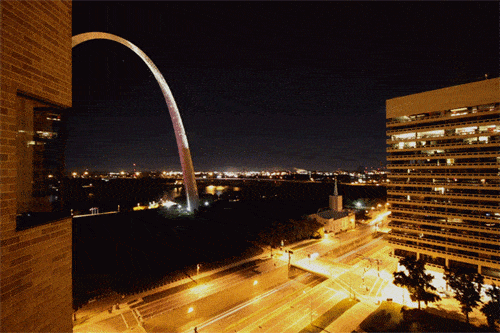 Flying To St. Louis
My flight to St. Louis was an early one, 6am on Thursday. My parents had kindly agreed to pick me up and drop me off at the airport terminal, so I was up and out the door by 4am, checking in my luggage by 4:30. The terminal was busier than I had expected at that hour, with a couple of middle school groups also checking in for a trip to Washington D.C.
By 5:15 or so I had made my way to the gate, after deciding against waiting in the long line at the coffee shop. I sat down and checked Twitter and saw that my friend Carrie from Pocket Your Dollars (a fellow Minnesotan!) was also flying out that morning. After looking around me I saw her standing about 20 feet away, waiting for the same flight! We sat down to chat, and talk about a variety of things including what we hoped to get out of the conference. I also found out that it was her birthday, so I and about 1000 of her closest friends on Facebook all wished her a happy birthday.
We boarded shortly before 6am, and by 7:30 we had landed and were hopping on the Metro to the Hyatt in Downtown St. Louis.
FINCON13 Day 1
Carrie and I arrived at the hotel we decided to go and get something to eat. After dropping off our bags we met in the lobby with another group heading out for breakfast including fellow Minnesotans Travis and his wife Vonnie, Kristen, as well as Sofia, Bethy and several other folks. We went to a restaurant called Rooster, that is apparently known for their great breakfasts. The french toast was indeed delicious, and we all had a great time – a great way to ease our way into the weekend.
After heading back to the hotel and taking a nap I headed downstairs with my roommate Kraig of YoungCheapLiving and Steve from MoneyPlanSOS to help them setup their video podcasting session. If you're interested in podcasting, talk to these guys, they know their stuff.
After checking in I headed over to the Plutus Awards ceremony walkthrough with other folks helping with the event. Luke runs a tight ship and Kevin of Thousandaire did a great job hosting the awards show.
That night for dinner I met up with some blogging friends that I've known and chatted with online for years. Folks like Tom Drake, Ryan Guina, Jeff Rose, Bob Lotich, David Weliver, Greg Go, Will Chen, Rob Berger, Glen Craig and others. Dinner was at Peruvian restaurant Mango. The food was decent but the conversation was even better. I've learned a lot from these guys over the years, and continue to do so.
That night the Plutus Awards went off without a hitch, including a rousing rap performance by Kevin and Ashley from Wise Bread.
Blog of the year went to none other than Jeff Rose for Good Financial Cents. He's had a great year with his book being released, as well as the various movements he's been at the head of. Very deserving, I'm glad he won!
After the awards the party moved over to The Dubliner where there were free food and drinks for all. I got to hang out with folks like Tom Drake, and Justin and Kyle from My University Money, Steve Chou, Rob Berger, Larry Ludwig and Miranda Marquit who writes for this site from time to time. Not too shabby of an ending to the first day at FINCON!
FINCON13 Day 2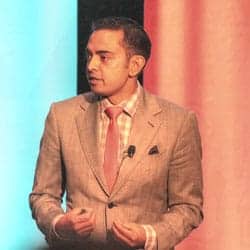 The second day of the conference got off to a rousing start as Pat Flynn, after his introduction, ran down the aisle, and then promptly tripped and fell onto the main FINCON stage. Despite making a lasting impression Pat wasn't hurt, his fall had all been part of his act. His topic? The importance of making a good first impression! Great talk, and worth buying the virtual pass in order to view it!
I met Pat out in the hall and was able to talk to him a couple of times, and he is definitely one of the most personable people I've met. He's very good on focusing on other people, and making sure they feel like they're the center of attention. He's genuine, and his idea of becoming successful by helping others is definitely one I subscribe to.
After Pat Flynn's address I headed over to hear Jesse Mecham, the founder of You Need a Budget speak about his product, and how he was able to launch it to become a multi-million dollar business. His stories of walking through his neighborhood in the early days putting flyers on people's doors for his budget spreadsheet were great because it made you realize just how hard he has worked on his business. Nothing comes easy. He also talked about how you constantly need to be iterating, and improving your product over time – whether it's a budget software or a blog.
Next I attended a session in the same room by Steve Chou of My Wife Quit Her Job as he talked about making money with an email autoresponder. His premise was that you have very few actual moneymaking pages on your website, so you need to make sure that people see those pages through the use of email auto responders. He gave a lot of great ideas on how to make money with your email list, and ideas for re-purposing your existing content in order to leverage your list.
For lunch I met with a group put together by my roommate Kraig from Young Cheap Living. I sat witha great group of guys including Michael Taylor of Household Budget Coach, who I had met the previous night, and who I had chatted with a little bit via Twitter before the conference. His site is relatively new, but he's got a great start – check it out!
Later that evening there was a great keynote from Frank Trotter of Everbank, talking about economics on a macro level, and why that should matter to our readers, and then a great talk from Jean Chatzky, the financial editor of the Today Show. She talked about her struggles and hard work in making it in TV, and about why personal finance is so important.
After walking around the FINCON expo and scoring a bag full of swag most folks were ready to head out for the evening for dinner, and to attend one or many of the events being hosted by a variety of financial companies.
After having dinner with a bunch of guys at the sports bar at the hotel we all headed out for a Meetup with Pat Flynn at a local restaurant. From there we headed over to a party at a rooft0p bar called Three Sixty. It was a get together hosted by Credit Karma and Lending Club, and it was cool because from the bar you could look down towards Busch Stadium, and see the National League Championship Series that was going on down below. The place was packed with Cardinal fans, and later on downtown would explode with them as they won and advanced to the World Series.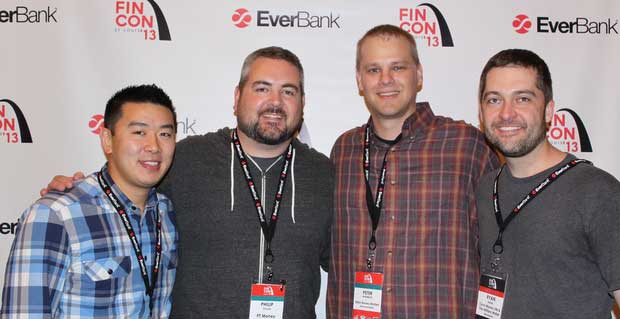 From that party we moved on to a small get together hosted by the folks at Fidelity at a local restaurant. It was a good time with lots of good conversation with folks like Robert Farrington of The College Investor among others, and a nice way to top off the evening. Plus, they gave us gift bags with $10 Starbucks cards in them, so they know what I like, right?
FINCON13 Day 3
The following morning after more breakfast networking I attended a session held by Stacy Johnson of Money Talks News. Stacy has a unique background, from Trader to TV guy to web video guy. He has adapted over the years, and been highly successful through his big personality and great use of leveraging other companies traffic or airtime. What I got out of his speech was the importance of creating great content and of making key strategic partnerships with big brands and other websites that can help you or bring you traffic. Always keep in mind how you can help others, but also, what they can do for you.
Next I jumped over to the session being given by my friend Jeff Rose where he talked about recovering after being hit hard by Google's Panda and Penguin updates. His story was interesting to me because I was hit by those updates as well and saw my traffic take a significant hit. He has been able to slowly recover over time through working with bigger brands for traffic, by writing a book, doing a podcast and a variety of other things. In other words, he didn't whine about losing traffic, he found new ways to create new traffic streams.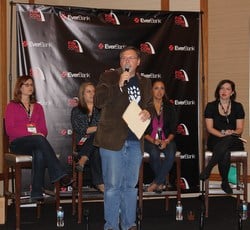 At the Expo that afternoon I took headshots for people against the FINCON13 backdrop, and watched as Steve from MoneyPlanSOS hosted a live game show. It was a lot of fun, and it was topped off by a live podcast by Caleb Wojcik and Pat Flynn.
After all that fun I attended another great session, this one by Carrie Rocha about how to hire a rock star staff, and some of the issues that go along with it including some legal things like non-disclosure agreements, non-competes and other important business considerations. I arrived at the session a bit late so I think I'll have to watch it again online.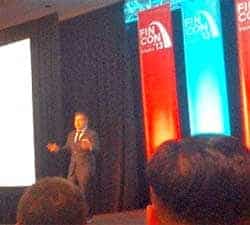 The evening was complete with a high energy talk from Derek Halpern on the main stage. Derek's talk focused on the importance of promoting our content. He said most people spend 80% of their time creating content and 20% of it promoting the content. He proposed that we flip that on it's head, and promote 80% and write 20%.
He talked about his TAPP principle for creating successful content; Target, appeal, produce, promote. You first target your content to a specific reader, then re-frame it to make it relevant to all your readers. Write a post with universal appeal that draws people in from the start. Produce the content and use short sentences and paragraphs, especially at the beginning. Finally, promote your content the different audiences, even ones you may not have thought of before. Email other bloggers with lots of traffic and convince them to ask to see your content by carefully crafting an appeal.
The evening finished off with an after party – paid for with Derek Halpern's speaking fee at a place called Prime1000. Great ending to a fun weekend!
FINCON13 Day 4
Breakfast the final morning. It's a bittersweet thing to be saying goodbye, but it was fun to catch up with some guys before we all headed our separate ways. I talked with Dr. Jason Cabler at our table, who I was familiar with, but had never chatted with online really. We've decided to try and work together on some things. Also at breakfast were Jeff Rose, Steve Chou, Ben Edwards, Mike Piper, Bob Lotich,and a host of others. I'm sorry if you were there and I missed you – sometimes it can be a whirlwind of activity!
After breakfast and checking out of the hotel I went over to see the Gateway Arch with a big group of people. I snapped a ton of photos along with Luke Landes, and then shared a inclinator ride to the top of the arch in a tiny little car with Tom, Steve and Kyle. If you've never been to the top, it is quite the view!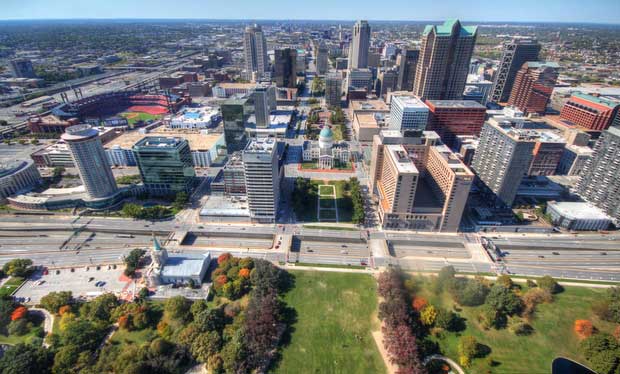 Flying Home
On the way home I caught a cab with fellow Minnesotans Kraig, Carrie, Kristen and her husband. We all chatted about what we got out of the conference, and then Carrie and I went our separate ways since we were taking a different flight.
At the airport I had lunch with Carrie and got to chat with her pretty extensively about redesigning a site (something I'm moving towards doing), and about the process she went through when she redid her site a while back. She gave me a lot of great actionable advice that I hope to use in the coming months. I can't thank Carrie enough for all her help. I hope I was able to give her a bit of advice as well when it comes to ad networks, ad serving and a few other things, but either way, she was much more helpful to me than I ever could have been.
In the end it was a great conference, and it was a ton of fun meeting with all those old friends and new friends at FINCON. I'm making notes about things I want to do differently, and about things I things want to improve on. The list is pretty long.
Were you at FINCON13? What were your takeaways? Will you be going again next year? Leave us a note below.
Other FINCON13 Recaps
Here are a bunch of other recaps of FINCON13 from other folks!