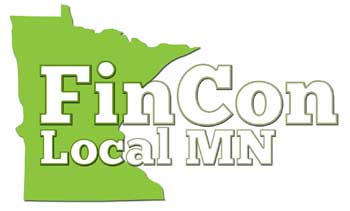 This is a page I've put together to help us keep track of other bloggers in the greater Minneapolis area so that we can facilitate blogger meetups, help each other out and just be social.
If you know of someone else who should be added to this page, please let me know via the contact page and I'll add them in.
Meetups
We'll be putting together several meetups over the coming year in conjunction with and sometimes sponsored by the Financial Blogger Conference (FINCON) where you can meet other bloggers, get some drinks and appetizers, and just chat with some like-minded individuals. We try to put together meetups every few months, so stay tuned for future dates.
Check out the Facebook page for details of our next meetups when they occur.
Social Media
Check out our social profiles. Here is a Twitter list of MN personal finance profiles that I know of. Know of others? Let me know.
Social Media Accounts
Also, to help us all know where each other are, check out the personal finance bloggers map at PTMoney.com. Not on the map yet? Just email Phil at pt [at] ptmoney [dot] com with the following information:
Your Blog Name and URL
Your City (optional)* and State* or Country
He'll then get you added to the map!
Minnesota FINCON Minnesota Local Group
| Website | Twitter | Facebook | Location | Description |
| --- | --- | --- | --- | --- |
| Bible Money Matters | @MoneyMatters | BibleMoneyMatters | Savage, MN | Christian, husband, father and founder of Bible Money Matters |
| Young Adult Money | @davidcarlson1 | YoungAdultMoney | Roseville, MN | Live in MN, Work in Finance. Blogger. Social Media Addict. |
| Pocket Your Dollars | @CarrieRocha | PocketYourDollars | Minneapolis, MN | Teaching middle America to live within their means so they can get out & stay out of debt. Plus, a lover of social media, marketing & business journals. |
| Baby Savers | @babysavers | BabySaversFans | Minnesota | Social media expert, Whirlpool Mom, Brand Ambassador for Totsy, Mrs.Dash, Infantino, Pedigree & Cesar. Blogger of deals, homemaking, parenting,recipes & more. |
| No Nonsense Landlord | @NoNonsenseLL | NoNonsenseLandlord | Eagan, MN | Landlording for maximum profitability and Financial Independence |
| Enemy of Debt Contributor | @DebtChronicles | | Rochester, MN | This is the chronicle of my journey out of debt. I'll share my daily thoughts, struggles and successes. Proud user of CareOne Debt Relief Services. |
| Live Real Now | @LiveRealNow | LiveRealNow | St. Paul, MN | Drowning in debt and learning to swim. Care to share my life raft? |
| Northern Cheapskate | @ncheapskate | NorthernCheapskate | Grand Rapids, MN | Find Frugal Living Tips, Coupons, Freebies & More at Northern Cheapskate! |
| Three Thrifty Guys | @3thriftyguys | ThreeThriftyGuys | Minneapolis, MN | Helping you keep a few more bucks in your pocket |
| Thrifty Minnesota | @ThriftyJinxy | ThriftyMinnesota | Minnesota | A Fabulous Life on a Frugal Budget! Also visit me at http://JinxyKids.com , http://BeautyByJinxy.com & http://ThriftyMinnesota.com http://about.me/ChrysaDuran |
| REL Freedom | @finrelevant | Financially Relevant | Minnesota | Exploring the JOY and FREEDOM of living a financially-wise life! |
| Mr Money Geek | @Plenteouz | Plenteouz | Golden Valley, Minnesota | Help individuals improve their Financial Health and achieve Financial stability by providing real life tips through YouTube videos, educational articles on the Plenteouz blog and speaking engagement. |
| Twin Cities Frugal Mom | @TCFrugalMom | Twin Cities Frugal Mom | Twin Cities, MN | Married mom of 2 who lives in the Minneapolis/St. Paul area. I am passionate about frugal living and saving money! |
| Wealth Well Done | @WealthWellDone | Wealth Well Done | Minneapolis, MN | Wealth is the ability to say, "I love my life." We tell stories to find the purpose of life and money. |
| The Grounded Engineer | @thegroundedeng | The Grounded Engineer | Minneapolis, MN | Millennial engineer that blogs about personal finance, debt elimination, and investing. Paid off $97k in student loan debt and car loan debt in 10 months. |
| Abandoned Cubicle | @cubertAC | Abandoned Cubicle | Minnesota, USA | 40-something husband and father of two gearing up to retire from the corporate scene in 2020. |
| Financial Panther | @financialpanthe | Financial Panther | Minneapolis, MN | Millennial lawyer that paid off $87k of student loans in 2.5 years. Blogging about crushing debt, personal finance, the sharing economy, and sidehustling. |
| The Mastermind Within | @MastermindWithi | The Mastermind Within | Minneapolis, MN | Mastermind Within is a personal finance and self improvement blog looking to help you become more successful! Join me on my journey! |
| Physician On Fire | @physicianonfire | Physician On Fire | Up North, MN | MD Anesthesiologist, Dad, Writer, Family Man, Traveler, Aspiring Philanthropist, Craft Beer Fan, #FIRE Blogger in @WCInvestor Network |
| Five Feet Small | @fivefeetsmall | Five Feet Small | Minneapolis, MN | The daughter of 2 refugees immigrants. On a lifelong quest to meet Jackie Chan. |
| Financial Wolves | @financialwolves | Financial Wolves | Minneapolis, MN | I'm a current investor-by-day, a pro at building niche blogs, and love the Minnesota Timberwolves. |