For the past few weeks I've been planning and putting together a meetup group for personal finance bloggers in the Twin Cities, MN area. It's in conjunction with the Financial Blogger Conference, and it's been a lot of fun putting the event together. I've been doing everything from finding a place to hold it and settling on a time and place, to finding a sponsor for the event so we can have plenty of free food and drinks.
Thankfully it has all come together pretty well, and hopefully, everything will go smoothly tonight. We're going to be meeting at the Key's at the Foshay restaurant and bar in downtown Minneapolis. The restaurant is actually at the base of the Foshay Tower, the first skyscraper in Minneapolis, which is modeled after the Washington Monument. It's a cool old building, and until 1972 it was the tallest building in Minneapolis.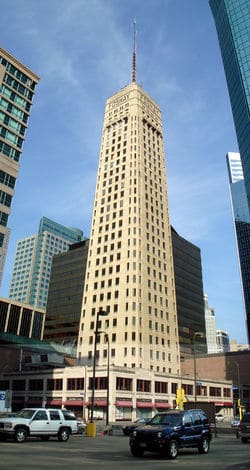 I've eaten at Key's restaurants before and their food is usually pretty good. Thankfully we have a great sponsor for tonight's event in Power Wallet, so we'll have plenty to eat and drink on them! Power Wallet, in case you don't know, is a great new financial tool that helps you to aggregate all your accounts in one place, set up a budget, and find deals when you're shopping. I did a full Power Wallet review here in case you want to give it a try.
I'm excited to be meeting a great group of Minnesota personal finance, frugality, deals, and other bloggers tonight, I'm sure there is going to be a wealth of knowledge shared tonight.
Links From The FinCon Local Minnesota Meetup Group
In preparation for the meetup group tonight I thought I'd put together a link roundup featuring all the blogs from our meetup. So here we go, let's get started!
Pocket Your Dollars: Carrie Rocha is a big time Minneapolis blogger with plenty of local media exposure, and now she's releasing a new book!
Thrifty Minnesota: Chrysa has a great site if you're looking for deals in the Twin Cities area. She's currently got a giveaway running on her site!
Baby Savers: Marybeth's site has a wealth of deals and offers for parents, definitely one to check out for those new parents. Read about her site here.
Go Green Travel Green: Elizabeth co-founded Go Green Travel Green, but also writes on WiseBread.com, where she recently wrote about make ahead Thanksgiving dishes!
Young Cheap Living: Kraig writes about finances, money and life from a 20 something perspective. He recently wrote about how he has finally started investing in index funds.
Three Thrifty Guys: Aaron and his co-authors write this entertaining site where they talk about all sorts of financial (and other) topics. He recently wrote about talking with your spouse about money.
Northern Cheapskate: Christina won't be at the meetup, but she's a noteworthy Minnesota blog. I was entertained by her recent story of finding cheap printer ink at the thrift store.
Young Adult Money: David has only been blogging for a short time, but in that time he's written some really great stuff. I enjoyed reading his article last week about changing careers midstream.
Our Journey To Zero: Travis has written quite a bit about his families struggle to pay off debt, and he had a great post last week at Budgets are Sexy.
Live Real Now: Jason talks about a wide assortment of topics, but it's always entertaining.
Thrifty and Fit: Kristen has talked a lot about debt topics in the past and recently they paid off their debt!
Bible Money Matters: I wrote a post a week or so ago about my new favorite and FREE mobile hotspot from FreedomPop.
So there you have it, some recent posts from some of the folks who will be at the meetup tonight. Should be a great time – and I can't wait to share some photos of the evening's festivities!
UPDATE: Here we are at our meetup event, thanks for coming everyone!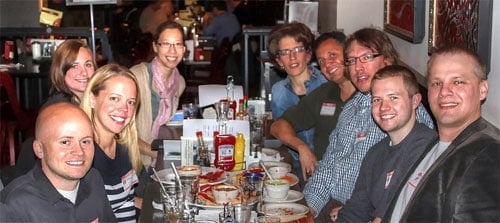 Want to check out our group and attend our next meetup? Check out the details on the FinCon Local MN page.