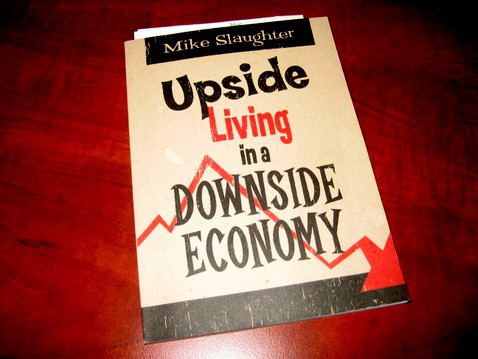 A few weeks ago I received a review copy of a new book written specifically for Christians in these tough financial times. The book, Upside Living in a Downside Economy, is written by Mike Slaughter, pastor of Ginghamsburg United Methodist Church in Tipp City, Ohio. The book isn't a very long one, but doesn't waste much time in offering up a lot of good insight into why we ought to seek God's will in our daily money concerns. Obviously that is something that is pretty close to my heart as my site is pretty much founded upon this very idea.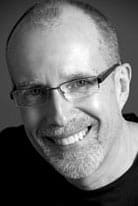 On the back of the book Pastor Slaughter tells us the idea behind the book:
If we truly desire to build sound financial health, we must begin by building a foundation grounded in God's perspective on wealth and finances.
I agree wholeheartedly with this statement, but I was still interested on how this book would go about doing that.
God's Perspective On Money, And Right Motivations
The first chapter starts out with the main idea of the book, building a foundation grounded in God's perspective of money. How do we do that? We go to God's word to seek out God's character and his perspective. The author talks about God's fatherly nature, and how he wants all the best for us. He then goes on to pull out key verses like Proverbs 22:7 (the debtor is slave to the lender) and Proverbs 22:26 (Do not be a man who strikes hands in pledge or puts up security for debts) to illustrate God's ideas in the specific areas of debt and lending.
He then goes on to talk about how we need to be careful to check our own motives when it comes to money, and how we have to be careful to avoid the "love of money" as it is talked about in 1 Timothy 6. We need to make sure we aren't becoming Christian Hedonists, proclaiming that we are Christians, but still seeking after the values of our materialistic culture.
Finally he talks about how we need to constantly need to make sure we're plugged into the true source of life, Jesus Christ, and that we are getting our motivation and strength from him. If we aren't, it can be so easy to become unmotivated, fall back into old bad money habits, and in the end fail at what we're trying to accomplish.
Right Actions
The book goes on to talk about how if you have the right priorities, and the right actions, you will get results. He goes on to talk about 7 right actions that we need to perform in our lives:
7 Right Actions
Planned giving to God: Making a commitment to giving to God, first. I know there is a debate on whether the tithe is mandated or not for New Testament believers, but to me the argument is really a moot point. To me God has us give because it is good for us! Tithing isn't just giving our hard earned money away, it changes us, and makes us into new people who are more generous and caring. I've experienced this in my own life!
Seek accountability through a group or counselor: It's always a good idea to have someone to keep you accountable for your financial goals. When you tell someone else your goals, they can help keep you in line.
Write or re-work a budget: Setting up a family budget is key to succeeding! I preach that all the time here on Bible Money Matters!
Get rid of credit cards and reduce your debt: Get rid of your credit cards and they won't be a temptation to spend money that you don't have. Get rid of your debt because it's weighing you down!
Set goals and practice delayed gratification: Set goals for your future, for big things and for small things. Practice delayed gratification and trust that God will provide in his time.
Nurture an attitude of gratitude: Be thankful for all the things that God has given you. When you are thankful and content with what you have, it makes it that much easier to succeed.
Pray, pray, pray: Prayer acknowledges that we are dependent upon God and that we trust him to lead, guide and provide. Pray about your financial life!
Creating A Financial Plan
The book goes on to talk about the things you need to do in order to create a sound financial plan. Pastor Slaughter's plan sounds pretty similar to the plan put forth by Dave Ramsey (7 Baby Steps), Crown Ministries and others. Since I'm a fan of those plans, I also like this one. The basics of his plan are:
Sounds like a pretty good plan to me!
Conclusion
Upside Living in a Downside Economy was a quick read, but it is full of good information. It talks about how we can make sure we're aligning our goals with God's plan for our life. It talks about how we must make plans, give and be thankful for what we have. It concludes by talking about giving, and how by giving to others we become more like Christ.
While the book isn't very long, and doesn't go in depth into topics of creating a budget, setting up a financial plan and other things, I still think it is a worthwhile read. If you're looking for a detailed planning resource, this probably isn't it.
I think what it does well is to get you thinking about what you need to do to succeed, about how we need to keep God at the center of our finances. It is more the catalyst towards living well with your finances. To take the next step you may need to get into a deeper program, or get some more in depth reading about the topics.
All in all, a good read, and a worthwhile one.
Who Wants To Win This Book?
Now that I've finished reading the book, it's time to pass it on. I'm going to give the book away to one lucky Bible Money Matters reader on Monday morning at 8am Central! What do you have to do to win?
Leave a comment on this post telling us about how you're succeeding in this downside economy!
That's it, just leave a comment! If you aren't already subscribed, I'd appreciate if you sign up for free daily updates via RSS or via email, but it isn't required. Also, if you're interested in reading the book, you can find it for sale here!
UPDATE: The winner of the book, Upside Living In A Downside Economy, is commenter #15, Efren.

UPDATE: #2 5/26: I have another copy of the book and I'll be giving it away tomorrow morning at 10am! Those who have already commented are entered. If you haven't commented, you have another chance now! Feel free to comment for your chance to win! Must be in the USA to win.
UPDATE: After doing a drawing using Random.org, the winner of the second copy of this book is: Kyle from http://www.suburbandollar.com. Thanks everyone for entering!