This past week while I was on vacation I finally had the chance to read a book that I've been meaning to read for a while. The book, Secrets of a Stingy Scoundrel: 100 Dirty Little Money-Grubbing Secrets, by Phil Villarreal asks the question, "How far would you go to save money?". If you're anything like me, the answer is probably going to be "Not as far as Phil Villarreal!". Most of the tips found in this book are either ethically suspect, extremely hard to pull off or just downright gross.
Before you decide that you want nothing to do with this book, however, please take note that the book isn't a serious book about saving money, but a parody of the entire personal finance and frugality genre. The book even denotes right on the back that it should be placed in the "humor" section, and most of these tips aren't meant to be taken seriously (while quite a few actually can be used without resulting in a heavy conscience). With that in mind it's a whole lot easier to read this book, and to get a few laughs in the process. (Did I mention I laughed out loud on the plane while reading this book? slightly embarrassing).
Money Saving Tips: Would You Actually Consider Doing Any Of These?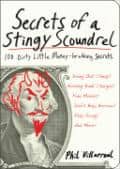 So what kind of money saving tips is Phil giving us in this book? His tips to save money range all the way from taking advantage of overworked cashiers and price-match policies, to getting your fiance a cubic-zirconia when you propose and passing it off as a family heirloom diamond (she won't really get it appraised, will she?). Want to save money on food? Save milk by pouring it back into the carton when you're done with your cereal (this is one of those gross tips), or keep a stash of fast food restaurant cups in your car to take advantage of always free soda refills! You'll never be thirsty again!
Quite a few of these tips are actually quite useful, so if you pay attention while you're reading the book you'll actually find a few money saving gems amidst the ethically suspect knee-slappers. For example, one of the tips talks about how you can ask for a big discount on medical care if you're paying in full and in cash. I've actually used that tip before when my wife was in the hospital for a month and we had large hospital bills. It actually works!
If you're looking for a humorous read that will leave a smile on your face, and that likes to poke fun at some of the old run of the mill personal finance tips- check this book out.
Secrets Of A Stingy Scoundrel Giveaway: Win This Book You Stingy Scoundrel!
Are you a stingy scoundrel just like Phil? Would you never consider buying a book because you can get it for free at the library? Ok, how about this – let me make it easier for you. I'm going to be giving this book away to someone who reads this review – and leaves a comment. That's all you have to do – leave a comment to win! If you're really ambitious, tell us about one ethically suspect way you've thought about saving money (even if you haven't done it). I'll choose a winner of the book by a random drawing next Monday morning. Easy!
Phil Villarreal on twitter