The new year is here, and with the new year come new goals of things that we hope to accomplish during the coming months. Things like losing weight and becoming more fit. Things related to our spiritual life. Things related to our finances, and how we'd like to increase our income. Blog related goals. In fact, the more I think about it, I have a LOT of goals I'd like to accomplish in this coming year, and I feel like the sky is the limit!
Goals are important, so remember to pray about it, and God will direct your path.
In his heart a man plans his course, but the LORD determines his steps. Proverbs 16:9

Setting Goals
Setting goals allows you to have something to work towards, a concrete number and time frame in order to get those competitive juices flowing. Goals are like dreams that you're working towards achieving. The difference is that with a goal, you give yourself a deadline, a set time frame within which you'd like to accomplish that goal. Dreams don't necessarily have a deadline and because of that aren't always quite as powerful or motivating.
So what can you do to get yourself moving towards a goal this year?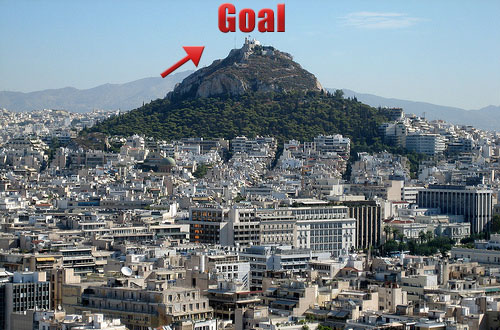 Make reasonable goals: Make goals that are achievable, and specific enough to be motivating. For example, instead of just saying that you'd like to lose weight, make a specific goal of losing 40 pounds by July 1st. Make goals that are achievable, but not unreasonable. losing 40 pounds in 6 months is do-able, but losing 150 pounds might not be.
Write down your goals: Write down your goals so that they're concrete and stick in your mind. Goals that aren't written down have a way of disappearing into the ether. Write a blog post, or start keeping a journal to help you remember what your goals are.
Share your goals with others to keep you accountable: Talk to your spouse or close loved one about the goals you've set for yourself, and share your successes and failures in achieving them during the year. They can help you to stay on track, get back on track, and encourage you when you're having a tough day. Just like writing your goals down, sharing your goals with others can have a way of cementing the goals in your head.
Develop a plan to achieve the goals: Once you've determined what your goals are, put together a plan to achieve the goals. Remember, a failure to plan means you're planning to fail. If you're trying to lose weight, put together a schedule for working out and a healthier eating plan.
Review your goals at regular intervals: Take time every once in a while to review your goals, and see what kind of progress you're making. It can be very motivating to see yourself moving slowly but surely towards achieving your goals. If you don't review the goals regularly, however, you may never get the chance to see yourself achieving them – as the progress can be made in small increments and won't necessarily be very noticeable.
Be flexible: If life gets in the way of one of your goals and makes it unachievable, be flexible enough to know when you've got to set a new goal. Set that new goal and start working towards making that one a reality!
My Goals For This Year
So here we go, I'm about to list some of my goals for 2015. Im writing them down, so now they'll be real. Scary.. here we go:
Read more: I would like to read more books than I have been lately. I'd like to set a goal of reading at least 1 book every month. Reading blogs doesn't count! Also would like to get on course to complete a daily bible study on my own, as well as joining a men's bible study through my church.
Blog goals: In the past few months my site has been recovering traffic that I hadn't seen since we were hit by Google in their search algorithm updates back in 2011. Our traffic has topped our old highs the past 2 months. For 2015 I'd like to continue the positive traffic trends and increase traffic by 20-25%. I'd also like to increase revenue by 30% through a renewed focus on optimizing existing revenue, and seeking out new revenue streams.
Re-save our 8 months of expenses emergency fund: We had 8 months of expenses saved up, but back in 2013 we used all of it up when paying a down payment on our new home. We planned on replenishing the emergency fund last year, but it was a bad year for health issues and we had thousands in medical bills, among other things. So this year we'll bump up our emergency fund and then we can get back to saving 15-20% of our income in the Roth IRA, 401(k), and paying extra on our mortgage.
Fitness goals: The past year has been a stressful one, and through unhealthy eating and a lack of exercise I've gained quite a bit of weight. My goal for 2015 is to lose 50 pounds by next December.
So there are a few of the goals I have for the coming year. What goals have you set for yourself this year? Do you expect to reach those goals?