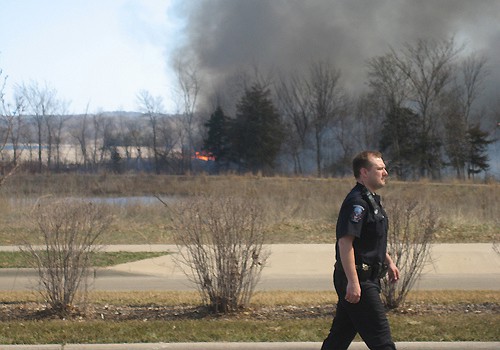 A Phone Call
Yesterday I was at work when I got a call from my friend who lives next door. He said that he had just talked to his wife, and that our neighborhood was in danger of going up in flames. There was a fast moving grass fire that was quickly consuming much of the adjacent wetlands marshy area. If the firefighters weren't able to keep the blaze in check, it could threaten some of the homes in our neighborhood. He suggested that we go home and get anything that was important to us, just in case.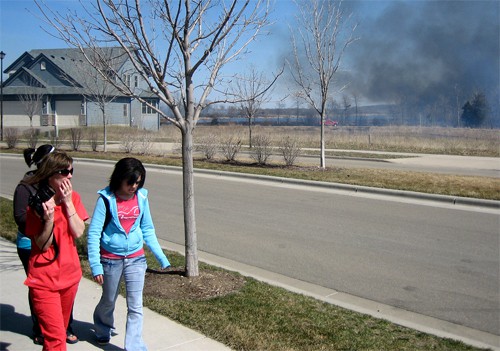 A Smoky Mess
When we arrived back in our neighborhood there was smoke everywhere. The air was thick, and it was a bit hard to breathe. I had called my wife on my way home, and she arrived there before me, and made sure that the dog was ok. She then proceeded to pack up everything that was important to us. What did that consist of? Our wedding photos and our dog.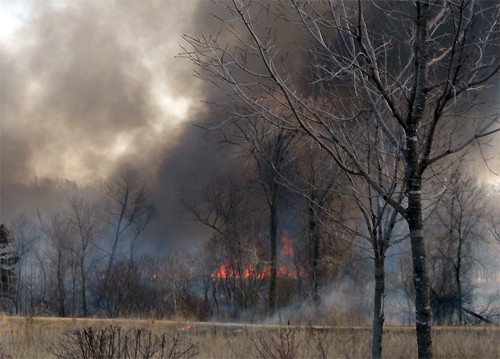 It's amazing how when you're in a stressful situation like that, how nothing really seems important anymore except for your loved ones, your family pet and maybe a few sentimental items. All the rest of your possessions just seem like things that can be replaced, unimportant trappings of this life.
The Fire Was Fierce
The fire spread through the wetlands area at a rapid pace since many of the hot zones were out near the water where the firefighters couldn't get at it.
The flames moved quickly inland and threatened many of the homes that lined the wetlands area around the lake. One home in particular was in extreme danger as the flames, aided by a brisk wind, moved to within yards of the home.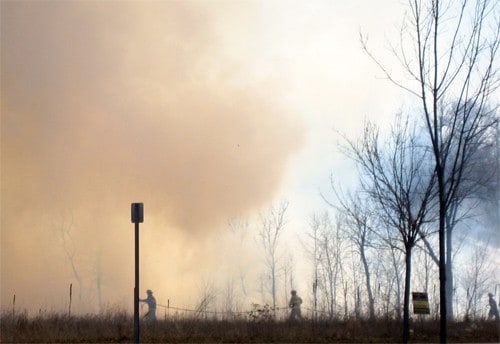 The firefighters set up a perimeter around the house, wet everything down, and made a stand. Aided by their high powered hoses, some high tech marsh buggies and by their bravery, they beat back the flames before they could consume the home.
The Aftermath
After fighting the flames for over 3 hours, most of the fire had been contained. Amazingly no homes had been damaged (except by smoke), and no one was hurt. That was a huge blessing, and in my opinion a miracle.
Going through this just made me realize how unimportant our things are. The last thing on my mind when I thought our house might burn down was all the stuff we have in that house. What if it burns – who cares? More important were things like family and friends and our faith that gave us the hope that even if something did happen, we would be alright.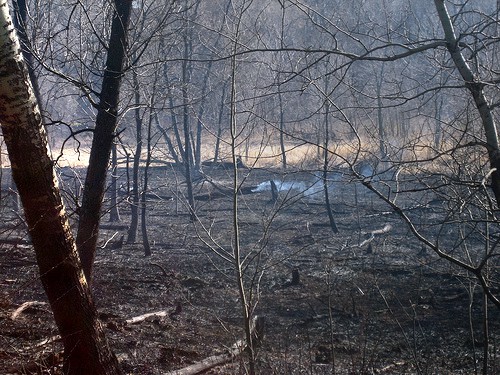 After all the fires had died down and our homes were safe we were allowed to go down near where the flames had been the worst. It was like a barren smoking wasteland down there. It made us realize just how lucky everyone had been. If it hadn't been for the 6 volunteer fire departments that rushed to the scene, things could have been disastrous. Those brave men and women saved our homes, and probably some lives as well. Our thanks and gratitude go out to them.
Here's a quick video I put together of the fires yesterday.
Remember to make sure that you're prepared for a fire. Make sure your smoke detectors are working and have new batteries every year! Keep a fire extinguisher handy, and have other measures ready – like second floor escape ladders!
Have you ever been through a disastrous event like this one? Did it make you realize the importance of things in your life beyond just your stuff?